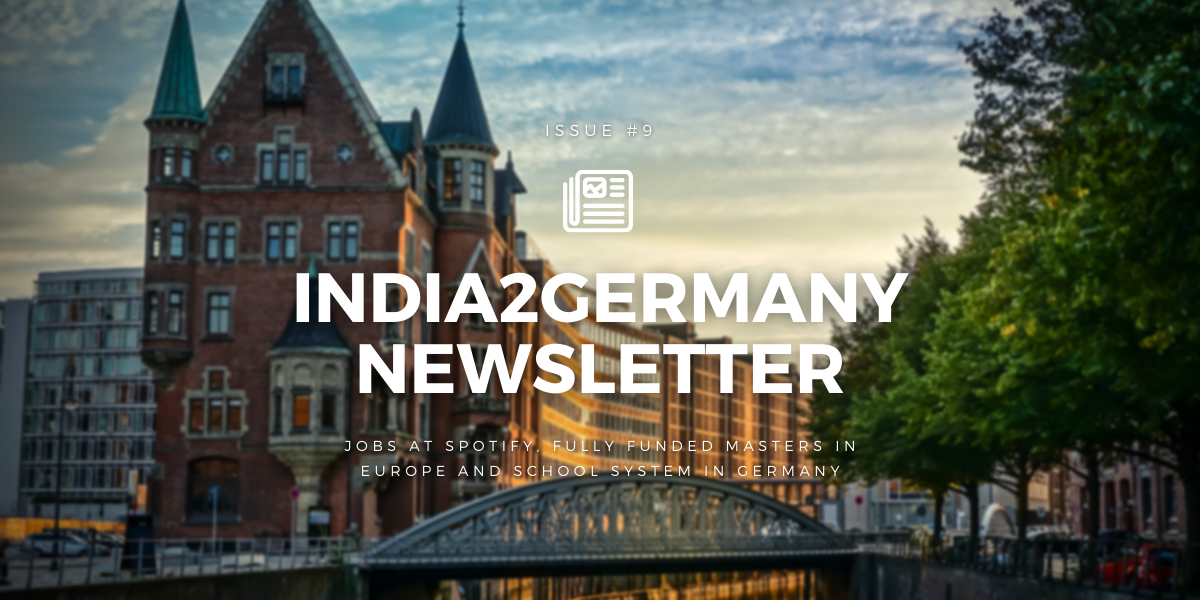 #9: 🚀 Jobs at Spotify, 🗣 Fully funded masters in Europe and ✍️ School system in Germany
Check out our picks for this week's newsletter and subscribe to stay up-to-date!
🚀 Jobs at Spotify
The audio streaming service, Spotify, has openings for the positions of Research Scientist, Summer Intern and Account Director in Sales at various locations in Germany. Read more here.
🗣 Fully funded masters courses in Europe through Erasmus Mundus with Pavan Sriram
Pavan Sriram is an alumnus of the Erasmus Mundus programme. He is also former president of the Erasmus Mundus Alumni Association. He tells us about his experience as an Erasmus Mundus masters student, how it has benefited him personally and professionally, what the scholarship offers, how it works, how to apply for an Erasmus Mundus masters course, which documents are needed, how high the chances of selection are and things to keep in mind while applying for the scholarship.
📝 Read the blog post here.
🎙 Listen to the conversation on the India2Germany podcast here.
✍️ How do I register my child at a school of my choice in Germany?
Let us give you an overview of how the German school system works, the concept of Einzugsschule and how to register your child at a school of your choice, such as an English-speaking school, in Germany. Read more here.
If you haven't already, remember to subscribe to our 📝 newsletter and 🎙 podcast! And feel free to forward this week's issue to your friends :-)
India2Germany Newsletter
Join the newsletter to receive the latest updates in your inbox.
---