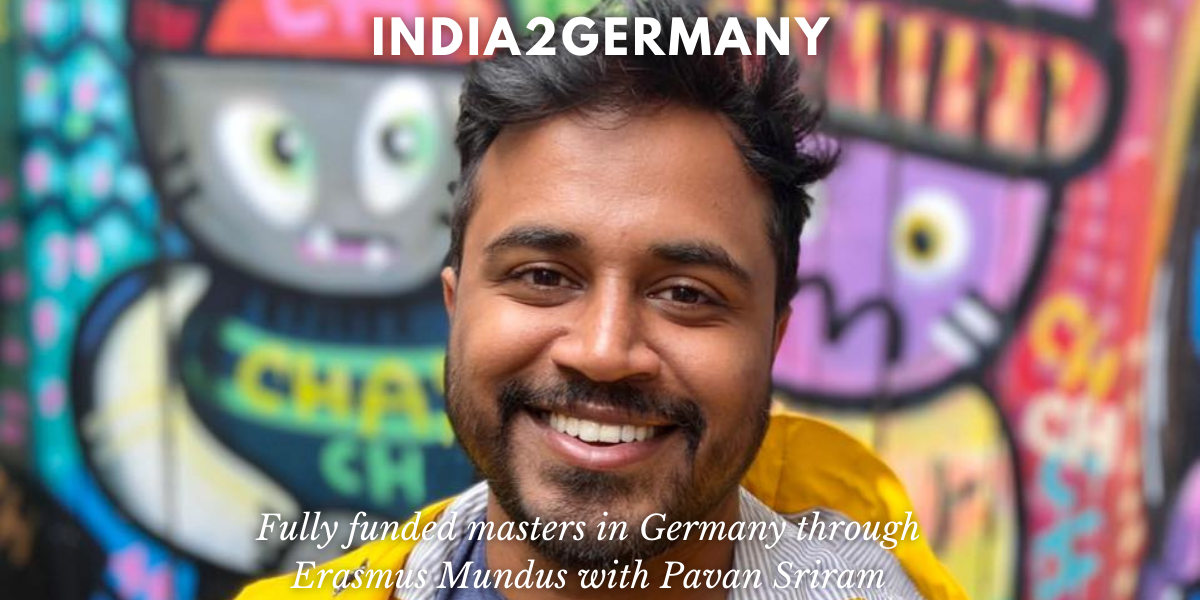 Fully funded masters in Germany through Erasmus Mundus with Pavan Sriram
Pavan Sriram is an alumnus of the Erasmus Mundus programme and former president of the Erasmus Mundus Alumni Association. He shares his experience with the scholarship and tells us what it offers, how it works and how to apply for an Erasmus Mundus masters course.
Pavan Sriram is originally from India and an alumnus of the Erasmus Mundus programme. He is also former president of the Erasmus Mundus Alumni Association. He tells us about his experience as an Erasmus Mundus masters student, how it has benefited him personally and professionally, what the scholarship offers, how it works, how to apply for an Erasmus Mundus masters course, which documents are needed, how high the chances of selection are and things to keep in mind while applying for the scholarship.
Hit Play to listen to this conversation and Follow to get notified about upcoming episodes.
This article is about masters scholarships in Germany and Europe. If you are interested in doing a PhD or research in Germany, check out our previous post (link below).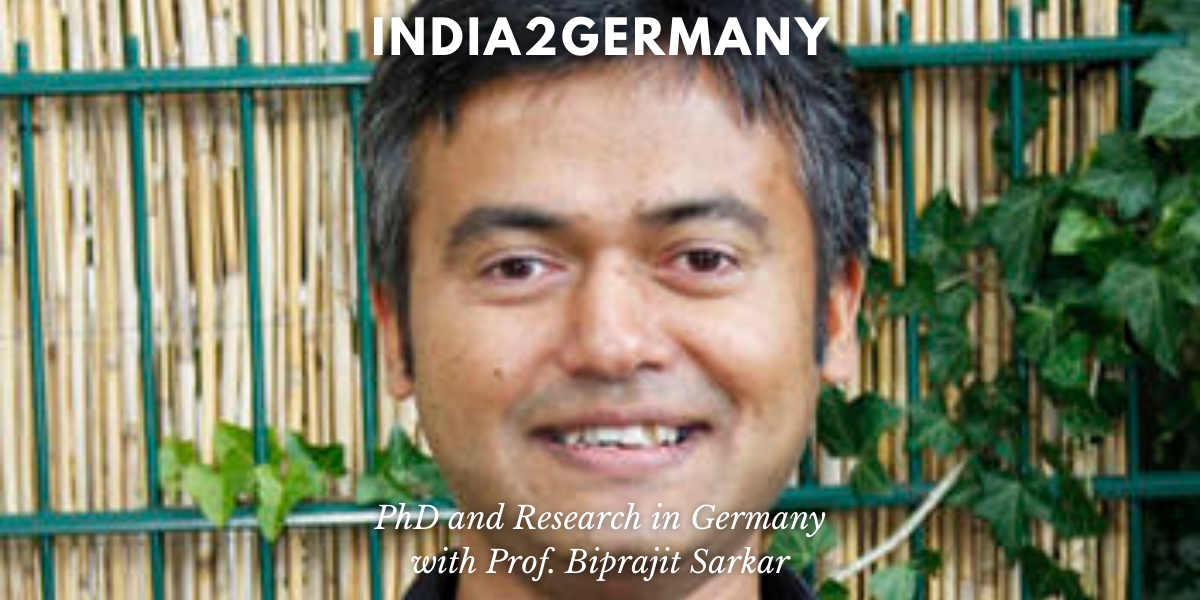 Welcome Pavan 👋. Could you tell us a bit about the Erasmus Mundus programme?
The Erasmus Mundus programme is one of the flagship programmes of the European Commission. The Erasmus programme was started for mobility experiences between European countries 30 years ago, so that people can have be more mobile, learn a bit more about European integration, etc. Then in 2004, they said why not we extend this and go beyond Europe, and they wanted this mobility to happen across the globe. That's how Erasmus Mundus was born. Mundus actually means world in Latin and Erasmus is the name of a scholar. Since 2004, this programme has been under various education schemes of the European Commission, and now moving forward from 2021 it will be under the grand scheme of Erasmus+ programme. I don't know if the name will be the same or something else. We don't know the name which European Commission comes up with, but mainly the Erasmus Mundus programme is a joint masters programme giving scholarships for people from Europe and outside Europe to study in prestigious universities in very unique fields.
The Erasmus Mundus programme is a joint masters programme giving scholarships for people from Europe and outside Europe to study in prestigious universities in very unique fields.
The masters courses are organised by consortium of universities. So they offer joint degrees, which means you will be studying in at least two universities in two different countries. So that's a minimum. And maximum I know some of my friends who have studied in six countries in two years. So it's a lot of mobility and intensive masters, but also very specialized masters programmes. You get to study in the best universities in very unique masters programmes, which you might have not heard of, or you might have very limited knowledge about. That's something which is unique about Erasmus Mundus, and most of your classmates will be from different nationalities. So it will be very rarely you're going to find somebody from the same country. That's the beauty of this so that your class is like a world in itself.
It used to also consist of PhDs before, but now that's become part of the Marie Curie programme. So if somebody is interested in PhD, they should definitely check out the Marie Curie programme of the European Commission. For masters, it's Erasmus Mundus.
To give an example, I can just take an example of my own masters programme. I'm a mechanical engineer. So my master's was in computational mechanics. I had a choice to study in Barcelona, Spain and then Swansea, UK, or Stuttgart, Germany and École Nantes in France. I put the priority as Spain and the UK because I wanted to graduate from the UK. Based on my ranking, I did get what I wanted to go for, but now I know they have also integrated China and a few other countries in this masters programme. So not only do you get to study in Europe, but you can actually go outside of Europe. So this is how the mobility works. Among these four universities which I was part of, University of Barcelona, Spain was the coordinating University, and they kind of manage the whole administrative aspect of this masters programme. So when I graduated, not only did you get a masters degree certificate from from Spain, but also I got a masters certificate from the UK.
How well are Eramus Mundus degrees recognized?
Within Europe at least, it's recognized. Everybody recognizes Erasmus Mundus, and it's kind of treated with a high regard. Outside Europe, yes, it could be a bit of tricky because people don't understand this joint masters. But I see that in the last half a decade or so it's becoming very important. Many countries have bilateral joint masters like I know for example, in Sweden, or in Norway, even in India, where they have this bilateral cooperation where you get a degree certificate from India and from Sweden or from other countries. So this is becoming very common. I also know that European Commission is launching or has already launched a new initiative called the European Universities Initiative, which is on a similar foundation as the Erasmus Mundus concept, but not on a masters programme, but on the whole university level. That means that as a student from Europe or outside Europe, say that you start in Spain for one course or one module, and then you go to and take another module in France and other module in Norway, another module in the UK. Okay, with Brexit I don't know about the UK. But let's hope that they are there, then you could actually get a universal degree, which is stamped by 10 different top European universities. And that's really fascinating. Already, they have funded around I think 40 European universities in different areas. So it'll be very interesting to see how this whole concept unfolds in the next half decade.
How many Erasmus Mundus masters courses exist at the moment?
Every year new Erasmus Mundus masters courses are being funded by the European Commission. That means the universities come together, they make an application, and then the top-ranked ones will get funded. They have the opportunity to bring masters students with full scholarship. This year, we have around 130 masters programmes which is going to be open. It ranges in seven different areas from social science, engineering, business, mathematics, natural science, etc. So it almost covers every field. Each of the 130 master courses, the number of scholarships granted could range between 15 to 20, depending on how the consortium is and what the conditions are.
So one should definitely check out the Erasmus Mundus catalogue, which is official catalogue published by European Commission which has the most updated information. Based on that one needs to go into the individual masters they're interested to pursue and see the application procedure and how to go about that.
Most of the Masters run for four years, that means that you might have four cohorts. Earlier, I've seen where the cohorts have run for eight years, even twelve years because they've been refunded by the European Commission, because they were excellent programmes. But the European Commission also looks into the sustainability aspects. That means that once they funded the particular cluster of universities to host Erasmus Mundus, in half a decade or so, they want the courses to become sustainable.
You not only you get your travel and mobility expenses covered through the scholarship, but also your get 1000 Euros every month.
What does the Erasmus Mundus scholarship offer?
As I mentioned to you, there are currently around 130 masters programmes, and each masters programme offers around 15 to 20 scholarships each year. It depends how many non-Europeans and Europeans are applying for it. It's a very handsome scholarship. You basically get 1000 Euros for your living expenses. This means that you not only you get your travel and mobility expenses covered through the scholarship, but also your get 1000 Euros every month. Plus your tuition fee is completely paid by the European Commission. So basically, while doing a masters, you're not paying anything for your studies, but rather you're getting 1000 Euros. That's quite amazing. Because then with that 1000 Euros, depending on which part of Europe you're studying, you could really have a very decent life. Many of us may be always wonder if I should prefer a job over studies, because studies would never pay me much. But I think having a masters degree is always interesting and good. And having a masters through a scholarship is even better.
You don't pay any tuition fee, there is no semester fee, nothing, everything is covered by the scholarship.
You don't pay any tuition fee, there is no semester fee, nothing, everything is covered by the scholarship. For the living expenses, they expect that thousand euros is good enough to live in any part of Europe. So for your accommodation, for your food and for you to have a good life while you're studying. So that's why the stipend is given.
Are there any fields which are given more importance in Erasmus Mundus, say life sciences or social sciences?
I think the good thing about Europe from what I've seen is that they really focus on STEAM subjects. That means arts is an integral part of the whole learning and now with the new policy of European higher education agenda, they're giving a lot of emphasis on social science as a part of science itself. So Erasmus Mundus ranges from every field. There is nothing like that they have more engineering scholarships versus more social science. No, I think you can find everything. Erasmus Mundus is very multidisciplinary. For example, if you want to work in robotics or automation, you need to have an understanding on psychology of how to train a robot, right? So you can't just be a technical guy without an understanding of the psychological aspects. So I think the separation of fields into silos, which used to exist in the traditional way of education - mechanical engineering, civil engineering, computer science, etc., that's just blurring out more and more. So I think the scholarship is for every different areas.
Can I choose a specific country, e.g., Germany, or a specific university, e.g., RWTH Aachen, while applying for Erasmus Mundus?
No, unfortunately, with Erasmus Mundus, the masters programme is kind of fixed. I'm sure Aachen itself has some Erasmus Mundus courses going on. So you need to just make a choice as I made a choice when I was applying. I chose to graduate in the UK and I wanted to graduate in this specific field. For me it worked out. But in Erasmus Mundus, you don't have that specific choice of a country and a master course. To some extent, yes. But to a large extent, no, because then it depends where you're ranked in the ranking with regards to scholarship. I think here, I would recommend people to kind of be open minded because I think the education whether you study in Aachen or when you study at NTNU in Norway, it's very similar. So I think it's a very small difference between the quality of education between many top-notch European universities. Tt's all very similar and very standardized. They all provide excellent teaching and excellent research facilities.
When you make an application, you have a choice, how you want the semesters to be.
Within the countries in your masters course, you can usually make a choice. So when I applied for my Masters, I had a choice to study in four different universities. But I choose to study in the UK and Spain because I wanted to graduate in the UK, because they had the post-study work visa. So you have to make the choice. When you make an application, you have a choice, how you want the semesters to be. You can also make that choise based on your interest, because, for example, if I chose to graduate from UK, it was more of fluid mechanics. If I had taken a path with Germany, it would have been more of materials. So it would have completely two different specializations. So it's very important that you make this choice based on your professional interest moving forward. But if you really want to graduate in Germany, then you need to pick according to that and hope that you get ranked so that you also get in the same order of your preference. But that's a possibility in Erasmus Mundus, for sure.
Can someone also study Erasmus Mundus course without getting the scholarship?
Yeah, so before it used to be only with scholarship, but then the European Commission saw that this is really very interesting. Then they said, okay, the universities can also have their own quota to allow people to study without scholarship, but by paying the tuition fee, and I know a lot of students who have done that and have come to Europe. They paid just like any other European masters and underwent the Erasmus Mundus masters because it still gives that prestigious tag that they have this masters done through Erasmus Mundus. So it is a possibility but again, the competition for that is also quite high. They only have a certain spots reserved for it.
Can anyone apply for an Erasmus Mundus scholarship?
There is no policy that gives preference to one country over the other. You could be from any part of the world and you could apply for an Erasmus Mundus masters. But as I said, this programme is running from 2004. There were some years in the past in which they had specific windows. That means they had 2-3 years in which they were encouraging, say, more Indian students to apply or students from Syria to apply. Currently they have this window going on with Japan, for example. They have even developed joint courses between Europe and Japan specifically. That's the last two years what's happening, you need to check it out. But in general, there is no criteria, there is no limitation. So you could be from any part of the world and you can make an application to the joint masters as far as I remember. And having been part of the Erasmus Mundus Association I've seen the statistics, at least over 190 plus countries have benefited from this scholarship. So that means it covers almost every part of the world. And I don't think there is any bias in the evaluation or something, I think, once you apply they try to kind of cover different regions and different nationalities to have this diversity in the class, because it brings a lot of added value to the course itself. But it's done purely based on merit and nothing else.
How high are the chances of selection for Erasmus Mundus courses?
I could just talk about the statistics from the last three years because that's the recent ones one can relate with. Around 30-35,000 students, or even people who have some years of work experience apply for Erasmus Mundus masters from all across the world, and around 1600-2000 get selected on an average. So it's around 5-6%. It's not a lot. But having said that, by going for Erasmus Mundus, you will ensure that you have a very quality application. That means maybe you will not get Erasmus Mundus but you will have opportunity to get into many other universities. Because in Europe, there are a lot of universities where education is free. For example, German public universities do provide education free so by going through this path of trying to apply for Erasmus Mundus, you'll ensure a very top notch application. So even if you don't make it to Erasmus Mundus, you can get into top universities still, or you could improve your application and improve your skill sets and experiences and reapply next year. Because age is never a factor. So age doesn't limit you to apply for Erasmus Mundus because Europe encourages lifelong learning. It doesn't really matter what your age as long as you convince why you should you are the deserving candidate to get this scholarship, you should be able to apply.
What is the application procedure for Erasmus Mundus masters courses?
There is no central Erasmus Mundus application. It's all decentralized. That means each of the around 130 masters courses is coordinated by a university, and every masters course has its own website, then the application is made through that channel. So it's quite simple and direct. And generally, you can always ask if you have any questions, you can reach out to the admission Office of that specific masters programme.
So anyone who is interested in doing an Erasmus Mundus course should first check the Erasmus Mundus masters courses catalogue that is on the European Commission's website, pick one they like, go to its website, check the application procedure and the criteria and then apply there.
The only thing I will add on to that is that you can apply up to three different masters programme. So you can get selected in three. And then you have to make a choice of which one you want to study in. You cannot make an application for more than three masters courses. So there's that one condition I think they have.
When I saw the documents, and I've seen even today, it is so simple for Erasmus Mundus.
Which documents do I need to apply for an Erasmus Mundus course?
This was the most surprising part of Erasmus Mundus for me, because when you are getting such a good scholarship, you would expect the documentation to be huge, and a lot of things to fill up. Because I know a lot of friends who went to the US, it was a hard deal even to get into a regular university, forget about scholarship. When I saw the documents, and I've seen even today, it is so simple for Erasmus Mundus. It's like five simple things. So you start with your CV in a good standard template. Then a motivation letter or a statement of purpose. Why are you a deserving candidate? What is your motivation behind this particular course and why you should get the scholarship? And then your proof of English language proficiency. Either you do an IELTS or TOEFL. There is no GRE or GMAT. I will stress it, there is no GRE or GMAT. Maybe for one of the business courses, I've heard that it's preferred, but it's not mandatory. Finally, all you need is your letter of recommendation. And that's it.
So people should not be daunted by the whole thing. Sometimes you might have to do interviews, I know that they've introduced this recently. There they have short interviews to kind of check on the candidate to ensure that the quality of the candidate is good enough because they had some situations where they look good on the CV but not necessarily when they come and do the masters. But I think people just have to give it a try. There is no harm in it. Of course, having a good grade kind of gives you an advantage. But it doesn't guarantee you a scholarship. I think with Erasmus Mundus, they're looking for a holistic personality, who are good in studies, but they also have lots of other skills, which they can bring on board. That's the message I'm going to tell people. If you think you have decent enough grades, but you have lots of other complementary skills, either while you're studying or either with additional work experiences, you should definitely give it a try. As I said there's nothing to lose because when I applied I didn't pay even a single rupee because there was no application fee. It was all free and I think is still the same. I think I spent 500 or 600 rupees which is like 10-12 euros, it's nothing really, to send the documents via post. That's it. So it's a very simple process. In terms of the documentation, of course, that also means that since it's simple, you need to make a lot of effort to convince why you are the deserving candidate. So you need to spend time on preparing these documents in the best possible manner.
How was your Erasmus Mundus experience?
At least in my master course, it was very smooth. It depends on who is the administrator, and who is the coordinating university. In our case, they were super friendly. We had all the information and the visa processing was quite simple and straightforward. So there were no hiccups. But I know that in some of the courses, it's been a challenge. And now with COVID, it's even become an even bigger challenge. But having said that, I think they've been doing this since 2004. So they have learned their lessons and they've incorporated best practices. So I think it's all functioning very well. It is because of that very reason that they are open enough to make this a European concept and create this European Universities Initiative. It will have some challenges. It's not challenge free, but it's still smooth enough to have a good experience. It's a worthy experience, I would say.
I think the mobility is very interesting, because in Spain, the teaching was so different, like coming from India, where the teaching was so different to Spain, where it was all open-book exam, again to the UK, which was a bit similar to India. It was very interesting to see how a professor or researcher approaches teaching. It's quite fascinating because the people in those countries are so unique and so different. The food, there are a lot of fun things, that happen when you go through this journey. Anyway, super, super fast. You don't even realise the challenges you're going through.
I think the experience in itself has been just amazing, because the kind of people you meet, will become your source of inspiration, and will be your friends for life.
How has Erasmus Mundus benefited you personally and professionally?
To be honest, when I applied for this, I didn't know what's in store, because at that point of time, for me, it was building a dream home for my parents. So I wanted to go abroad, thinking that, you know, saving money would be the biggest motive. Okay, yes, it helped me to kind of pay back the home loans, etc. And also, along with my savings, and doing my part time job, I got an internship in a company, and it was always really good to kind of have this extra money to pay back. So probably I made five, six times more every month studying masters than actually working. So that really helped to accelerate paying back the home loan.
But having said that, I think the experience in itself has been just amazing, because the kind of people you meet, will become your source of inspiration, and will be your friends for life. And it really, as you talked about it, it really opens up the mind. It really gives you this flair of living your life with your choice and going about the way you want to start recognizing what's important to you, and what's important to your mindset. I think that's a very important thing, because then you will start having a fair reasoning about things about life and you would not have any unconscious bias and you will not have the stereotypes which generally exist. Because if you're ingrained in a particular culture for a long time, you're hearing the same narratives without experiencing those narratives, then you would not really grow much as a person. But if you ensure you have these narratives through your own journey, it will be very different. And I think that's the beauty of Erasmus Mundus. Having studied in so many different countries, having met so many nationalities, your narration becomes very interesting and your barriers, the blurriness regarding the people what you have also becomes small and small. And I think that really adds on a lot professionally because what it does is that it makes you a super confident person to work with culturally with any nationality without any bias. And that is very important in your professional job. For example, now, where I work in Norway, only Norwegians, you will develop this tolerance, these adaptability skills, you will develop a way of integrating in a very effective manner. These are some things which are not taught in classrooms. But in Erasmus Mundus, it happens indirectly because you are put in a classroom full of different nationalities. Of course, one thing is being part of the master's programme. But if you want to also volunteer and be part of Erasmus Mundus Association, you will really gain many more leadership skills and meet a lot to get inspired from because you will see your alumni,s what they have managed, what they've achieved, what they've been doing in their lives. So, those things really inspire you to take up and adapt those things to your own life.
Are there any disadvantages of doing an Erasmus Mundus course?
I think the disadvantages not only for Erasmus Mundus, but generally if you move out of your country, is that you are not in your comfort zone. So there are going to be challenges where it's no more where you are in your own social bubble with so many friends, family members nearby who are always supporting you. When you get out of the comfort zone, you form new friends, it's a new kind of setting. But the thing is, when you're constantly moving from one country to another every six months or one year, that also means that these amazing people you manage to meet will no longer be the same constant friends. So that kind of it's sad part. It's a challenging part because you meet so many beautiful, wonderful people in your life, but then that bonding doesn't last forever. So you keep it virtually that's what happens nowadays anyway. But that's the sad part.
Secondly, probably you will start feeling a bit isolated also in this process. Then you start questioning your identity in terms of where you belong, whether you belong to your home country, to your current country, or somewhere else. That also brings a bit of a challenge.
I think it's up to the individual what they like the most. So if I'm in Norway, and if I only have Indian friends, it doesn't really make sense. If you're always only eating Indian food, I think you need to be kind of adaptable. I think those are the challenges you need to be open enough to get out of the comfort zone. There are going to be challenges to integrate and assimilate in different cultures. But only if you're prepared, you should do that. Otherwise, I think going out of India, but living in a little India, in a new country, it doesn't really serve a purpose. Then you will never experience the true integration. I think this is what I would say and people need to be bold enough to accept this challenge.
Also, as you said, of course, language is a barrier and it will be always a barrier. I didn't take that as an important thing and I do sometimes regret not putting enough effort when I actually had time to learn the language. So I would definitely say that anybody who is coming to Europe and specifically wants to live in a particular country, should invest time in learning the language, because not only does it help you to enhance your professional skills, but it also makes a huge difference to your social setting.
How are the prospects and career options after an Erasmus Mundus masters course?
The doors really open up. I never had issues to find job or research opportunities. In general, I've seen that 95% of the people do easily manage to succeed in whatever, whether to do further research or find a job in the industry ub Europe, or to move to another country or go back to their home country and get established in a very good position. I think anything is a possibility.
It is very important that you have a bit of planning in your head, like what is it for you to just have this experience and to go back to your home country? Or is it for you to stay in Europe?, or you want to go to us or some other place?. I think people need to have a bit of planning. In my case, I didn't, to be honest, I just went with the flow. It's nothing wrong. But I think if you have a bit of clarity, it helps you, it helps you to plan because if you think Europe is where you want to live, then you will invest time more in learning the language, right? If you want to go to the US, then probably investing in a language is not necessarily the most important thing, but maybe doing something which will get you a better job in the US is what you need to plan. I think this is what people need to reflect on. This is something which they need to do already when they're applying for the masters course.
The opportunities are abundant in Europe. I would not say that it's for all the courses. Because there are certain courses, which is very developmental based or language based, then you really need to have a lot fluency in the local language. But if it's related to engineering, business, etc. I think even without the language, you can easily find a job. But if you want to move up the ladder, if you want to have progression, then language is I would say a challenge. It's a hurdle in Europe, for sure. But there are opportunities if one have to answer that question. There's an abundance of opportunities in Europe in general.
Because basically if you're getting a prestigious scholarship, I assume that you're good enough to get a job. So that's my fundamental principle. Like if you're good enough to get such a prestigious scholarship with only what 5% success rate, you should be good enough to get any job. I've seen that it does correlate. I haven't come across any of my friends who haven't got a job. And most of them are doing really well.
How do I get a visa for the countries in my Erasmus Mundus masters course?
This is organised by the administrative contact in your masters course. So already, within the first couple of months, your coordinator starts helping you with this application process. For me, I had to go to Madrid from Barcelona to apply for the visa, and similarly, my friends had to go to some other city to get it sorted. So they have, they're very helpful. And the administrative person really helps both at the host university as well as where you are studying currently. So both of them would be very happy to help you out.
Pavan, you are also working on your own initiative to support students who want to study abroad. What is that about?
The thing is, I've been helping and volunteering for last 10 years for people to be mobile, and I'm a big believer of this mobility. And I think, as you mentioned before, it really opens up your mind and appreciate the world in a different way than what we are kind of ingrained right now in our own countries. So for me, I really want other students to have this experience because, for example, growing up in India, you have a very specific perception about different countries and of your own country. But right now, I am more like a clean slate, I don't really have any judgment, I don't judge anyone on any basis, I just go with the flow and see whether I connect with this person or not, it's as simple as that. So for me, I want this to happen for everybody, because I feel there's a lot of stereotypes, there's a lot of racism and many other things which exist today. And only when you're mobile, you could actually get that thing out of your system. And the company which I have started is based on that ideology where I want to make people mobile and also encourage collaboration. So the idea is to develop a digital platform moving forward, which helps and encourages mobility to study in different countries and also within your own country, but also where you can collaborate and work on different projects together. So that's the whole essence of it. And we'll see how far I manage to go there. But that's the idea at least.
You can check out Pavan's initiative at https://www.youtube.com/c/PavanSriram/about
We'd love to hear what you think. Write to us at hello@india2germany.com and don't forget to subscribe to our newsletter 👇 !
India2Germany Newsletter
Join the newsletter to receive the latest updates in your inbox.
---