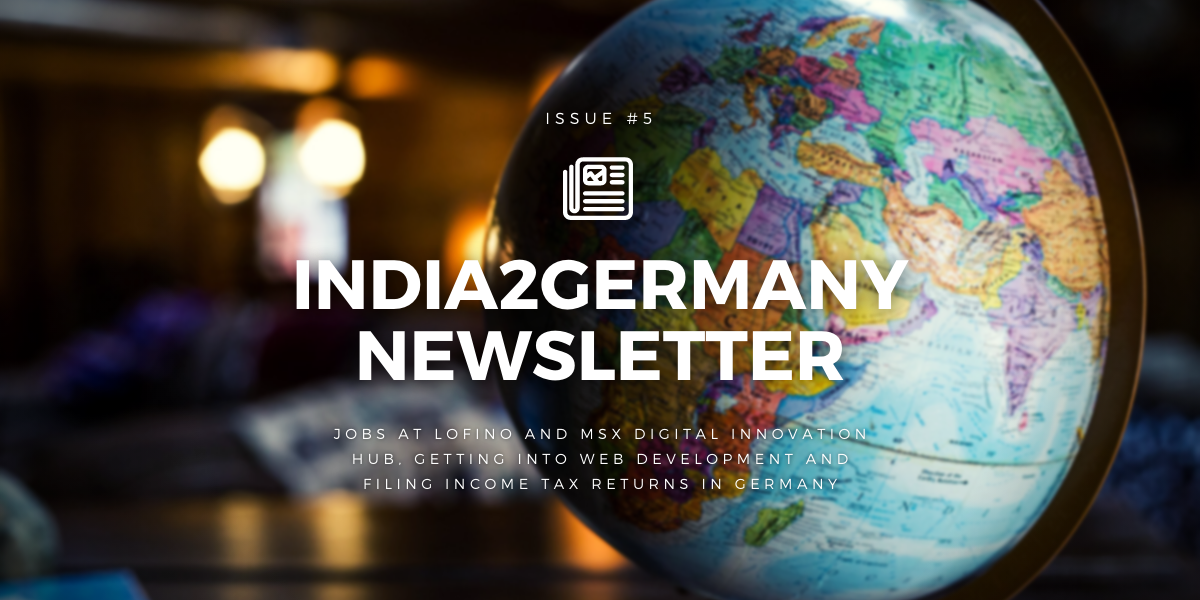 #5: 🚀Jobs at Lofino and MSX Digital Innovation Hub, 🗣Getting into web development and ✍️Filing income tax returns in Germany - the easy way
Check out our picks for this week's newsletter and subscribe to stay up-to-date!
🚀Junior Full-Stack Developer position at Lofino
Lofino is a tech startup in Berlin looking for a Junior Full-Stack Developer to join their team. Their product allows employers to offer tax-free benefits, such as lunch coupons and mobility budget, to their employees via a mobile app. Read more here.
🚀Open positions at MSX Digital Innovation Hub
MSX Digital Innovation Hub is an innovation hub owned by Bain Capital. The company builds products and proof of concepts for the German automotive sector. The company has various open positions for their office in Berlin. Read more here.
🗣Getting into Web Development: An interview with Rutuja Deshkar
We spoke with Rutuja about her experience and advice for people looking to get into web development. Rutuja now works as Full-Stack Developer in Berlin after 5 years experience as COBOL Developer in India. Read more here and listen to this conversation here.
✍️Getting income tax returns out of your way the easy way
The tax system in Germany is known and notorious worldwide 😓. There are innumerable regulations for the most diverse individual cases and you need to have a burning passion for legal texts and tax-saving tricks if you want to dare to do your tax return alone. In this article, we would like to describe briefly how you can make it easy for yourself with your tax return. Read more here.
Want to read more posts like these? Subscribe to the India2Germany newsletter 📬 to get the latest career opportunities, tips and inspirational stories once a week in your inbox 📨!
India2Germany Newsletter
Join the newsletter to receive the latest updates in your inbox.
---