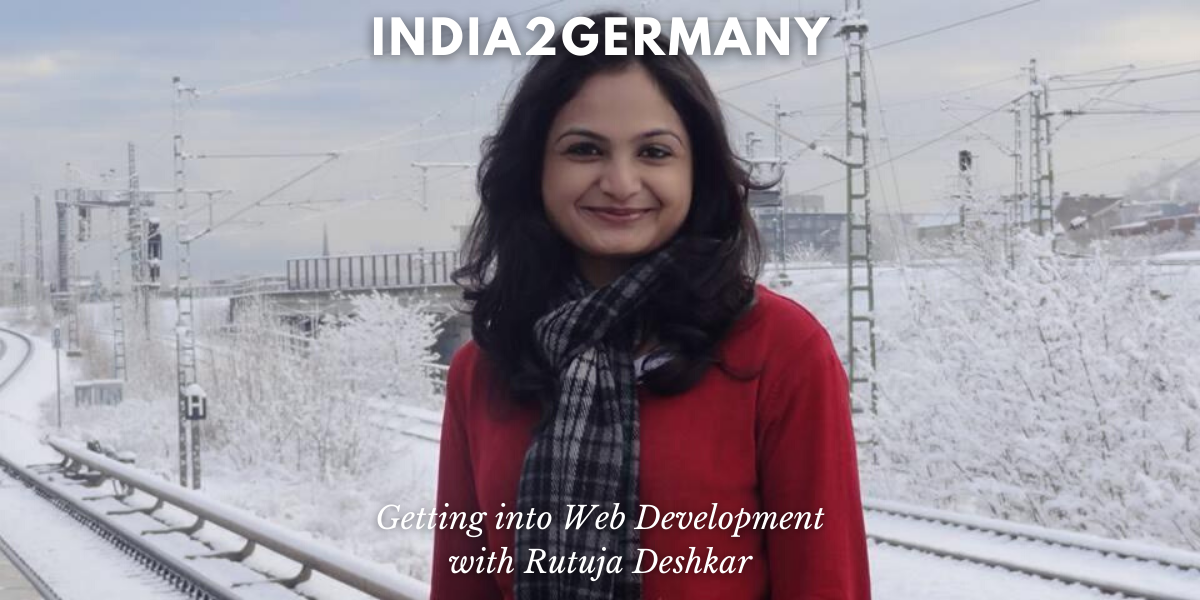 Getting into Web Development with Rutuja Deshkar, Full-Stack Developer at Lofino
This time we had a chat with Rutuja, who now works as Full-Stack Developer in Berlin after 5 years as COBOL Developer in India.
Hit Play to listen to this conversation and Follow to get notified about upcoming episodes.
📬 Get the latest India2Germany articles via email 📨
Hi Rutuja 👋, thanks for your time. Can you tell us a bit about your background?
I am originally from Nagpur and my background is in IT. In India, I worked mostly for service companies as a COBOL Developer for European banking clients in Mumbai, including TCS and Danske Bank. COBOL is an old technology which is still being used in the banking sector. My bachelor's degree was in Electronics and Telecommunication Engineering.
Apart from Nagpur and Mumbai, I also lived in Delhi and Bangalore for a while before moving to Berlin. In Berlin, I work as Full-Stack Developer at Lofino, a tech startup which allows companies to offer tax-free benefits to their employees via a mobile app.
How did you come to Germany?
My husband and I made the decision to move to Germany mutually. First my husband found a job in Berlin directly from India and moved here with the Blue Card. I joined him on a family reunion visa, which gave me equal rights in regards to working and living here.
Why Germany?
We both always wanted to be in Europe. I have lived in Amsterdam for a year for work and had travelled through Europe during that time. The main criterion for us while deciding where to move was job prospects, which helped us narrow it down to Germany. Within Germany, we chose Berlin because it's so international and because people here are welcoming to people from other countries.
The main criterion for us while deciding where to move was job prospects.
How has your experience been so far?
I have been in Germany for a year now. I really like it so far. Since I had lived in Amsterdam before, in the beginning I was always comparing Berlin with Amsterdam. But after a while I realised that this city is different and has its own vibe, and that I should stop comparing. With time, I met new people and also joined German classes where I met people from different parts of the world. I also made friends from India and slowly started liking Germany. I also explored the city and found many things to my liking. I found people very welcoming and didn't feel like an outsider here.
How did you move from mainframes to web development?
After moving to Berlin, I researched the job prospects here. I went through blogs and heard from friends that there are a lot of opportunities and a lack of skilled people in the IT sector in Germany and that they are open to employ people from other countries. I wanted to move away from COBOL and always had the wish to learn how to build web applications. Having worked mainly as a backend developer in the past, I wanted to gain experience in frontend and learn how the backend and frontend work together as a system.
So, I did some research on LinkedIn and Glassdoor to find the typical skills needed for becoming a web developer and found out that there are a lot of startups in Berlin. I also found out about web development bootcamps and decided to join Le Wagon's Web Development bootcamp. Through the 9-week bootcamp I gained experience in web development with Javascript and Ruby and after that I started looking for opportunities in this area. Soon within a couple of months I found my current job at Lofino. I really didn't think that I would find a chance to switch technologies and that too so fast. I wasn't sure if companies would be willing to take me without any real experience as a web developer and after so many years working with COBOL. To my surprise it went quite well and I am really enjoying it.
What is it like to work as a Full-Stack Developer?
As a Full-Stack Developer at Lofino, I work in an agile team. We have a daily standup where every one says what they did yesterday, what they plan to work on today and if there are any challenges that they are facing. We also have weekly calls with the Product Owner and with other stakeholders to discuss new requirements.
With regards to technologies, I work extensively with TypeScript, using React and AngularJS frameworks for the web frontend, NodeJS for the backend and React Native for the mobile apps. Our infrastructure is hosted on AWS.
People are really open to hiring somebody even if they don't have an IT background.
What do you think about work life in Germany?
I like the work culture here. People are really open to hiring somebody even if they don't have an IT background. I know many people who did courses on their own or a bootcamp like me and found a job here. It's very nice to know that it doesn't matter if you don't have previous experience, as long as you are willing to learn. I also like that people value their work time as much as their personal life. People at work are very open and one doesn't need to hesitate before discussing with peers. Everyone's considerate and understanding.
I found the solution was to ask someone who speaks German to accompany you.
How is your experience with social life in Germany?
Normally people tend to think that it is difficult to survive if you don't know German. But I feel that this is not the case, particularly in Berlin, because the city is very international and most people do speak English. Dealing with bureaucracy without any knowledge of German can be challenging though. I found the solution was to ask someone who speaks German to accompany you. I also know of Facebook groups where one can ask German-speaking people to accompany you for bureaucratic paperwork in return for a reasonable hourly fee.
What would be your advice to fellow Indians looking to build a career in Germany?
It's a good decision to move here. The job market is very good here and one enjoys a nice work-life balance. As an employee, you also get good job security. Also, there are a lot of things you can do, that you can explore, lots of hobbies you can undertake which is sometimes not possible in India. My only advice would be to prepare yourself well and do some research before moving.
JavaScript is the most common language used in web development and several companies are looking for JavaScript developers.
How should one prepare and apply for Web Development jobs?
I would suggest you to acquire some skills in databases and software development. Go through job descriptions for Web Developer positions on platforms such as LinkedIn and Glassdoor to get an idea of skills that are sought after and accordingly prepare yourself for interviews. For people who are looking to get into web development, there are many courses online to learn web development. There are several websites like LeetCode and HackerRank where you can take coding challenges to brush up on your coding skills.
JavaScript is the most common language used in web development and several companies are looking for JavaScript developers. There are online courses on platforms like Udemy and Coursera to learn JavaScript and the MDN documentation is also very good. There are many startups looking for Junior Web Developers which is a good entry point for getting into web development.
Would you recommend joining a coding bootcamp?
I definitely feel that joining the bootcamp was a good decision for me. It gave me a basic idea about web development and I learnt JavaScript, Ruby, HTML and CSS. We also had project weeks where we pitched ideas for products and built products on our own. There were also career weeks where some companies came to the bootcamp to have an informal chat with the participants. One also gets access to a huge alumni community where you can also get to know about new job openings in Germany.  
India2Germany Newsletter
Join the newsletter to receive the latest updates in your inbox.
---