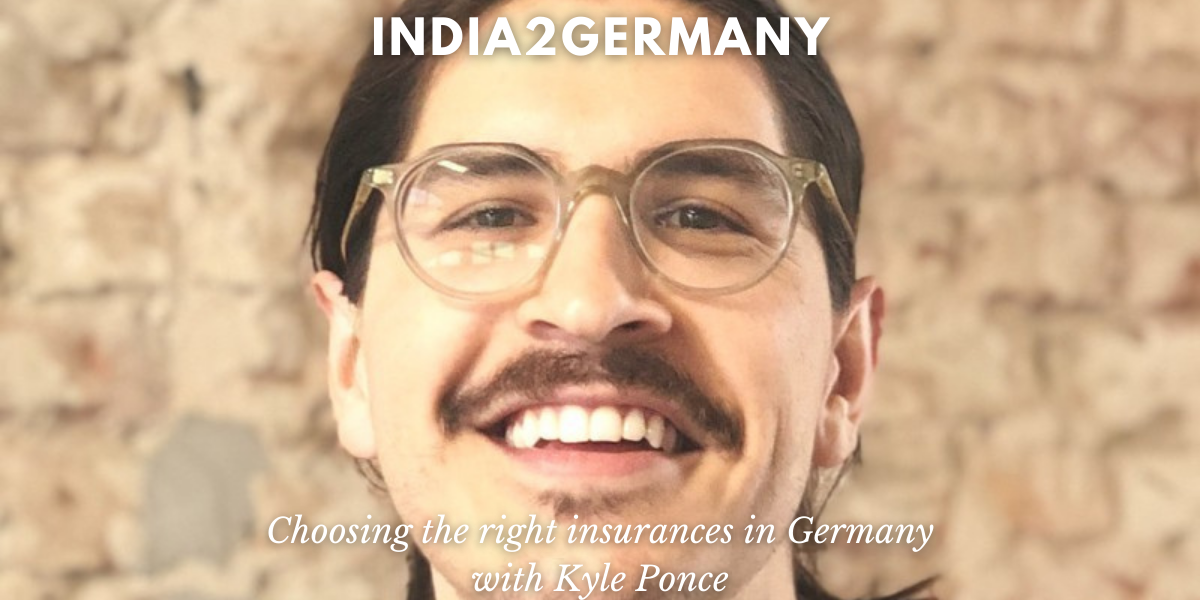 Choosing the right insurances in Germany with Kyle Ponce
Kyle from Feather Insurance answers some of the most important questions related to insurances in Germany. Feather Insurance is an English-speaking service that lets people find and sign up online for the right insurance plans in Germany based on their situation.
If better safe than sorry is your motto, then you're in the right country 😄. In Germany, you can get yourself insured against nearly every imaginable form of risk. No wonder expats feel lost when it comes to deciding what they should get themselves insured against and which insurances they should go for. Our today's guest on India2Germany is Kyle Ponce, who works for Feather Insurance, an English-speaking insurance companion that helps expats choose the right insurance plans and sign up for them easily online. Kyle shares loads of useful advice on the different types of insurances in Germany, and how to choose the right ones depending on your situation.
Hit Play to listen to this conversation and Follow to get notified about upcoming episodes.
📬 Get the latest India2Germany articles via email 📨
Wecome Kyle 👋. Could you tell us a bit about yourself?
I moved to Germany from the United States, and had a similar experience as you where I moved as a freelancer, and then became employed and really just needed some help finding what kind of health insurance would be right for someone like me. So yeah, when I moved, Feather Insurance didn't exist. But I would have been, I think, really helped out by what we can offer to somebody who's moving to Germany and doesn't immediately speak the language or really have any idea of how insurance works. So as you introduced me, I'm from Feather Insurance. You can think of us as an insurance companion. We really help all kinds of people, mostly expats, who are moving to to Germany from all around the world. And as I said, we help them no matter their situation. So if they're moving to Germany, as a freelancer or an artist, or if they're anticipating that they have a job contract, which is starting soon. Basically, they can come to us, and then we can help them with all of their insurance questions, and ultimately get them signed up for something that makes sense for them.
What does Feather Insurance offer exactly?
We offer a completely seamless digital signup solution. So somebody who already knows that they have a job lined up, maybe they have a contract, while moving to Germany, they can walk through the signup process themselves. They can go on our website and use our health tool, which, for example, if they say that they're employed, then it will take them through automatically to a signup process for public health insurance. If somebody really doesn't have any idea what kind of insurance is right for them, they can also use that health tool, e.g., if they're an artist, or a freelancer, they can find the insurance that makes sense for them and sign themselves up.
But ultimately, if anybody has any questions whatsoever, they can always get in touch with us, using our chat on the website, or getting in touch via email. We do have a team that's taking video calls as well. So really, if anybody has any questions about insurance, and they really don't know what's right for them, they can always get in touch with someone from Feather and we'll will help them figure out their insurance situation.
How does the health tool work?
In the health tool you just have to input some information, and then based on that we'll tell you what's right for you. So as an example, perhaps somebody is moving to Germany and they already have a job lined up. They walk through the tool, and it tells them that since they're employed, they should sign up for public health insurance.  The sign up can be done online in English in just a few clicks:
If somebody is employed and they're earning more than 65,000 Euros per year, they can choose private health insurance. Through the tool, they can also choose that as well and even book a consultation with someone from Feather to discuss more information about that. This goes for every single case of somebody, whether he or she is a student, a freelancer, an artist, or maybe someone who is just moving to Germany, or is unemployed and just using their savings. They can walk through the health tool and see which insurance would make sense for their particular life situations.
How much does one have to pay for Feather Insurance's services?
It's completely free to use. So anybody can use the health tool on our website, and then walk themselves through the signup. If they have any questions, they can book a call with someone from Feather and speak with them for free. I should mention that everything is always in English, and in plain language.
So we try to demystify insurance altogether, and just give people sort of the the tools in really plain language.
So the services are completely free. If someone were to sign up for an insurance with us, the cost is the same as if they were to sign up somewhere else. There's really no cost transferred on to to anybody using the service, it's completely free.
Which insurances should I have if I come to Germany as an employee for a German company and plan to stay here for a limited time?
If you come to Germany with an employment contract, you usually get a public health insurance, unless you earn more than 65,000 Euros per year. If you use us, we make that signup process for public health insurance really easy and seamless. Everything would be in English, you would sign up online. Once you get signed up, just after a couple of days, we would send you the membership letter, which you may have needed to submit for your visa, or perhaps needed to show your employer the social security number (Sozialversicherungsnummer), we would have sent you that digitally as well. So the signup process for public health insurance, as an employed person is very easy, very seamless with us. There's really no reason to sign up elsewhere and have to deal with paperwork or wait for mail to arrive. We can we can take care of that for you.
For somebody who arrives to Germany maybe for a short term, it really depends. If they're employed with a German company, and they plan on being in Germany just for a few years, well, they, they are obligated to take out public health insurance. If they earn above 65,000 Euros per year, then they can opt out of that and choose private health insurance.
Which types of insurance should someone who is coming to Germany without a job, e.g., on a Job Seeker Visa, get?
If somebody is arriving without a job contract, well we can easily set them up for something that is is good coverage and would work for their for their visa (if they need a visa), which is the case for many people that are moving to Germany from outside of the EU. They need health insurance not only for the benefit of their health and safety, but they also need it to fulfill a obligation for their visa. And so our Expat Health Insurance, which is really affordable starts at 72 Euros per month would work for somebody like this who's only planning to stay for I don't know, one to two years, they can sign up for that. It will work for their visa, and then when they leave they can just cancel it really easily.
A great thing about using Feather is that it is digital. It's all happening online and over email.
So, if somebody is moving to Germany and need to show proof of health insurance before they even left their home country, they could do that really easily.
They would get the confirmation sent to their email, and they could show that to a consulate, or send it over to Germany via email, perhaps if if they needed to, as well.
To sum up, I have spoken about two situations:
In the event that somebody is moving to Germany with a job contract, but they only intend on staying in Germany for a couple of years, that's really easy. They sign up for public health insurance, they stay under public health insurance until they leave Germany, and then they would cancel it.
If somebody is moving to Germany, and they don't have a job, or they intend on finding a job after they move. Well, they have to have health insurance from day one. But they actually can't sign up for public health insurance if they're moving from outside of the EU. In that case, they would have to sign up for this Expat Health Insurance. And that would meet the legal requirement for having health insurance in Germany, and would work when they're applying for their visa. Once they find a job, then they can easily cancel that expat insurance and switch very easily into the public health insurance.
We can help you with every step of the way - signing up for Expat Health Insurance, canceling that and signing up for public health insurance, once you find a job.
Apart from the mandatory health insurance, which other types of insurances should people have?
It doesn't really matter how long you plan on staying in Germany, I think all of the insurances that I'm about to mention are worthwhile to have even if you plan on staying for just six months. Because they're really inexpensive, and they're just great to have. So we can absolutely advise that everybody use liability insurance. So we offer this, it's just 5 Euros per month, so you really don't even have to think about it, but it just offers you peace of mind. What this would cover you for is in case you cause damage to someone else's person. So like bodily injury or damage to someone else's property. So, perhaps for example, you spilled coffee on somebody's laptop while you're at a cafe. Or you you accidentally bump somebody on the street and they have an accident and they have to seek medical care and they they also have some lost wages because of the accident, liability insurance would protect you against any any of those costs.
There's also household contents insurance. The price of this is based on your the size of your home and also the the area that you live in, but generally speaking, it's very affordable as well. For example, I have like a sort of a normal sized two bedroom apartment in Berlin and I think we pay something like 10 Euros per month. So again, we don't really think about it, but it offers us peace of mind in case somebody does, perhaps while we're away, break into our flat and steal our valuable items or a pipe bursts in the apartment and damages our expensive couch or electronics. Itcovers us for things that could happen that are just unexpected. So, it's also really good one to have.
We also offer legal insurance, which covers you in case somebody's taking legal action against you, or offers you help in case you have some sort of legal dispute. This is maybe not recommended for everybody but maybe for somebody who's more professional and just would like to have some peace of mind against something like this.
And then there's dental insurance, which is a great one for anybody on public health insurance. So this basically stacks on to your existing health insurance and, and offers you some really cool benefits. So this, when it's ready, would include two dental cleanings per year.
A lot of people are surprised that public health insurance doesn't cover deep dental cleanings, which are really commonplace in other parts in other parts of the world.
So with this policy, it's a really great value and you get your money's worth just by just by using those two deep cleanings. Because in Germany, when you go to the dentist, basically, they just check your teeth, but they don't give you necessarily a deep cleaning. So this would take care of that for you. It also covers sort of more higher end materials that are used for fillings, so you don't have to use the basic metal fillings, but you can you can opt into the the composite or the higher end quality fillings. And then we'll have an advanced version, which includes things like teeth whitening, or even like a mouth guard, if you bite your teeth in the night, which that can be 100 Euros just at the dentist. So this is a really great one. And if you plan on going to the dentist twice per year, then it's a no brainer as well.
We also have another tool on the website, which you can walk through, and that will give you a recommendation of other insurances that aren't technically required by law like the health insurance, but are really beneficial. We think everybody ought to have things like the liability insurance and household contents insurance. We're also offering legal insurance, and dental insurance is coming soon. So these kinds of things are really good to have, and are pretty inexpensive. It's a sort of a nobrainer for somebody to to sign up for.
Are there insurance policies that families with children should have?
I can't think of anything extra, other than just making sure that everybody does have the liability insurance and your home is covered by household contents insurance, as well, if dental insurance makes sense, also, one policy for everybody that plans on visiting the dentist.
Families are covered under public health insurance, so long as the children are under 18 years old, and the spouse is non-working. So if your spouse is working, then they'd have to take out their own policy.
Which insurances would you recommend for my parents who visit me regularly from India?
We don't we don't offer any travel insurance at the moment, perhaps that will be something that's coming soon. But that's what I would advise somebody to take out, you know, if they're planning on coming to Germany for a few weeks to visit you or somebody who's living in Germany. If they're planning on living for any longer than a couple of months, then I would recommend they get in touch with us and we can help them sign up for the Expat Health Insurance. And so that would cover them, you know, for the basics while they plan on staying in Germany.
Also check out our previous post on the different types of insurances in Germany.
---
📬 Subscribe to our newsletter to stay up-to-date! 👇
India2Germany Newsletter
Join the newsletter to receive the latest updates in your inbox.
---