Which types of insurance do I really need in Germany?
If you are new to Germany, you might be surprised by the number of different insurances. We explain the most important types of insurance that you should definitely know about.
In Germany one can insure oneself with innumerable types of insurance (Versicherung) against almost any life risk. But do you have to take out an insurance at all and are there any insurances that are really essential or simply really important?
These insurances are mandatory
With some kinds of insurance you have no choice. They are required by law. These include health insurance (Krankenversicherung), vehicle insurance (Kraftfahrzeughaftpflichtversicherung 😅 or KFZ-Haftpflichtversicherung) and for many also the public pension insurance (Rentenversicherung).
Health insurance
In Germany, every citizen must have a health insurance. This is required by law. Usually, as an employee you are insured in a public health insurance. There are a variety of public health insurance schemes. Since the services of the public health insurance companies are prescribed by law to a large extent, you can't make a big mistake when choosing one. The largest public health insurance companies in Germany are the Techniker Krankenkasse (TK), Barmer GEK, DAK-Gesundheit and AOK.
Of course, these health insurance companies differ in price, service and also in some additional services they offer. So, although you cannot make a mistake picking one over the other, it is definitely worth comparing to find the most suitable and economical option. Among the additional services not provided by law are, for example, the acceptance of costs for dental cleaning or vaccinations for long-distance travel to exotic destinations 🌞.
Private health insurance companies often attract young people by offering low entry fees. But with age, the costs often rise continuously. Since the benefits of the public health insurance are generally good, you should only take out private health insurance if you are confident that you will always have a consistently high salary in the future.
Moreover, the public health insurance companies have another advantage: spouses and children can be insured free of charge (dependents co-insurance or Familienversicherung). With private health insurance, each family member must be insured for a fee.
The process for signing up for public health insurance is usually in German. You can however also sign up online in English at this link for TK. The service is provided by Feather Insurance free of cost by partnering up with several popular public health insurances in Germany to provide a fast onboarding experience for expats. Similarly, here are the links for AOK, DAK and Barmer.
Read more about health insurance in our article below.
Vehicle insurance
If you have a car, you need to take out third party vehicle liability insurance. Without such insurance you cannot register your car. So before you can go to the registration office to register your car, you need a confirmation that you have a vehicle insurance. The insurance pays for damages that you cause with your car to other people and their vehicles.
But beware. This insurance does not pay for damage to your own car. For this, you must take out a comprehensive coverage (Vollkaskoversicherung) or partial coverage insurance (Teilkaskoversicherung). This is voluntary and not required by law.
Public pension insurance
All employees are compulsorily insured in the health pension insurance. The contribution is automatically deducted from the salary. If you plan to stay longer in Germany, it is worthwhile to consider a private pension insurance or other options for retirement planning, since the amount of pension you get from the public pension insurance in old age is quite low.
Another type of insurance which is important to know about is the public unemployment insurance. Read the article below for more information.
These insurances are really important
Apart from this, there are also insurances, which everyone should have, because they protect against big financial risks. If you come to Germany for a few years to work here, this would only be the private liability insurance.
Private liability insurance
The private liability insurance (Haftpflichtversicherung) is a must. Because you are liable in Germany for all damages that you have caused to someone or something. The liability insurance protects you from financial ruin, because it takes over the payments for all damages, which you cause unintentionally, be it a broken window pane, the destroyed computer of a friend or massive damage to buildings or personal injuries in accidents. There are several providers of liability insurance. If you are looking for a service in English, here is one for 5 Euro per month.
Travel health insurance
If you travel a lot, also within the European Union, a travel health insurance (Auslandsreisekrankenversicherung) can be useful. For travel within the EU, only a fraction of the costs are covered by the German health insurance and even if you have to be transported back to Germany from abroad, this is not covered by the health insurance. Such a return transport can easily cost up to 20.000 EUR.
Comparing insurances
There are different options for each of these insurances with different tariffs and coverages. If you'd like to compare various options, you can use websites like Tarifcheck or Verivox.
You can also find answers to some of the most common questions about insurance in our podcast episode below.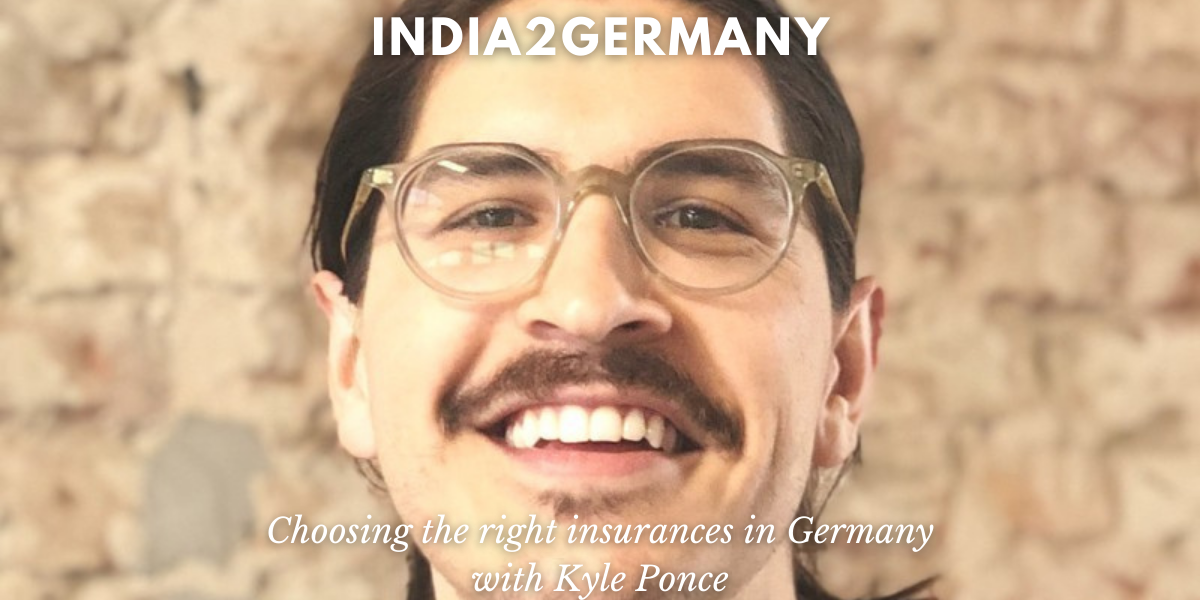 Subscribe to our weekly newsletter👇 to receive posts like these via email 📨
India2Germany Newsletter
Join the newsletter to receive the latest updates in your inbox.
---