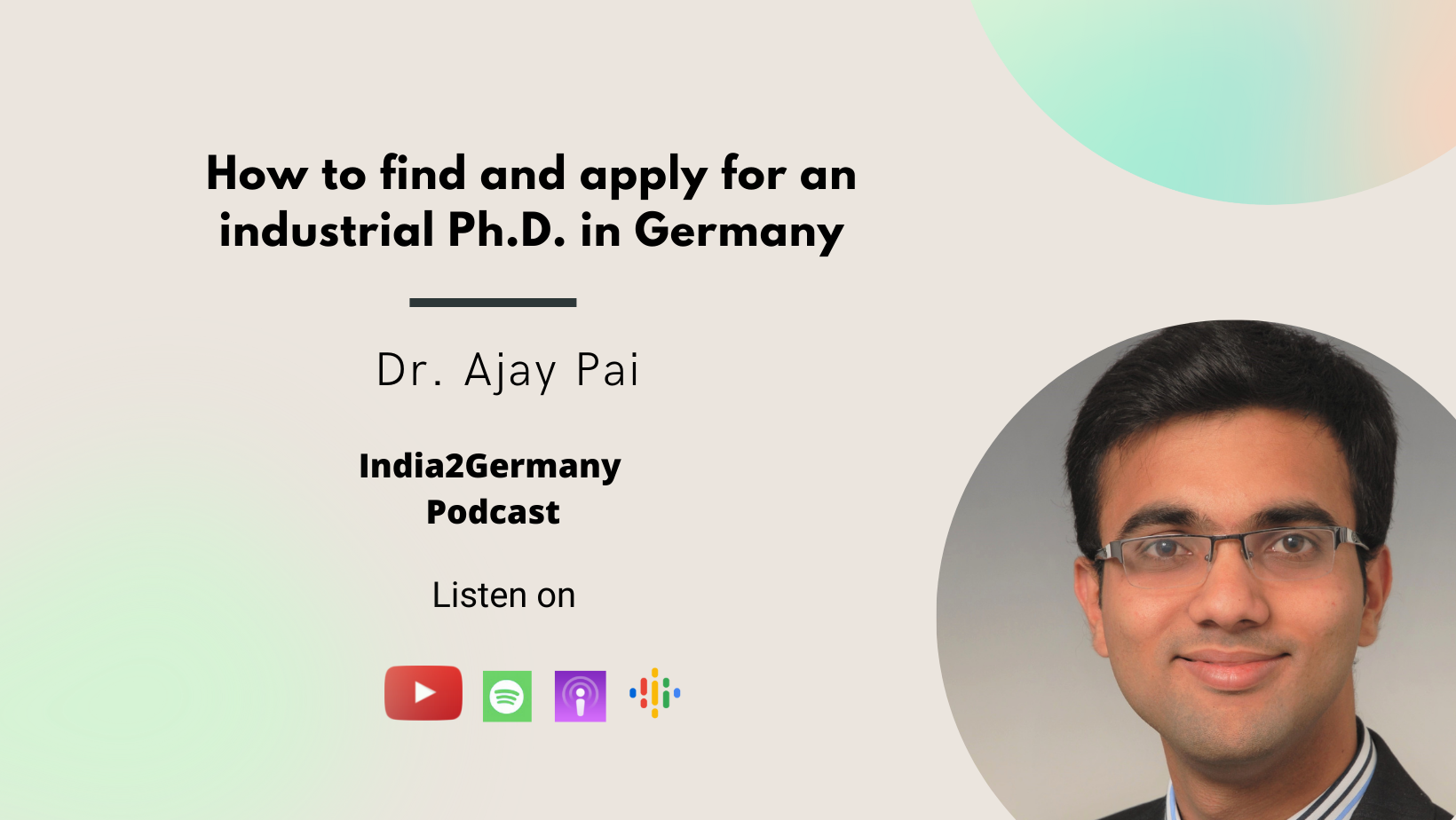 How to find and apply for an industrial PhD in Germany
Find out the best way to find and apply for an industrial PhD in Germany and learn tips for preparing your application in this week's India2Germany podcast with Dr. Ajay Pai.
Germany is known for the quality of its research. While going for a PhD, one often faces a between a PhD at a university and a PhD in the industry. In our second podcast with Dr. Ajay Pai, we talk about how to find and apply for a PhD in the industry in Germany, and how to increase your chances of selection. You'll find the link to our previous podcast with Ajay on what to expect from an industrial PhD and how it differs from a PhD at a university here. Ajay is working as a Senior Staff Application Engineer at Infineon Technologies, which was also the industrial partner in his PhD in the area of automotive power electronics. Prior to that he did his Master's at RWTH Aachen and his bachelors at NIT Karnataka, India. https://india2germany.gumroad.com/l/akvnW
🎙 You can also listen to this conversation on  Spotify, Apple Podcasts, Google Podcasts,  YouTube or your favorite podcast platform 🙂
Our previous podcast with Ajay
Also listen to our previous podcast with Ajay on what to expect from an industrial PhD and how it differs from a PhD at a university: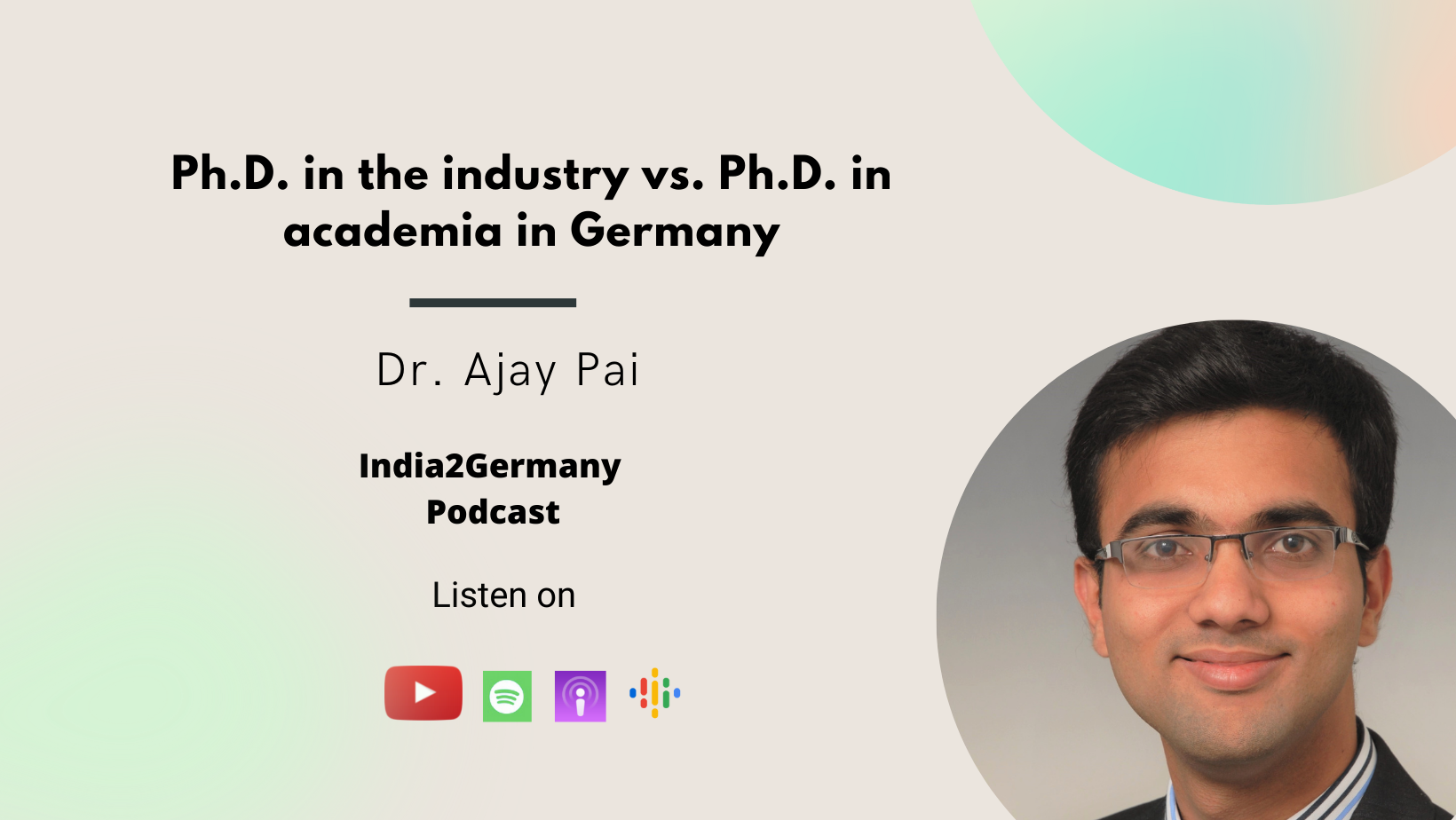 Ajay's Cover Letter template
Ajay has prepared a sample cover letter which you can download and use for your PhD applications. You can download the template at the link below in return for a small contribution (2 EUR) to support our blog and podcast.
Show notes
Here are some of the topics discussed in this podcast:
How does one find an industrial PhD?
Many companies publish PhD openings on their websites, just like any other job opening. However many industry positions may be usually filled internally with successful master thesis students. Therefore, if one already considers an industrial PhD in a certain company, it helps immensely to start with an internship or master thesis already.  
What is the process for applying for an industrial PhD?
The first part of the application process to an industrial PhD is like any other job. This is usually done on the company website. Documents needed are CV, Cover letter, degree certificates and experience letters if any. Of course, recommendation letters from a former supervisor, or a professor help. Straight-forward so far.
From here on it differs from a regular job application. During the interview process, the company and the candidate mutually discuss and align on the tentative topic for the PhD, and also a supervising professor and university. Sometimes this could be after the offer/contract has been made. Make sure to discuss this openly and reach an agreement before finalizing the contract. It is recommended to clearly understand what might be the potential frame of the PhD topic, and align it with the company as well as the professor, to avoid any wrong expectations.
Important: Additionally, one must pay attention to the qualifying requirements at the partner university. This is usually an appropriate masters degree in a recognized german university. Candidates with a foreign degree might need to undergo some coursework and exams, therefore take care and discuss this openly with the professor and the university. Sometimes, there might be some specific requirements on the grades and language skills. Also, make sure to take written permission from the professor in case the thesis will be written in a language other than german.
It is usual to NOT register in the university while working on the PhD, but please check the relevant procedure at the university.
How high are the chances of selection?
What are the important hiring criteria for an industrial PhD?
PhD is not a normal job. A PhD typically takes several years of perseverance, patience and hard work. Therefore, the first thing hiring managers look for is strong MOTIVATION. If you can convince the hiring manager on what motivates you to do a PhD in that topic, your job is half done. Additionally they look for the ability to conduct independent research, good analytical skills, ability to break down complex problems into smaller work packages, good documentation skills    
What would be your suggestions for people who want to go for an industrial PhD in Germany?
First convince yourself strongly why you would like to pursue an industrial PhD. Then try to figure out what topic intrigues you the most. Following research papers, investment news, press releases, job openings help find companies that offer cutting edge research in this topic. Check for any suitable PhD positions already offering such a topic. If not, try to use your network. If you have the chance, try to already pursue your internship or master thesis already at that company- the chances are higher to convert that later into an industrial PhD.
Once you find a suitable PhD - remember it is the journey that matters most, not the destination. Good luck!
---
Enjoy reading our work? ❤ Support us and donate ❤
📬 Subscribe to our newsletter to stay up-to-date! 👇
India2Germany Newsletter
Join the newsletter to receive the latest updates in your inbox.
---