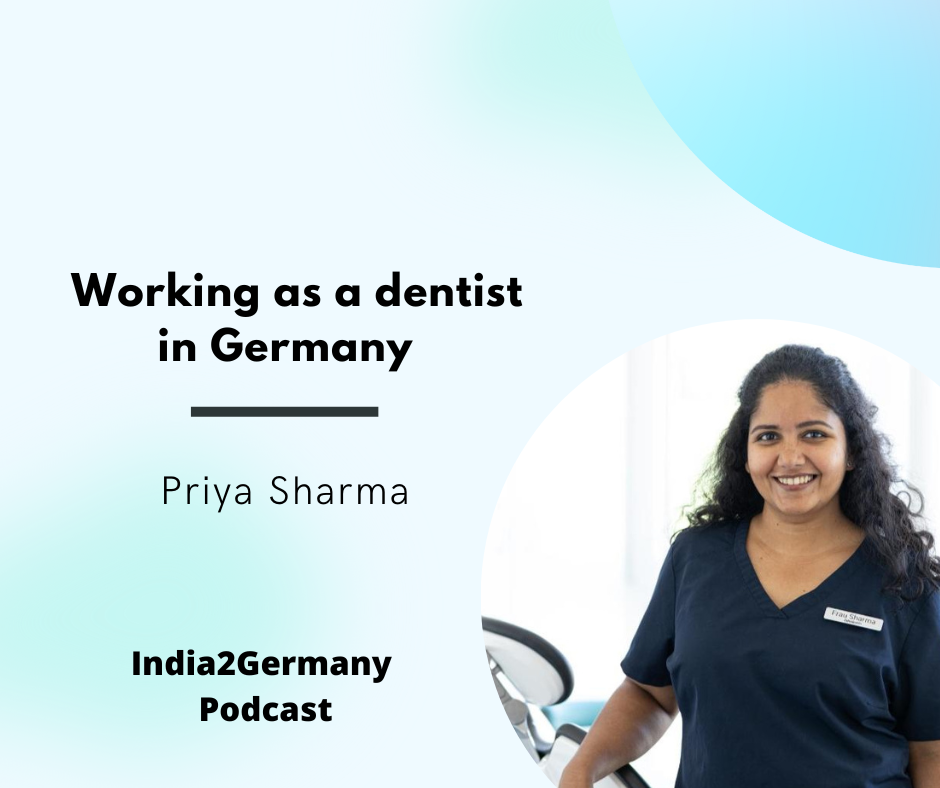 Working as a dentist in Germany with Priya Sharma
Priya shares her experience of coming from India and practicing as a dentist in Germany. If you are looking at this career path, listen to her first-hand advice.
Hello friends 👋 Welcome to another episode of the India2Germany podcast. In many of the previous episodes, we spoke with people working in the tech sector in Germany. Today, we discuss a completely new topic - working as a dentist in Germany with Priya Sharma. Priya did her bachelors in dentistry in India and then moved to Germany where she now practises as Associate Dentist at Praxis Dierksmeier in Brunswick. If you are looking to move and practise in Germany, do listen to her experience and suggestions on what it is like to practise dentistry in Germany and the process that professionals from other countries have to follow to work as a dentist here.
---
🎙 You can also listen to this conversation on  Spotify, Apple Podcasts, Google Podcasts,  YouTube or your favorite podcast platform 🙂
Show notes
Welcome Priya 👋 Please tell us about yourself and why you decided to come to Germany.
Thank you once again for having me on your podcast Paras. I am glad you have given me the chance to talk about practising Dentistry in Germany as there is not much correct information in English out there. Many dentists land up here cos of personal reasons i.e. Family  and are clueless where to begin with to get their degrees recognised. I was in a similar situation as the procedures were not clearly described in 2012. Lately that has improved as migration has changed the dynamics here.I graduated in Bachelors of dentistry in 2010 in Navi Mumbai and practised in Thane for almost 2 years while I simultaneously studied German at the Goethe Institute Mumbai. In 2013 I came to Braunschweig, Lower Saxony
You have practiced as a dentist in India for some time. Before you came to Germany, did you know what the requirements are for working as a dentist here and what the procedure looks like?
In 2012 when i got married I had a rough idea that i would have to put down my application to get my degree recognised and was prepared to some extent.I got all certificates and Univ transcripts translated in German language and attested from a licenced authority such as German Consulate or Goethe Institute. In Germany professions are regulated by states. That means every state has its own authorities and procedeures for recognising the degree. All the application requirements are put up on their website.they compare your studies  (which includes topics,hrs of theory and clinical hours) to their university standards. This typically can take 4-5months ..sometimes even longer until they let u know if your studies are recognised or not. If not the next step is to give the licence exam  (Gleichwertigkeitsprüfung or Anerkennungsprüfung) or challenge this decision via an Evaluator or Gutachter. That way can also take up many years.Honestly if u have studied in India, chances are high that you have to give the exam. I know many Indian colleagues who have had to give the exam .
That sounds very time-consuming. How did you prepare for these exams? Are there any courses and how would you describe your experience with the preparation?
When I was preparing for the exam there was only one reliable course. It is conducted by the Charité Dental Univ,Berlin along with their partner for Continuing Dental Education  Phillip Pfaff Institute which has state of the Art  equipments for practising clinical exercises. Initial part of the course also included building up medical terminologies in German, practising Communication with Patients as well as Colleagues and learning Accounting according to the German Insurance system,which is a complicated but unavoidable topic. According to me this was a very good foundation and helped me build immense confidence. But there is a catch here: this training is according to professors at the Charité Univ n how the exam is conducted in Berlin. But You have to give the exam in the state where you reside or have a job.And every professor and Univ does have their own school of thought. SO you do have to adapt your preparation accordingly. i had to give my exam at the Medical University of Hannover  (MHH). Unfortunately there was no information available at MHH or the dental council Hannover,except for a long list of recommended text books. Students at the MHH have been explicitly told not to share Notes or information to outsiders as it is all copyright protected. This was quite challenging. Of course this is not the case in all Universities.There is information available openly in Frankfurt n Berlin universities. Exam in Bavaria is the toughest to crack n exam fees are exorbitant there..somewhere around 9-10000€
Even in the US, for example, as a graduate of a German university, you have to prove the equivalence of your education through several tests, which can take a long time. For health-related professions, this is probably common in many countries. Did the prospect of taking this difficult path deter you and would you do it again in retrospect?
Yes the entire procedure was quite mentally taxing. You have to be very patient. That is what I tell anyone calls or writes to me asking about how to go about it. I remember  When  I had written to a senior Indian Colleague in Munich long back when i was looking for infos : her advice was to be really sure about going down this path. At first I found the advice quite discouraging. But it is the truth and i would tell anyone the same today too. Coming back to your second question: yes I might do it again, albeit in a country where my Licence and work experience in Germany would be valued. Maybe not if I would have the additional challenge of learning a foreign language again.
In your opinion, how does the Indian education (for dentistry) compare with that in Germany?
It fares well in certain aspects i would say. In India we get a lot of practical experience if you study at a good Univ.)In Germany Certain subjects such as Dental prosthetics are very in depth or cover topics that are very - lets say-  Germany specific and are taught in the Bachelors course itself..Students also do a lot of their Lab (technical) work like fabricating crowns etc themselves..somethg that according to me should be focused on in Indian Curriculum. Also In India we have a Masters in almost every subject of Dentistry after the Bachelors degree. That is not the case here. An extensive specialisation or Fachzahnarztausbildung is only in Oral Surgery and Orthodontics.
In Germany, one hears again and again about a shortage of skilled workers in the health care sector. Especially nurses are in demand. What is the situation like for dentists?
There is no shortage of dentists in urban areas. The shortage is in rural areas where not many are ready to move.

How can one look for a job?
Where do you work at the moment and what does your daily work look like?
I practice as an associate dentist at a private clinic in Brunswick. I work part time (25 hrs/week) as my daughter is too small for me to be away for long hrs. A full time job could be anywhere around 35-40 hrs/week. As opposed to India doctors begin quite early with the first appointment being at 8 or 8 30 am and goes on until 6pm with approx an hours break in between. Sometimes you have to put in extra hours for all the documentation. Once a month we also have team meetings with assistants and clinic manager.  Colleagues who have their own clinics have to put in a lot more hrs with regards to documentation, finances, staff management, maintenance of machines etc.
How does working as a dentist in Germany differ from working in India?
As I mentioned before work starts quite early. Time slots are allotted according to the treatments planned and one has to adhere to them. Patients are also mostly very punctual. THis does create stress in the beginnings if you are not used to this kind of work culture. The assistants and Hygienists are highly well trained so that speeds up the work a lot.
Do you see any advantages of working as a dentist in Germany?

What would be your advice to people who want to work as a dentist in Germany?
The grass is greener on the other side. One of my senior German colleagues once said, you have to work very  hard for your money in Germany. Dentistry is supposed to be on of the toughest profession.
---
📬 Subscribe to our newsletter to stay up-to-date! 👇
Enjoy reading our work? ❤ Support us and donate ❤
India2Germany Newsletter
Join the newsletter to receive the latest updates in your inbox.
---