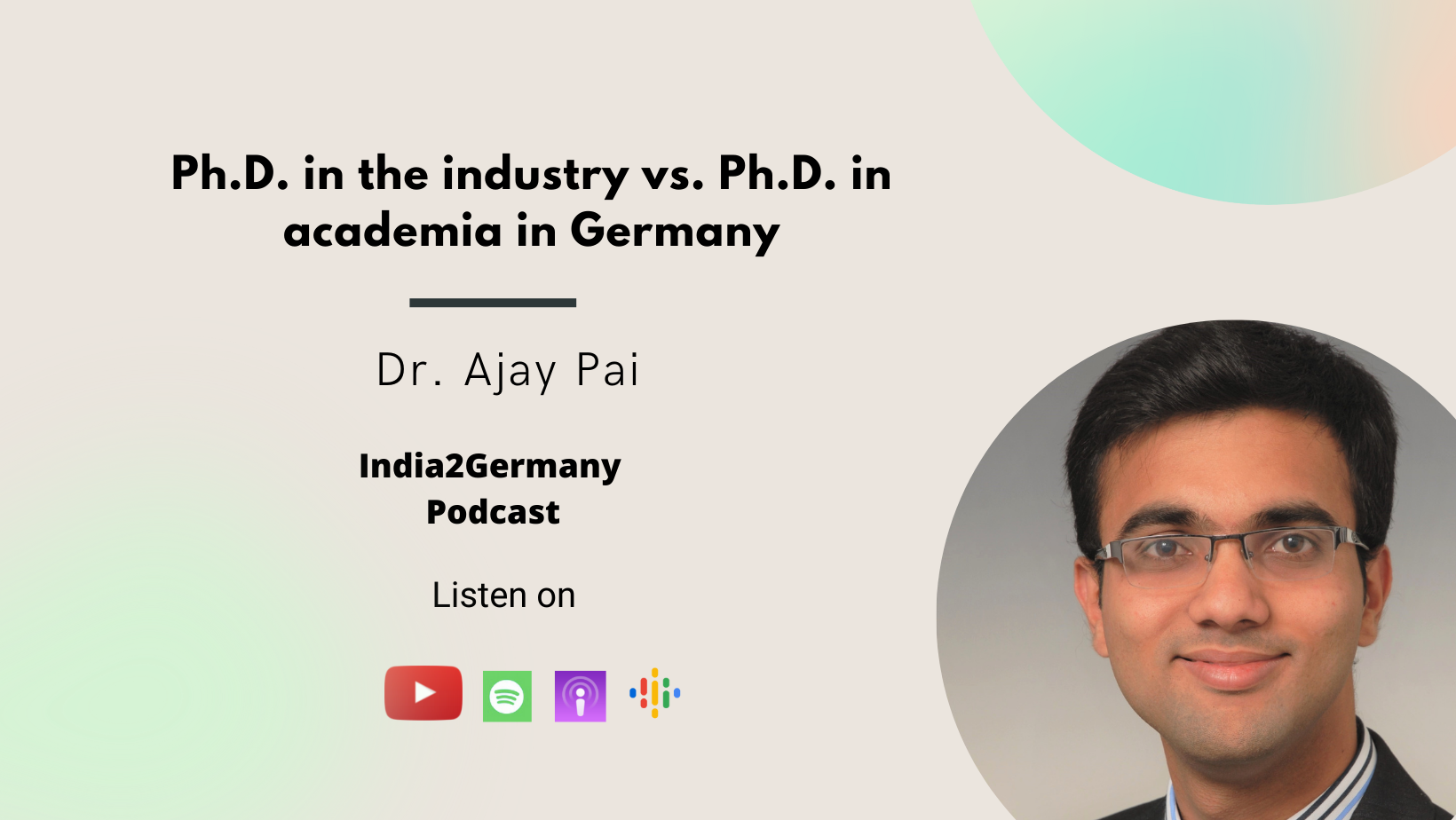 PhD in the industry vs. PhD in academia in Germany with Dr. Ajay Pai
Ajay answers all your questions on what a PhD in the industry in Germany entails and how it is different from a PhD at a university.
Germany is known for the quality of its research. While going for a PhD, one often faces a dilemma between a PhD at a university and a PhD in the industry. Today we speak with Dr. Ajay Pai, about PhD in the industry in Germany and how it differs from a PhD in academia. Ajay is working as a Senior Staff Application Engineer at Infineon Technologies, which was also the industrial partner in his PhD in the area of automotive power electronics. Prior to that he did his Master's at RWTH Aachen, Germany and his bachelors at NIT Karnataka, India.
🎙 You can also listen to this conversation on  Spotify, Apple Podcasts, Google Podcasts,  YouTube or your favorite podcast platform 🙂
Our next podcast with Ajay
Also listen to our next conversation with Ajay, where we talk about the application process, documents needed and important tips to increase your chances of getting a PhD in the industry: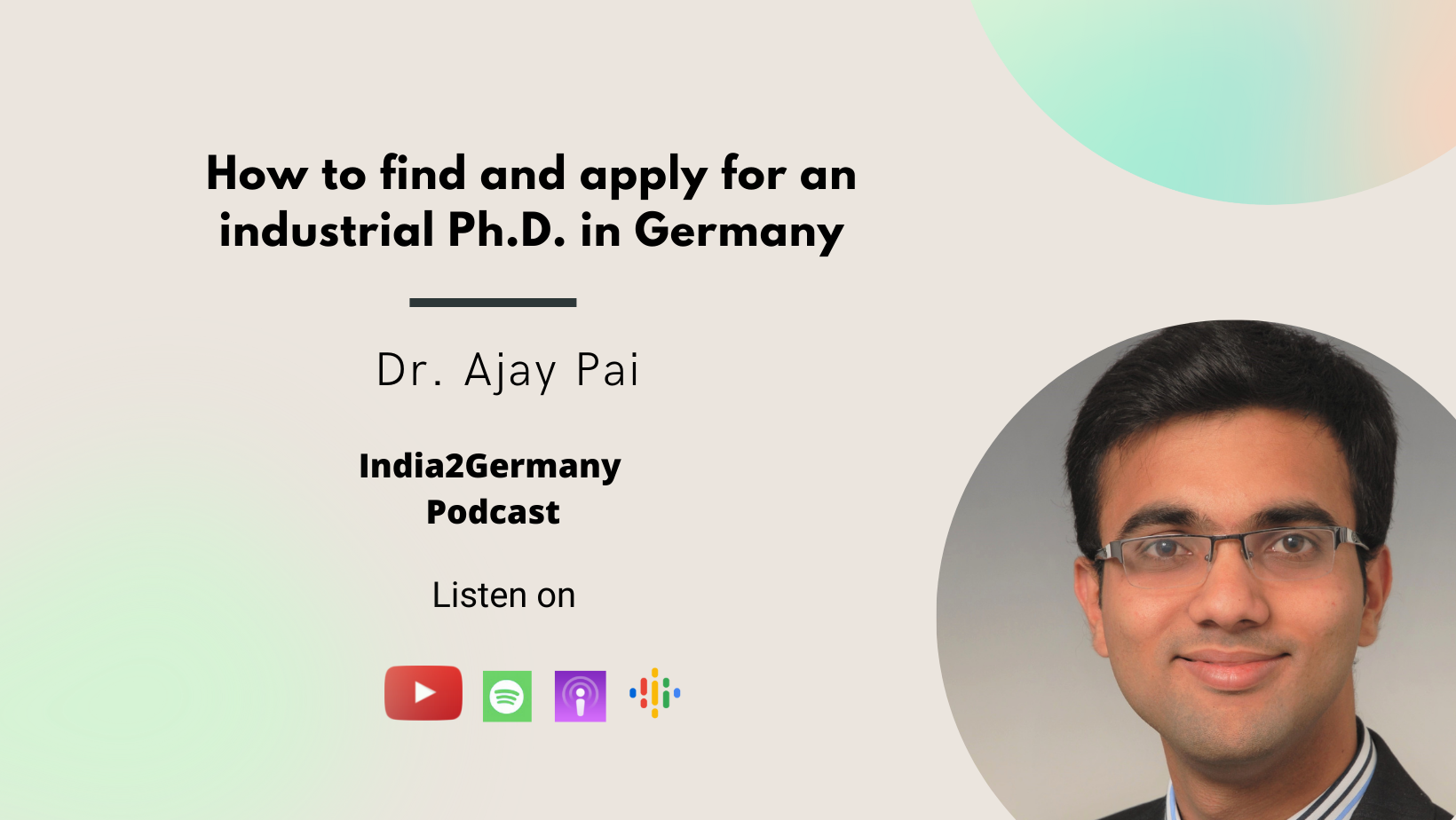 Ajay's Cover Letter template
Ajay has prepared a sample cover letter which you can download and use for your PhD applications. You can download the template at the link below in return for a small contribution (2 EUR) to support our blog and podcast.
Show notes
Ajay, before we start discussing the topic of industrial PhD, why don't you introduce yourself to our listeners.
Sure, My name is Ajay Pai. I did my B.tech from NITK Surathkal in India back in 2010, and then my masters from RWTH Aachen in 2014. Since then, I have been working as an Application Engineer at Infineon Technologies in Munich focusing on Power semiconductors for e-mobility. I also did an Industrial PhD from FAU Erlangen which was supported by my employer Infineon.
📬 Get the latest India2Germany articles via email 📨
What exactly is an industrial PhD?
First of all we need to understand two different forms of PhDs. One is a structured PhD, which includes a systematic coursework and the topic is generally well defined. This is similar to PhD programmes in many parts of the world. The second is the so-called "individual PhD", which typically involves no coursework. As the name suggests, the individual is responsible for the topic as well as for the path taken to reach the dissertation. This is the most common type of PhD in Germany. An industrial PhD is a form of individual PhD where the candidate is not based internally in a university but rather in a company, researching on a topic that is interesting to the company and is usually funded by the company.
Read more about funding opportunities for PhD and Postdoc: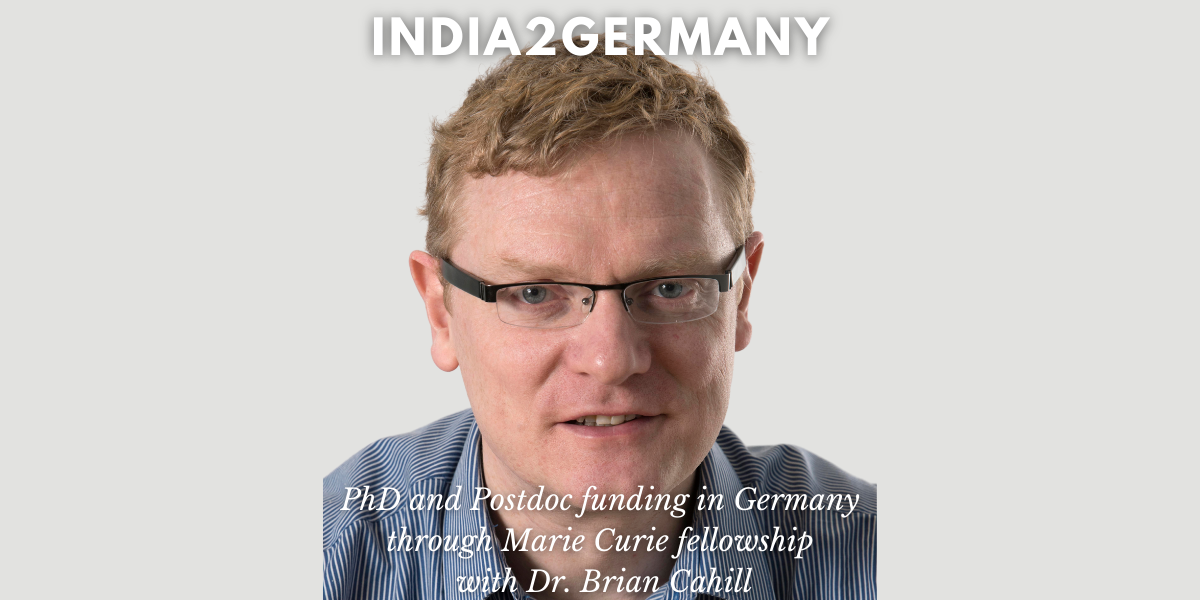 How does it differ from an academic PhD?
In an academic PhD, the candidate is based in a university and performs research on a topic that is usually aligned with the research interest of a particular institute in the university. They are funded by the university or by a scholarship. In an industrial PhD, the candidate is typically a full-time employee of a company, and works on a topic that is along the research interests of the company. Industrial topics usually tend to be more applied research, focusing e.g., on technology, production or application. In contrast, academic PhDs tend to be more academic and scientific. Usually, academic PhDs offer more flexibility in the choice of topics, as the research interests of universities are usually vaster, compared to corporations which are focused on specific segments.
Is the supervising professor within the company usually?
Whether it is an academic PhD or an industrial PhD, the degree is always awarded by a university and the work is supervised by a professor at that university. The professor is called a Doktorvater- Doctoral father or a Doctormutter- Doctoral Mother. In an industrial PhD, the candidate usually has an additional supervisor in the industry who guides the work on a more regular basis.  
Does one have to choose the partner university/professor on their own or does the company support this? Are any seperate applications to the university necessary?
Normally an Industrial PhD candidate is expected to be the company's contact partner to academics. From that point of view, companies appreciate a candidate already having a good connection to a professor who is willing to support the PhD. Nevertheless, high-tech companies in Germany are usually well connected to universities and are more-often-than-not willing to connect to a potential supervisor.
Do industrial PhDs have to publish a thesis, like a conventional PhD? Is a certain number of papers or journal articles also necessary?
Yes, publishing a thesis is mandatory for both forms of PhDs. However, depending on the agreement with a professor, one may publish a so-called monograph, i.e., a single thesis, or a collection of papers and journals, usually called a journal-based thesis.
As far as the second part of the question is concerned- Even though publishing papers is officially not a mandatory requirement, it is highly encouraged and sometimes even unofficially required.
Does the sponsoring company hold any rights to the PhD thesis? Are there any boundaries in publishing the research?
A PhD title is only awarded after the thesis is made available to the public in a printed or electronic form. Therefore, companies are very supportive and allow publication of the thesis. The candidate holds all rights to the PhD thesis. However, the company usually holds the right to any patents, technologies or products developed during the course of the PhD. As such, companies could restrict publishing certain findings that could threaten their Intellectual property.

What are the benefits of industrial PhD over academic PhD?
Each form of PhD has their own Pros and cons. Industrial PhDs tend to be more applied, practical and of course industry-oriented. The contact with industry experts is higher and the exposure to technical trends is very high. This leads to a holistic and business relevant understanding of their topics. This means the candidate is an expert of a specialized field that is interesting for the industry. Moreover, the time during the PhD is usually considered as relevant industrial experience. These two aspects help immensely when one plans to pursue a job in that industry. Therefore, an industrial PhD may be apt for someone who plans to pursue a research career in the industry.
Worst case: lets say one year into the PhD, you realize that a PhD is not your thing, it is easier to look for an alternate job in the same company than if you were in a university.
More about PhD in academia in Germany: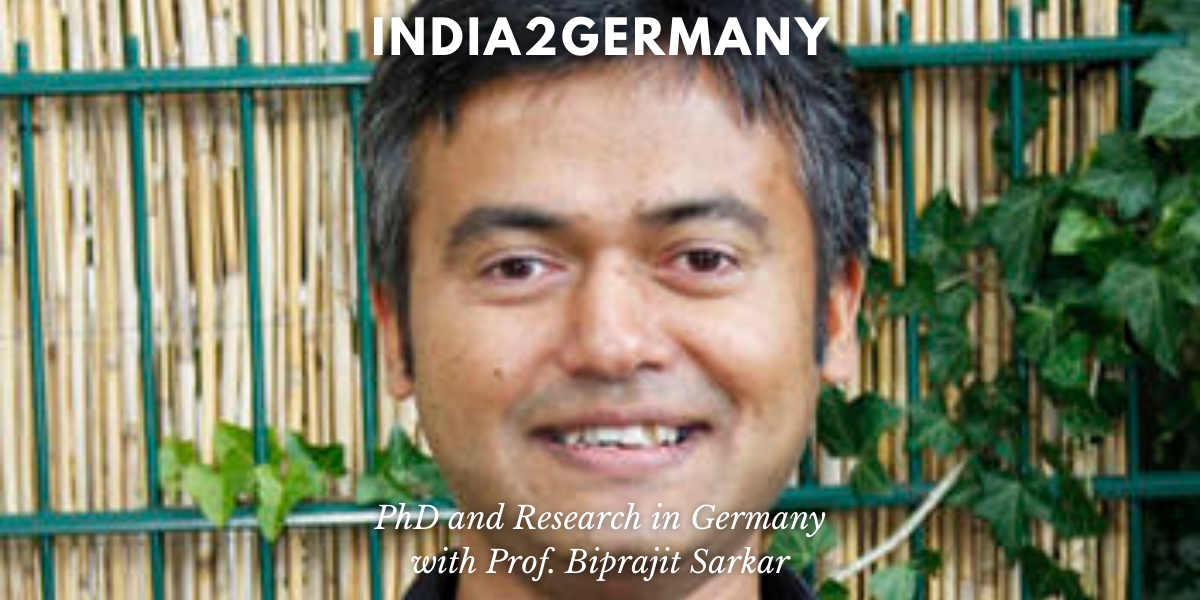 Are there any disadvantages of doing an industrial PhD?
Compared to academic PhDs, industrial PhDs tend to be less academic and scientific. This could be a bottleneck, if one plans to pursue a career in academics, for e.g., as a professor or a post doctoral researcher in a university. Another thing: industrial candidates lack the same level of access to the professors and his peers in the university. This could be a small challenge, particularly during the review phase of the thesis.    

What are the career options after an industrial PhD?
One could ofcourse find a job in the host company, or look for openings in a peer company. Job roles could range anywhere from a technical expert to a technical lead to a manager. One could also consider going back to academics as a professor or post doctoral researcher.

How high are the chances to get a permanent position in the same organisation?
Industrial candidates usually have a good visibility into the organization and job prospects in their host company. Companies also prefer to retain the candidates with a successful thesis. After all, who better to hire than someone with a demonstrated expertise within their own organization. Therefore, chances are very high to land a permanent position in the same organization.

How much time does it take to complete an industrial PhD?
This depends on the various factors. E.g., involvement of the candidate, maturity of the field. It is easier to publish papers and a thesis in a new and upcoming topic, than in a saturated topic that has seen research for several years. Typical time is between 3 to 5 years. Anything outside of this is very rare.
In an upcoming episode, Ajay speaks with us about the application procedure for PhD in the industry in Germany. 📬 Subscribe to our newsletter to be the first to know when the next episode is online! 👇
---
India2Germany Newsletter
Join the newsletter to receive the latest updates in your inbox.
---