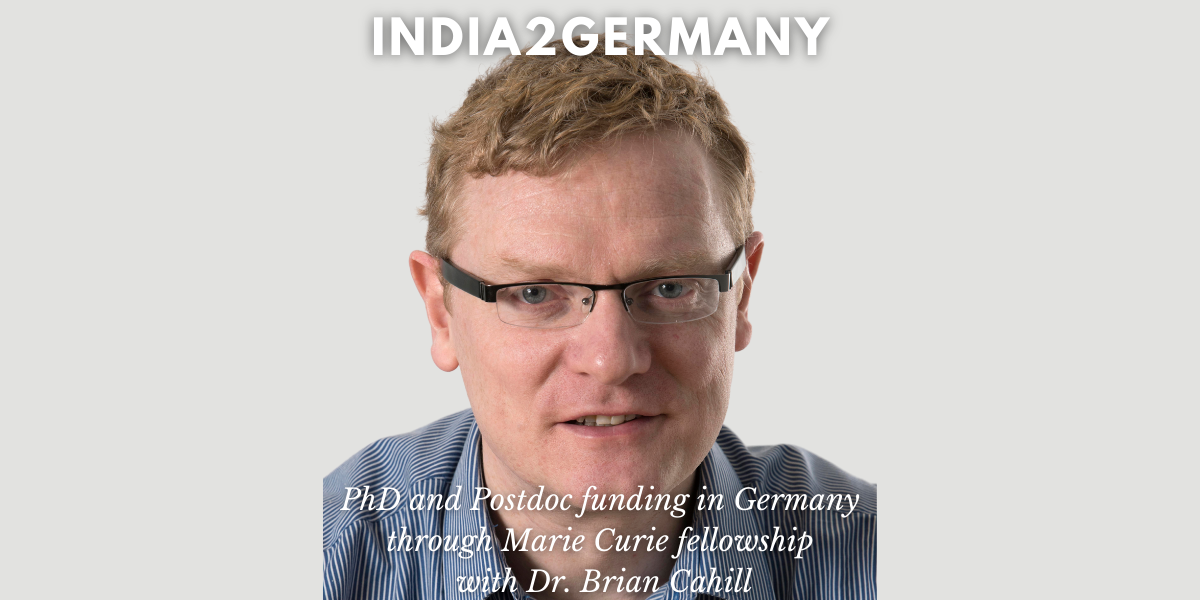 PhD and Postdoc funding in Germany through Marie Curie fellowship with Dr. Brian Cahill
Dr. Brian Cahill speaks to us about funding opportunities for PhD and postdoc in Germany and Europe through the Marie Curie programme. Register with your email address to read more. It's totally free of cost!
Our today's guest on the India2Germany podcast is Dr. Brian Cahill, a highly experienced researcher and a former member of the governing board of EuroScience - a grassroots organization facilitating debate between researchers, public and policy makers. Brian has served as a Research Group Leader at the Institute for Bioprocessing and Analytical Measurement Techniques, and is also former chair of the Marie Curie Alumni Association and the association's chapter in Germany. He shares his extensive knowledge and insights on funding opportunities for PhD and Postdoctoral research in Germany through the Marie Curie grants, as well as other initiatives such as the Humboldt Foundation fellowship. Read and listen to our conversation below.
🎙 Subscribe to the India2Germany podcast on Spotify, Apple Podcasts, Google Podcasts,  YouTube or your favorite podcast platform to be the first to know when a new episode is released 🙂  
Hi Brian 👋. Could you tell us a bit about yourself?
I came to Germany straight after my master's degree, and started working in the industry for Hewlett Packard and Agilent Technologies writing manuals in Stuttgart for two years. After that, while I was around 23-25 of age, I looked around and wanted to do something more than writing manuals. I loved working in the industry, but then I went to Zurich just to visit with some friends and I looked around and thought I could live here in Switzerland. After that, I saw a position at the Swiss Federal Institute of Technology (ETH Zurich), and I applied for it. And I got the job as a Ph.D. student or Ph.D. Assistant as it was called. I had a great time in Zurich and doing a PhD was scientifically very interesting and a productive time for me. So after I finished my PhD, I decided to stay in Switzerland, but to move to the french part of Switzerland to the German part of Switzerland and from the nanotechnology group in the mechanical engineering department to chemistry, because a lot of the work that I was doing in the PhD was about surface chemistry and charged surfaces; so between mechanical, electrical, engineering, and the chemistry of surfaces. So, from that I moved into a postdoc in interface science. I designed some advice for measuring laser reflection at the surface to measure the absorption of molecules. I think, for me, that was a great developmental opportunity and I learned a lot in those two years. But I wanted to move back into something closer to application, and closer to engineering. That was how I applied for a Marie Curie fellowship in Germany again. So I had been to Germany, then moved to Switzerland only to move back to Germany again, using Marie Curie fellowship.
After that, I moved to an institute where we did applications of microfluidics and biotechnology for about 10 years. I got involved in EuroScience, mainly because I was involved in the Marie Curie Alumni Association (MCAA) before. Through working with MCAA, I was involved in supporting researchers to develop their careers and to represent the interests of researchers in Europe and around the world. From that I met some people involved in EuroScience; I had been to the EuroScience Open Forum, which is a big conference on general science, on science policy, research careers, gender equality, and bridging science and business that happens every two years. This conference made a big impact on me. I got to know some people and it was suggested to me that I might be interested in joining the governing board. So I applied and was elected. So I think by being part of EuroScience, I can contribute to many of the same issues but can also get involved in wider science policy. So I think that career issues for junior researchers are important, but I think through EuroScience we can deal with many other general science topics. So I think for me, this is also a visit development from breaking into my Marie Curie Alumni Association, which I enjoyed as well.
EuroScience is an organization, which exists to make to make it easier for scientists to communicate with policymakers, but also with the general public. So, from that point of view, it's very interesting that you can deal with issues in a way that you can communicate complex ideas with the public. A lot of people are interested in the communication of the policy to the general public, and this is something that a lot of young people particularly are interested in, but also policymakers because every politician needs to have some sort of political legitimacy for the decisions they make. Often with complex topics in the scientific area, it's very difficult to assess exactly what the public thinks about it. Sometimes they're not very well informed by the media, or by the scientists, thus, it's important to teach scientists how to communicate with the general public.
I mean, if you think about it in Europe and take the example of genetically modified organisms, (or any other difficult topic like that). It may be possible that the public in Europe would think differently from the public in India. It's not okay that the scientific community thinks one way and accepts one way of thinking and where they don't communicate this effectively with the general public. I think it's very important to show that it's to our great advantage to the scientific progress that is being made at the moment, particularly think CRISPR-cas9 which received the Nobel Prize. There's a lot going on in science in the last 10 years.
What is the Marie Curie programme exactly?
Marie Curie programme is the main programme of the European Commission that supports early career researchers, not exclusively early career researchers, but mainly.
It's a programme that's named after Marie Curie, who was probably the most famous female scientist in history and was also a very prominent scientist who moved country. At the very beginning of her academic career, when she was studying, she left Poland, which was then part of Russia, and moved to France. The Marie Curie programme is focused on researchers who are internationally mobile. So you can say that all Marie Curie projects have some sort of international mobility. This is usually the mobility of a young scientist or a young researcher who moves for that; this is the main important point about the program.
The programme is about doing excellent science. It's also focused on interdisciplinarity and intersectionality.
So it's about research that offers a perspective for the researcher to be hired in academia, but also outside of academia so that you can have some sort of connection with society.
There are four main types of actions that are supported by the Marie Sklodowska Curie actions.  
📬 Get the latest India2Germany articles via email 📨
What is the duration of the Marie Curie funding?
The duration of the programmes depends on which programme you apply for. Generally, the postdoc fellowships are two years long, and the PhD fellowships are three years long. This just means that this is the length of the funding from the EU for the program. Particularly in the case of PhDs, which tend to take longer than three years, it means negotiating with the host to extend your contract, or to find other ways of running it. It's quite complicated. But I think normally people finish their PhD in maybe four years, even maybe a little bit more than four years. So I think that this is generally the case with research funding programs that you get funded for a particular amount of time and for extending the project there are ways of doing it, but that requires negotiation and working with your host organization.
How high is the Marie Curie fellowship funding?
The funding involved depends a lot on which country you're hired in because generally, they have a certain pot of money reserved for salary, but that also has to pay for pension contributions and it's very complicated to figure out exactly how much you would be paid. It's different between countries, so it's hard to say.
I think in Germany, generally the money is enough to live on; you won't get rich. But I think with this sort of programme, money is better than some German researchers are paid. And in some cases, it's less.
So it's hard to predict. You are also given support to find housing to settle in. This is part of the application that the host institution has to show that they will support the integration of the researcher in the research institution. So I think you can expect to get some support. But this is very dependent on the international office in the university or your host supervisor, or the secretary in the research group that you're going to work in. The host has to commit to providing support for integrating researchers, and most of them do. There is some funding that the researchers get paid for in the beginning to pay for flight costs for coming to Europe or research institutions; this is part of the rules.
I first became the Chair of the German chapter of MCA in early 2015. While running the chapter, I set up a program of a big meeting and a small meeting; just to find ways to reach out to researchers in Germany who are in our association and to run events that would help them to develop their career, and also to develop networks with each other. I also engaged a lot on our web platform, to share information, because very often international researchers aren't very aware of what's going on in the country that they live in, particularly if a lot of the information is in German. So I provided a lot of information for researchers, so that they would know if there was a grant that they could apply for or a tourism event going on or a career fair; you know simple stuff but just ways to promote something that's going on, that might be interesting to share, because I think this is for me what it means to be a part of a network - to try to share information, to run events or to just find ways to connect with people. Through this work I think we were relatively successful in Germany, we had a big increase in members. Then, I was approached by several people to become Chair of the association when there was an opening.
So, for two years I was the Chair of the Marie Curie Alumni Association. It was a lot of work. I met a lot of great people. I think we developed a lot of content for the members of the association in terms of meetings, webinars, activities where people could get involved in the working and particularly setting up working groups and chapters. We had working groups to cover particular areas such as science policy, career development, gender equality, or for bridging the gap between science and business. We set up chapters in India, South East Asia, China, Brazil, Ireland, Czech Republic, Switzerland, and in different parts of Europe because sometimes it's easier to reach people at a local level. So we set up a lot of those sorts of activities. Through that we also submitted many sessions for the EuroScience Open Forum in 2018 so that we could find a way to develop science policy content that reflected how early career researchers think and what's important to them. So through this work, we got a lot of attention. For example, one of the sessions that a colleague of mine, Sarah Ricardo, ran, became the focus of an editorial in Nature, on the career development of mid-career researchers, called The Lost Generation. So, I think that we achieved quite a lot through this sort of work. After two years, I decided to step down and moved on to take up the governing board position at EuroScience.
Does the Marie Curie programme cover all disciplines?
The Marie Curie programme is set up as a bottom-up program. It means that the research topics to be covered are suggested by researchers, whether they are professors or academics suggesting a topic for an ITN, or in an individual fellowship where that's something that the postdoctoral researchers themselves figure out while working with the potential supervisor to develop a proposal. So in this way, it's an open call for all disciplines to apply for. There are more applications from life sciences or more accepted applications from life sciences. I noticed that people from humanities and social sciences are well represented, but they feel that they don't get enough accepted proposals, which I think is fair enough. I used to say scientists a lot but now I probably say researchers more because it's more inclusive language. It's also because people from humanities or social sciences don't identify with the term scientists as easily. There is no restriction on the research topic that Marie Curie project can address.
What are the eligibility criteria for applying for the programme?
Marie Curie is a mobility program, which means you have to be internationally mobile. You must not spend at most 12 months of the last 36 months in the country that you will get to fellowship in but as you well know, as a Marie Curie alumnus yourself that Indians can apply. The former European Commissioner for research Carlos Moedas very famously said that Horizon 2020 was open to the world and this is definitely the case for the Marie Sklodowska Curie actions. I just looked at the MCAA website and its shows there are members from over 140 countries in the world. The top 4 countries are Italy, Spain, Germany, and India from the point view of nationality. So I think Indians are very well represented within the Marie Sklodowska Curie actions. And in particular, in the MCAA, many Indian people are involved. I heard somebody say that the two countries that recognize the value of networking most are the Italians and the Indians. We've had many enthusiastic Indians who were involved and who ran activities within the association. So I think it was a great contribution.
Now if I go back to the question, the mobility rule is a knockout rule. So there is no arguing with this rule that you cannot have spent more than a certain amount of time in the host country within the last few years. There's an experience rule for Postdocs where they have to have at least four years research experience or have defended PhD. At the moment, there are no age criteria; it means that a researcher can be of any age. But with the increasing number of applications and the pressure on research funding in Europe at the moment, they will likely introduce some sort of age rule - probably not the number of years of age, but more like the number of years after PhD was defended is likely to be introduced as a rule. Not everybody agrees with this rule, but it's likely to happen. However, in principle, at the moment, it's very very open. And hopefully, in Horizon Europe, the upcoming program that will start in January, it will stay as open. But I think with the pressure on the research budget, it may not be the case.
How do I apply for the Marie Curie fellowship?
There are two different ways to apply
You either apply for a position on a Marie Curie actions project, e.g., for the ITNs or the COFUND projects. For that, you should look at the Euraxess website, that's https://euraxess.ec.europa.eu/jobs. This website has all Marie Curie jobs along with many other research jobs in Europe as well. So if you look at that website, you may find a Marie Curie position, or you might find another position that you're interested in. So I think that's to be recommended.
For the individual fellowships, it's more complicated, because you have to submit a research proposal. At the moment, I have been reviewing research proposals for the commission. This is not very complicated if you get help, but if you're doing it on your own it could be very complicated.
To start the process, you need to find a supervisor under the institution that is willing to support your research and to build the research proposal together with you. So this is not just about supporting your research, it's also about supporting your career development. This means that you have to deal with a lot of the technical details of the proposal and it is very technical.

One part of the proposal is about research excellence. So it's about an innovative and novel idea, where you try to explain the idea well, the proposal, and so on. And that's about 50% of marks.
Then the next part is the impact. The impact is largely the impact on your career, the career development aspect. So if this proposal is funded, the institution is committed to helping you to develop as a researcher and to have a successful career afterwards. And it's also about the communication and dissemination of research results. So you need to communicate with the academic community but also with other stakeholders, e.g., maybe with potential industrial partners or with policymakers, and it's also about communicating results to the general public. So this is kind of bundled together as the impact.
The last part is the implementation, i.e, whether it's feasible that your project plan is possible for the 24 months period, whether it's well-argued. I think this part requires you to work with your supervisor to find out what resources are available at the host institution, and whether these will be made available to you. So, to some extent, this is about using equipment in the lab or wherever, having access to networks and whether there are training courses available, e.g., in communication skills, writing patents, defending IP, or stuff like this.
So a lot of this is just how you can work with other people to generate a good idea. It's a training course on how to write your proposal for a young researcher.
How high are the chances of selection for the Marie Curie programme?
I think the main problem with the individual fellowship is that the acceptance rate is about 14%. And this year, there was a record number of applications over 11,000. So in some ways, it's a good experience, but I think it's a better experience to get to funding 😃. I think we would like more researchers to get it but that's the reality of research excellence, that you have a 10% chance of getting funding. You may have a better chance if you write a really good proposal, but again some really good proposals don't get accepted. So I think this is life; you cannot put all your eggs into one basket in research or in any career development opportunity. It's worth applying for, but I think also you should at the very beginning, find out what support is available from the host.
📬 Get the latest India2Germany articles via email 📨
How was your experience in the Marie Curie programme?
My experience as a fellow was very good. I was at my fellowship at the Institute for Bioprocessing and Analytical Measurement Techniques in Bad Heiligenstadt in  Thüringen, which is a part of Germany that was previously in East Germany, and just was in a relatively small town in Thüringen. But the focus of the research within this institute was very close to my three research groups, one was on more or less microfluidics for biotechnology, the other was in analytical measurement techniques and another on biomaterials. I had an interest in kind of all three pots within the institute. So I think for me developmentally, as a researcher, it was a very good place to work and it was very well-equipped. I was initially hired in a type of project called Transfer of Knowledge Host Development Fellowships, which doesn't exist anymore. So this proposal was written by the institute itself, and they just hired me into the project. It was a very good experience. Directly at the end of this project, I applied for another Marie Curie project, which doesn't exist anymore called the Reintegration Grant. It wasn't to fully fund my position. It was a fellowship that part-funded researchers to further develop their research. But the proposal was basically set up in a way that the host institution had to show that they supported the researcher to continue to research and it was a relatively small project, but it was also enjoyable, I could hire interns from the US, partly through the DAAD and we worked together on a project that eventually was quite successful.
If as a young researcher, you have some funding available that helps you to go to conferences, it means that you have a lot more freedom than a normal Postdoc researcher.
A normal researcher has to go to the boss and ask, Can I go to this conference? and then argue, whereas if you have your own funding, it's a lot easier to plan which conferences you're going to go to, and where you will present and so on. So this was very valuable for me at the time.
How was your experience at the Marie Curie Alumni Association?
The alumni association is something that I got involved in 2015. I became the Chair in 2016. So for me, I wanted to build an association, where networks could be built. And I was building a lot of networks myself, but as a representative, I went out and I tried to build networks with external partners, such as the European Commission, but also with the Euraxess network, which is, in some ways part of the Commission, but it's a network to many of the international offices throughout Germany, but also throughout Europe, who look after international researchers when they arrive in the country. And I think this interested me most because sometimes people have problems when they arrive in the country. But you generally don't hear about it when it goes well. And through engaging with the network, I could see that many people were highly interested in looking after international researchers, and you can give feedback about some of the problems that people have when they first arrive in the country. I noticed in Germany, generally, people have a certain disappointment about how much they're paid. Because in Germany, taxes are relatively high, but not so much tax, but kind of pensions/health insurance and from abroad it's very difficult to know how much you're going to be paid before you arrive in the country. And this is a difficult situation for everybody. I think in the Marie Curie Alumni Association, we tried to be as helpful as we could. I think in our first meeting, I asked a tax advisor to give her opinion about how people could make the tax declaration to save some money. And very often international people can save some money by doing that.
Are you aware of other funding opportunities for PhD or Postdoc in Germany?
In Germany, there are many opportunities to apply for funding for international mobility, particularly at PhD level.
There's DAAD, the German academic transfer agency. They give a lot of information about educational opportunities in Germany. They have some activities at the postdoc level, but mainly up to the PhD level. But a lot for bachelors, masters, and PhD level; there are a lot of opportunities. Some of these are short research visits, whereas some of them are full PhD programs as well. So I think looking at the DAAD website is a very good idea.
Also, the Humboldt Foundation has a very attractive offer for postdoctoral fellowships, and also for research visits on some other programs. But I think if you mainly talk about the postdoctoral fellowship program, the Humboldt foundation in some ways is very similar to the Marie Curie program, although it's a little different. It's a lot more research-focused and the proposal is a lot shorter and probably easier to write. That's just three deadlines per year, instead of one for Marie Curie. Further, the acceptance rates are a little bit higher. Probably for German institutions, the Humboldt foundation funding is a lot easier for the institution, since it's in the German language for them, and also that EU funding can be a little bit complicated, particularly if they haven't handled this before. But actually, both the fellowships are very interesting programmes. I think in Germany, the Humboldt Foundation is very well respected. I know from talking from people who have Humboldt fellowships that they have very big identification with the Humboldt Foundation.
In general, there's a lot of research funding in Germany, whether it's from the German Research Council, or from other funders in Germany, much of the funding comes from the Bundeslands (federal states). There's an international research marketing program in Germany called Research in Germany, which is focused on advertising positions at German universities to foreign researchers. So it's a good idea to look into the activities of Research in Germany. If you've worked in a German lab you'd know that are many of the PhD candidates and postdocs come from foreign countries, and many Germans go abroad to get experience. I think this is just part of international research mobility. I know coming from Marie Curie, we think we're the only ones but I left my country 10 years before I became a Marie Curie fellow so I know it's, it's not completely true. But depending on the country we have many researchers, particularly in Switzerland, Germany, Scandinavia, the UK, and the Netherlands. The amount of foreign researchers from non-EU countries in research is very high.
What are the career options after completing a PhD or Postdoc with the Marie Curie programme in Germany?
I think it's a difficult question. It's one which we looked at in the Marie Curie Association very carefully. Very broadly, you can make an industry career, which is everything in the private sector or you can make a career in academia and just looking at it from point of view of Germany, to make an academic career in Germany as a professor is quite difficult, even for Germans. Since the first stable position, you will have as a full professor which is a lot further down the road from being a PhD candidate. But many people are working in research in Germany, who aren't professors. So I think there is quite a lot of research funding and not many permanent positions.
Against that there is a big demand in Germany, for skilled employees in the private sector. So depending on your skills, you may want to pursue a career in the industry. I think this is what we see among all early career researchers who did a PhD and maybe postdoc and then go ahead and make a career outside academia.
Just looking at it from the point of view of somebody coming from India that has returned to India to make an academic career over there is also not an option for many people. And particularly, if we look at the kind of people who come to Germany for Humboldt fellowship, many of them come for two years to their fellowship and return to their own country to become academics there. That is very traditional career development, but it still applies to many people, that they go to a foreign country, gain skills, and then return home to be kind of ambassadors for the program in their own country and to be influential in their own countries by contributing to education and research there. So this is a choice that everybody has to make for themselves. But I think in general, if you have more education, more training and have gained skills, then you will have an attractive career, whether that's in academia or industry, I think the most important thing is that you contribute, and you have a satisfying career for yourself. That's the main focus.
How should one choose which funding to apply for?
I mean, it's difficult, to say exactly since sometimes there's a certain amount of luck involved; you can focus on one type of funding and you can apply for another type of funding and get it. So if you were coming as a postdoc, it's not a choice between applying for the Humboldt fellowship and applying for Marie Curie, you could apply for both. I think the most important thing is that before you move, you have some idea of the support you will get from the host institution and an idea of how committed they are to you and to develop that relationship. Normally applying for funding is like applying for any other job, you see the opening, you apply, you get interviewed, and then you either get it or you don't. And I think at that stage, you have to make the choice whether you accept it or not. A lot has to do with personal relationships and your feeling about what the fellowship will offer, how well you will fit into the group, how close your research interests are to the supervisor and how the supervisor and institution will support the development of your career.
---
📬 Subscribe to our podcast and newsletter to stay up-to-date! 👇
India2Germany Newsletter
Join the newsletter to receive the latest updates in your inbox.
---