Health insurance in Germany
Let us explain how the German health insurance system works.
One of the most well-known advantages of living in Germany is its healthcare system. Everyone in Germany has the right of healthcare, even if he or she doesn't have the financial resources. In the latter case the state pays health insurance for that person.
But how does the health insurance system work? We will have a look at that today 🙂
Note: This article is on health insurance in Germany. If you are looking for an overview of which types of insurance are important in Germany, check out the link below.
How can I get a health insurance?
There are two types of health insurance in Germany. Most of the people in Germany are members of the statutory or public health insurance (GKV = gesetzliche Krankenversicherung). This insurance provides all the important services you need and is sufficient for all the usual health issues. Some people prefer the private health insurance (PKV = private Krankenversicherung). There can be some advantages, depending on your way of living or special services you would like to have.
So let's have a quick look at both options and compare them.
Statutory or public health insurance
The main thing you need to know about statutory health insurance in Germany is that your employer or the company you are working for is responsible for your health insurance. The company usually pays one half of the amount and you pay the other half.
It's very common that the company subtracts your half of the amount from your gross salary and gives it straight to the health insurance. Therefore you never really have any financial contact with your insurance by yourself and everything is done for you. You also don't pay medical bills yourself. Whenever you go to the doctor, the billing will be done directly between the doctor and the insurance.
The fee for the GKV is about 14.6% of your income and it stays like this, no matter how old you get.
Signing up for public health insurance
There are different public health insurance providers in Germany, the most popular one being TK (Techniker Krankenkasse). The process for signing up is usually in German. You can however also sign up online in English at this link which is much faster and smoother. The service is provided by Feather Insurance free of cost by partnering up with several popular public health insurances in Germany to provide a fast onboarding experience for expats. Similarly, you can sign up in English for other popular public health insurances in English here: AOK, DAK and Barmer.
Private health insurance
If you choose a private health insurance however, it works differently. As you might guess, private insurance is more expensive. Only employees with an income of more than 5,362.50 Euros per month can join the private insurance. So this is really just an opportunity if you are in a well-paid position. Your company pays a contribution of 14,6% (same as they would pay for the GKV) but not more than 325 Euros a month.
If you are a student, a freelancer or self-employed there is no special amount of income you need to have.
Whenever you go to the doctor you get the bill from the doctor directly and need to pay it first from your own bank account. Afterwards you sent the bill to your insurance and you get your money back.
The fee for the PKV ist between 350 and 600 Euros a month, but it get's more expensive the older you get.
Expat policies for health insurance
In special cases when you cannot afford to pay for a "normal" public or private health insurance, e.g., if you have just arrived in Germany and have not started employment yet or if you are need an insurance for your visa or residence permit application, e.g., for Job Seeker Visa, you could get expat health insurances which are cheaper.
There are several providers in the market, but be careful though because not all of them fulfill the requirements of the immigration and local authorities. Here is a link to an expat health insurance provided by Feather Insurance, whose service is in English for expats. Once you start working in Germany, make sure to switch to a suitable public or private health insurance as explained earlier.  
How do I choose a health insurance?
Costs: GKV is less expensive than PKV, unless you are self-employed or a student. Then, the PKV can be even cheaper for you.
Family: In the GKV, your spouse and children can be insured within your membership and most of the time you don't pay more.
In the PKV, every family member needs to be insured by him- or herself.
Services: The PKV provides special services for its members.
Here are some examples:
Some doctors only take a look at patients with private insurance
Most of the times you get an appointment much quicker
In hospitals you have more options, such as a single room or special treatment by the chief doctor
More services are included, e.g. at the dentist, or the eye doctor
You usually get more additional payment for special medicine
Some of the GKVs also provide special services for their members, e.g. subsidy for pharmaceuticals or subsidy for special treatment, like osteopathic treatment.
Important: You always choose the health insurance company by yourself. There are plenty of them and some of them provide different services.
Here are a couple of websites to compare insurances: Tarifcheck, Verivox.
Once you "leave" statutory health insurance for the PKV, for example because you are self-employed, it can be difficult to go back. So make sure, the decision is right for you.
You can also find answers to some of the most common questions about insurance in our podcast episode below.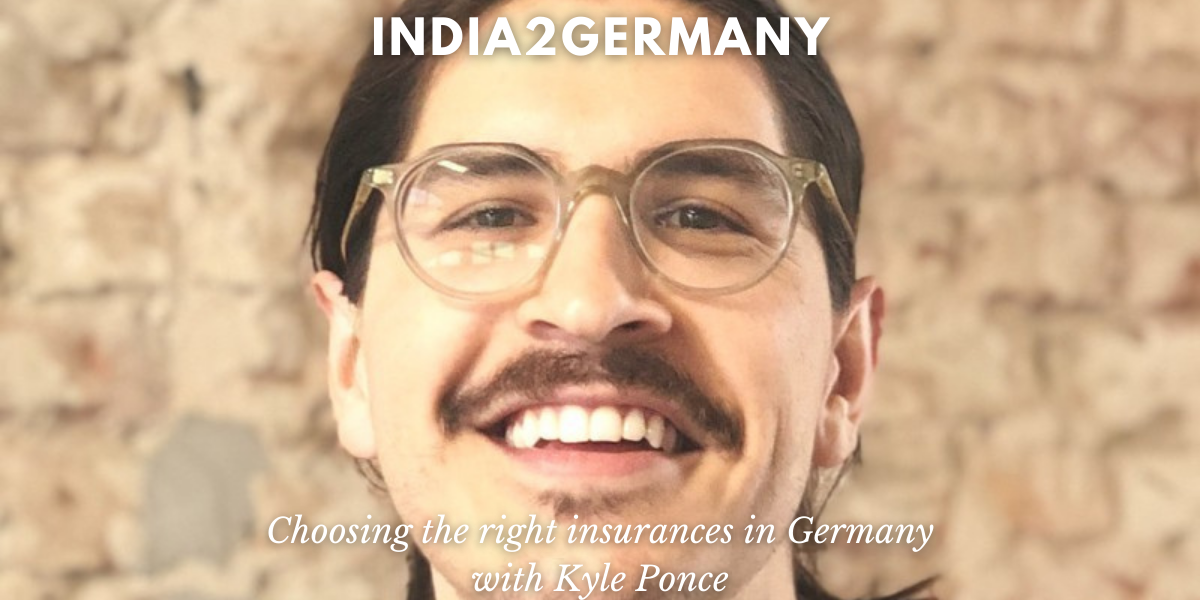 ---
📬 Subscribe to our newsletter to stay up-to-date! 👇



India2Germany Newsletter
Join the newsletter to receive the latest updates in your inbox.
---