Kindergarten in Germany
Let us give you an overview of the kindergarten system, different types of kindergarten, some facts to keep in mind and what kids learn at a kindergarten in Germany.
The word "Kindergarten" is a German word in the English language. But the concept of kindergarten in Germany differs somewhat from other countries, including India.
In 2013, the Germany passed a new law that guarantees a place in a kindergarten for every child from the age of 1 until the start of school. Sounds really good and really German, yet sometimes it's still not that easy 😉
Let's have a look at how the system of kindergarten works in Germany.
Note: This article is about kindergarten in Germany. To find out more about the school system and how to register your child at a school of your choice in Germany, check out our previous post (link below).
Can I choose a kindergarten for my child or is my child assigned to one?
Since sending your child to a kindergarten is voluntary in Germany; your child won't be assigned to a kindergarten automatically. You can kind of "choose" a place for your child but you have to be fast. Especially in bigger cities it can get really difficult to get into a kindergarten of your choice. Some parents start the registration process for kindergarten already during the pregnancy! Yep, that's a glimpse of the hysteria to get a kindergarten spot for your child in Germany 😉
But the fact is, it really depends on where you live and what kind of support you wish for your child. Usually the deadline for registration ends 2 - 6 months before the start of kindergarten (usually in summer).
How do I register my child at a kindergarten in Germany?
First you have to decide whether you want to apply for a private or a public (state-run) kindergarten. Most English-speaking ones are private rather than state-run and you will need to apply directly to the institution. Usually the application form can be found on the website. Since many private kindergartens are highly sought after by many parents, it makes sense to apply early and remind them by emails and phone calls from time to time.
Since Kita spots are scarce in many cities, it is also a good idea for state-run ones to first contact the Kita of your choice personally. There you can find out the best way to apply. This is certainly the best way to do so, since you will already be in contact with the respective kindergarten and they will put you on a waiting list.
You can also go to the local Jugendamt (youth welfare office) which can help you to find a Kita spot. This is particularly useful if you just moved to Germany and are looking for a spot urgently. If even the youth welfare office isn't able to find a free spot for you, they might sponsor a nanny for you (yes, your right of care for your child also includes nannies).
Some facts about kindergarten in Germany
Age: Children from the age of 1 year can start in the Krippe, also known as pre-kindergarten, pre-nursery or daycare. Some institutions also accept children that are a bit younger, from the age of 10 months onward.
The "real kindergarten" starts at the age of 2 or 3 years, but most places combine the pre-kindergarten and the kindergarten and are called Kita (= Kindertagesstätte).
Finally, it's your choice if you want your child to start at 1, 2, 3 or 4 years of age.
Costs: Every federal state (Bundesland) has its own system for the funding of Kitas. So it depends on where you are living. It also depends on your income and on the amount of hours of care you need for your child. In some states like Berlin you don't have to pay anything for a Kita spot. For this, you can use the Kitagutschein. This a voucher which you can use for covering the costs. You can find the registration form online. For example, at the link below if you live in Berlin:
[https://service.berlin.de/dienstleistung/324873/]
In Bremen, you only have to pay if your child is younger than 3 years old. And in other parts in Germany, only the last year before your child starts school is free-of-charge. But in most areas, like Baden-Württemberg, Bavaria or Thuringia you pay between 140 and 400 Euros per month.
Types of kindergarten in Germany
Like schools, there are also different types of kindergarten in Germany. Most of the institutions are public, but there are also private ones, that are more expensive and/or provide special care for your children.
Instead of a kindergarten, you also have the option to send your child to a Tagesmutter in Germany. You can read more about this in the article below.
In Germany there are also kindergartens that are run by the church. To get in there you have to be a member of a certain faith, like the catholic or the evangelical church.
And of course there are also bilingual institutions, especially in bigger cities.
Some of the kindergartens have a main emphasis on special skills, like sports or music.
Also, there are kindergartens that follow a certain form of pedagogy like Montessori or Waldorf. It really depends on your child and the needs and expectations you have.
For example, recently we did an interview with James Brennan, Deputy Head of International Montessori School in Berlin on Montessori school education in Germany (link below).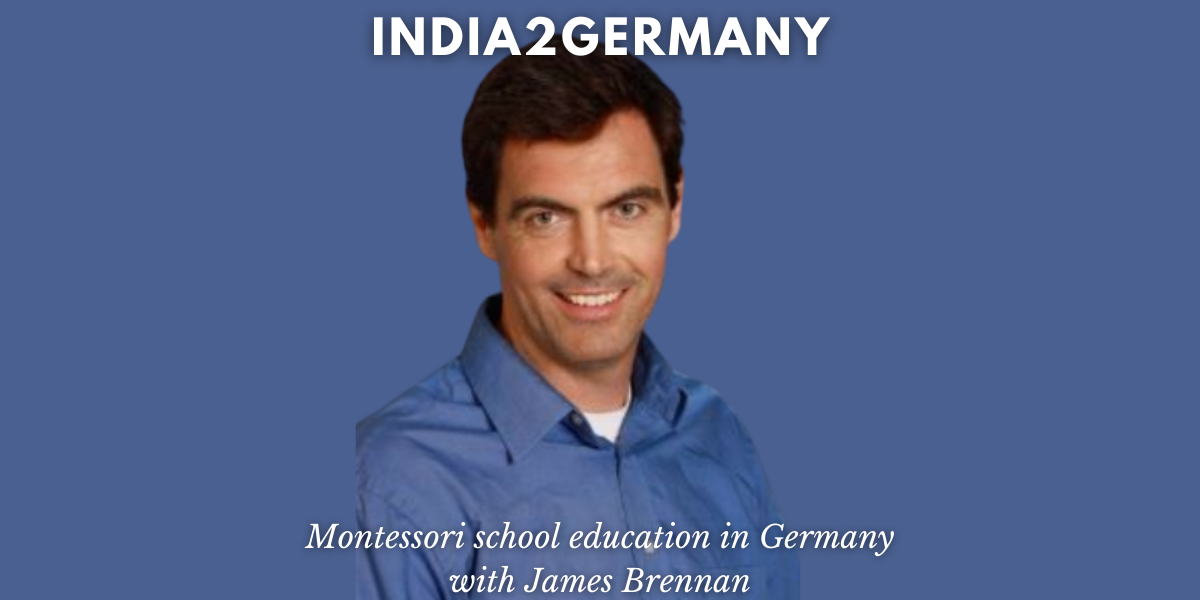 One type of kindergarten that is getting more popular is the Waldkindergarten (forest kindergarten). There, the children are mostly outside in the woods, nevermind if the weather is good or bad 😃. They have a lot of space to play, build stuff, climb trees, learn about plants, and about protecting and caring for nature. More and more German parents love the idea of their children being outdoors, spending time in the nature, having a lot of space, and being creative, since most children live in cities and spend a considerable amount of time indoors with technology. Most important thing in a forest kindergarten: Reliable Rainwear 😊
What do kids learn in kindergarten in Germany?
In many countries, kindergarten is the start of education for a child, including in India, where children in kindergarten usually start learning. So it's quite common for children to learn the basics of writing, reading and mathematics already from the age of 3 on. This is different from Germany.
In Germany, kindergarten is considered a place where the children should mainly play and develop their social skills. There are special education programs from the Ministry of Education, that give an orientation for the Kitas on how the children should be educated. The kindergarten teachers try to use a lot of different games, but also creative work, like drawing, handcrafts, dancing and singing to foster the development of motoric, linguistic, cognitive and social abilities in children. Playing outdoors is also a big part of the daily life of children in a kindergarten. It also prepares them to stick to a certain daily routine (meals, nap time, etc.) in preparation for school.
When children are around 5 years old, the kindergarten teachers start to give easy tasks to create interest for numbers and letters, and to get the children used to concentrating. But still, this is without any goals or pressure. The aim is to keep the children curious for school and learning.
---
📬 Subscribe to our newsletter to stay up-to-date! 👇
India2Germany Newsletter
Join the newsletter to receive the latest updates in your inbox.
---