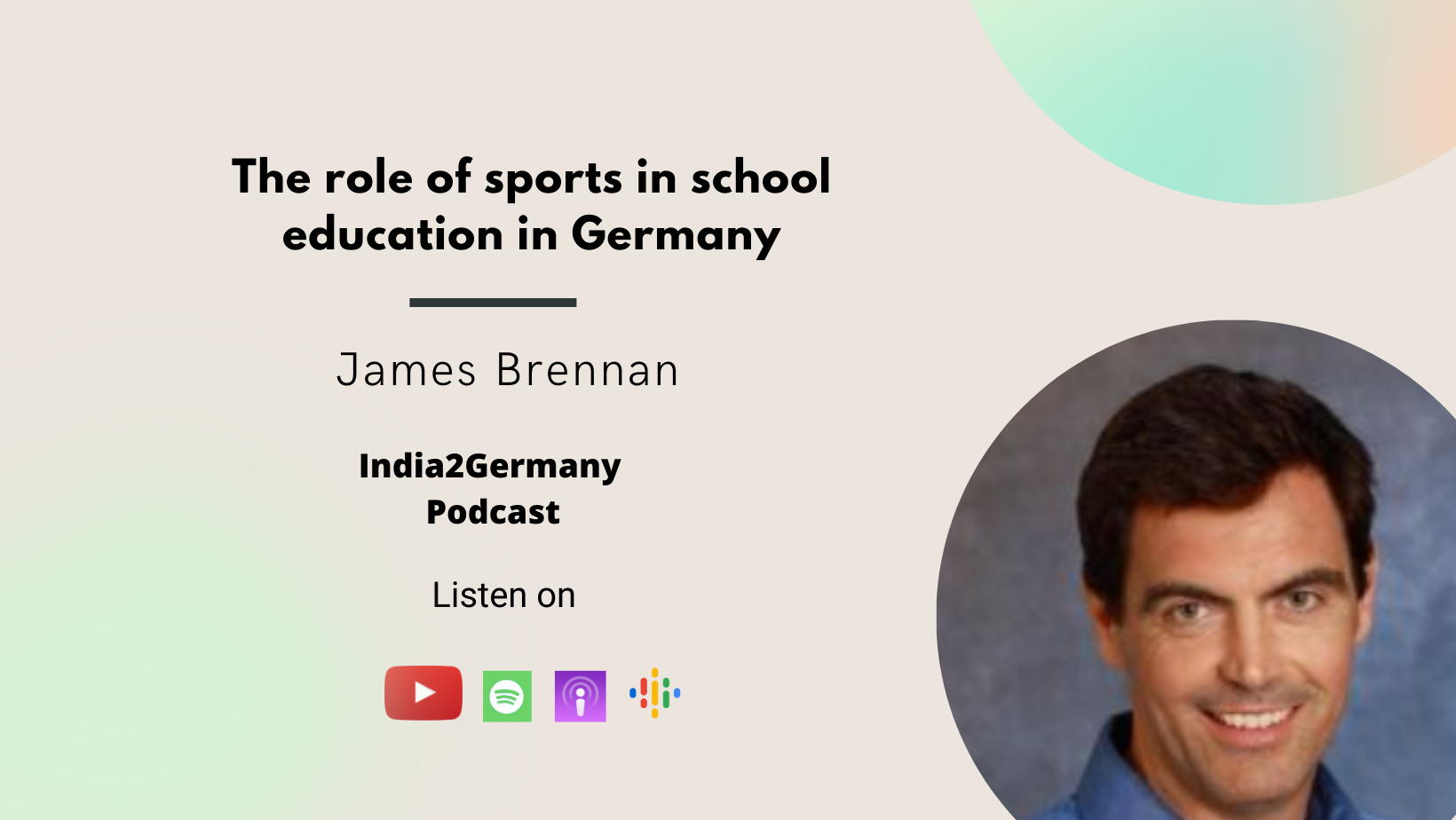 The role of sports in school education in Germany with James Brennan
Based on his several years of experience in sports and education in various institutions across the world, James tells us about types of sports offered in schools in Germany, why sports at that young age is so important and how to pick the right type of sport for your child.
Parents in Germany attach great importance to sports in their children's education. Whether it's baby swimming courses, playful crawling for toddlers, gymnastics for children, or recreational sport in schools, doing sports at every age seems to be considered a part and parcel of good education in Germany. Today we speak with James Brennan, Deputy Head of the International Montessori School Berlin, about the role of sports in school education in Germany. James has more than 20 years of experience in education and sports coaching and has worked in different schools and organisations all over the world.
🎙 You can also listen to this conversation on  Spotify, Apple Podcasts, Google Podcasts,  YouTube or your favorite podcast platform 🙂
📬 Get the latest India2Germany articles via email 📨
Show notes
James, in our previous conversation, you told us about Montessori school education in Germany. Today we are talking about another very important subject: sports in school education in Germany. Could you tell us about your experience with sports education and coaching?
In general, I have been coaching sport in various educational settings for over 20 years. I have worked in America, Australia, England and Germany both in school and outside of school sports club environments. I have taught and coached a wide variety of sports including, football, rugby, basketball, handball, cricket, tennis, hockey & swimming. I also have a degree in Sports Science. So I have a good range of experience in this field.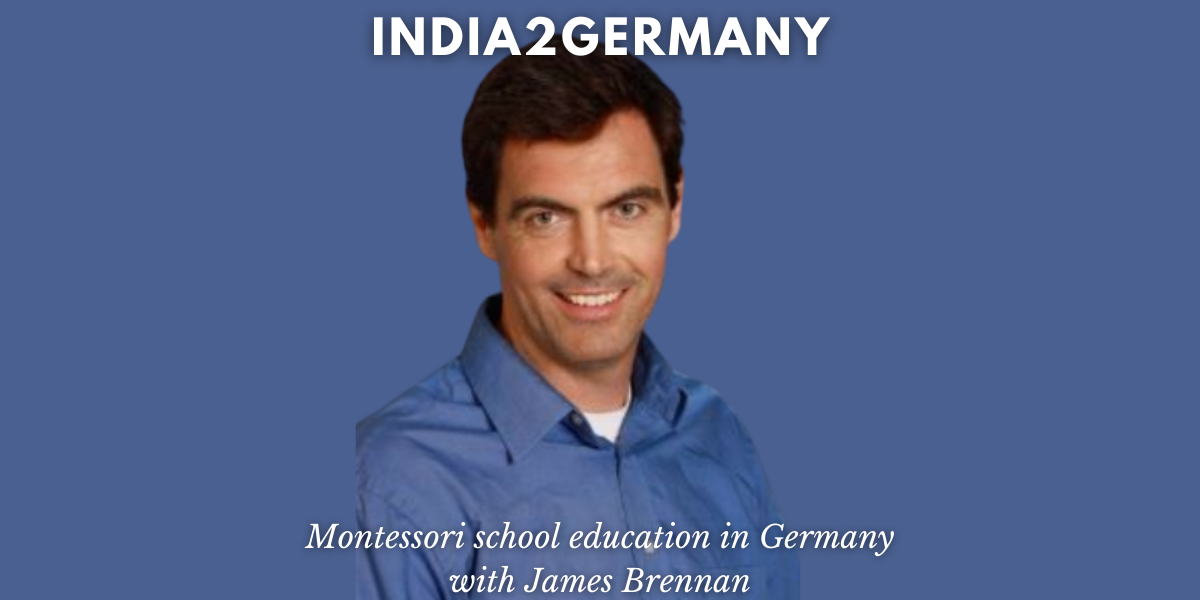 How would you describe the role of sports for children and teenagers in Germany? And how would you compare with other countries, e.g., the USA?
In Germany, the role of sports and a healthy outdoor lifestyle is very important for both young children and teenagers. Most German families try to get outside at least once a day, even in the Winter time. There are many playgrounds and bicycle paths which can be used for free, as well as relatively inexpensive sports facilities such as swimming pools both indoor and outdoor (in the summer). Children as young as 3 start to ride a push bike with no pedals and most can ride a bike with pedals by the age of 5 or 6. Many families also start with baby swimming courses and gymnastic movement classes for toddlers.
Within the school setting, the majority of schools in Germany, have a good physical education program (of approximately 3 hours a week) of lessons and they also have after school clubs/activities, which the students can attend, in addition to this.
However, I would say the main competitive sport emphasis happens outside of the school settings in the evenings and at the weekends. It is at these sports clubs that the young children and teenagers receive specialised and expert training and coaching. Mainly the role of a school is to provide an introduction to the basics of a wide variety of sports and then the children and parents decide to become a member of their chosen sport club.
Unlike say in the US, where the school teams play the other school teams in highly competitive leagues and scheduled games every year, in Germany the schools might play in a small minor competition from time to time against some other schools but this is not the main emphasis of the sport program.
What kind of opportunities do children in Germany have for doing sports?
There are many different sport clubs in Germany and in Berlin in particular. They range from more traditional sports such as football and hockey to newer sports such as Touch Rugby and Ultimate Frisbee. Most of these clubs offer age appropriate groups such as under 6 under 8, under 10, etc., where children can have expert coaching and take part in organised competitive matches against other clubs at the different age levels. The best thing to do if you are interested in joining one of these clubs is to check their website, and contact and speak with the youth coordinator. Most clubs offer a 3 to 4 week free trial and then if you like it you can become a member.
What role does sport play in the school day in Germany? What is taught there and what is the goal?
In general sport plays a fairly important part in the school day in Germany. However, one could argue that it could play an even more important role. As I mentioned before, sport lessons take place around 3 hours a week but not everyday – which some experts recommend. Some progressive schools are beginning to introduce Yoga and meditation on a daily basis for students.
Some of the main things that are taught in Sport at schools in Germany are for instance compulsory swimming lessons for all Year 3 students, for the whole school year (which is a good to make sure all of the students have at least a basic swimming level).
Another aspect is all Year 4 students have training to gain a bike riding license - so they can safely ride their bikes on the streets and bicycles paths.
Perhaps the most renown sport event For students from the age of 8 to 19 is the Federal Youth Games (or the Bundesjugendspiele as it is called in German). Historically, this has a connection with the propaganda actions of the Nazis to train the German youth. It origins maybe somewhat controversial by nowadays it has been revised to give students the chance to compete in 9 individual competitions in the disciplines of gymnastics, athletics and swimming each year. However, rather than competing directly against other students for first, second, third place or medals, etc., instead the students gain individual points for each discipline they do and try to better their score from the previous year (so it can be used as a form of goal setting – personal achievement) so everyone can take part and there are no real winners or losers. If a school is using this system, it gives out the certificates individually rather than at an award ceremony or assembly etc.
You are the Deputy Head of the International Montessori School in Berlin Wannsee. What role does sport and exercise play at your school?
At my Montessori School we always look at the child as a whole learner. So Sports and exercise form an important part of this picture. As well teaching the children cooperation and teamwork skills in our "normal" PE lessons, we run a number of afterschool clubs such as yoga, tennis, sailing and karate. We are introducing a climbing section in our outdoor playground and we also take the children to the nearby forest for two hours a week. We also do some breathing and simple meditation exercises with the students if they need to do calm down and be more focussed on their work.
Why are sports so important for children and youth?
Well there are a number of benefits children can gain from playing sports. I would say the main ones include:
Playing sport gives children the chance to develop their physical skills and understanding of their own body, which is an important phase of their development. Having control over their own mind and body is vital to having a happy and balanced child.
Through sport, they can also learn how to be a team member, and learn to play fairly with others, - this can be especially important for children who come from one child families.
Sport can help them improve their self-esteem and confidence by mastering new skills and abilities and discovering strengths they do not know they have.
Lastly, it can give them the chance to make new friends with similar interests and to have fun. These last to social benefits are particularly important in our modern day fast paced society.
As perhaps in other countries, in Germany too there are complaints that children are less and less active, partly due to increasing consumption of social media. What health effects does this have?
Yes this a common complaint that one hears nowadays. Lots of studies have been conducted in this area. From my reading about this topic, the main two points I consistently come across our that children who spend more than 3 to 4 hours a day on social media are twice as likely to suffer from poor mental health. Their immersion in a virtual world delays their emotional and social development. The effects on teenagers can be even stronger. Also the more sedentary children are the more likely they are to have health and weight issues.
Sport can be a great countermeasure to this. For not only does it physically get the children away from their phones and laptops but also provides them with the chance to burn up calories and strengthen their growing muscles and minds. This exercise vs. technology and social media use balance is an extremely important area for both children and parents to be educated about.
So, sports are not only about physical health but also about mental performance. Could you tell us more about this?
There have been many educational studies and articles written about this. I would say the general consensus from the majority of experts is:
that exercise improves learning on three levels: "First, it optimizes a persons mind-set to improve their alertness, attention, and motivation to learn
second, it prepares and encourages nerve cells to bind to one another, which is the cellular basis for logging in new information and learning
and third, it spurs the development of new structural changes in the brain, such as increased gray matter volume in the frontal regions which are involved in our cognitive learning process.
So in laymen's terms exercise helps our mindset, biological cells and brain capacity to learn new things.
Which other learning experiences are enhanced by sport? For example, what role does sport play in learning social skills?
Yes the learning of social skills is another area sport can be great to enhance.
There are many ways sport can help. I believe the main ones are:
The shared group experiences that come with being involved in a team sport, such as communicating with and supporting others, working cooperative with them to achieve a shared goal are an essential part of being a positively social being in our society. These skills can also in other situations in life, such as the classroom and workplace.
Sport gives us scenarios whereby we need to deal with successes and failures, and this self-development through reflecting on outcomes both good and bad, helps us to learn about ourselves and also see that other people also go through similar feelings and events in their lives. This helps us to increase are social empathy for others.
Sport also is very good for helping us to focus on setting a goal and working towards it within a timeframe. This reinforces that we need resilience and determination to succeed in our goals and often if we are happy achieving our own goals we feel positive and have the desire to help others with their goals to.
How do I find out which sport is the right one for my child? Are there certain sports that are suitable for a certain age? Is there a type of sport which is well-suited for beginners?
I get asked the question a lot actually. In general, I like to tell parents it is good for a child to be involved in both a type of team sport such as basketball, hockey etc and a more individual type of sport such as swimming, athletics etc. This way a child can have a balance about learning how to cooperate with others and also learn about their own individual body and self-development.
I also recommend, for 99% of the general population who aren't aiming for the Olympics etc, that before around the age of 12 not to specialise too much in one particular sport (for example playing tennis or doing gymnastics 6 days a week 3/4 hours a day – this can lead to a burn out or a very stress and demotivated child)  but rather let you child try out a range of sports and see which ones they like best. For instance, a young child might like gymnastics for a while then be curious to try out dance classes or ballet etc and then want to switch back to gymnastics after that. It is good to listen to your child's current interests (these can change every few months especially in young children) and not to force them into doing an activity just because the parents did that themselves as a child. The main thing is that a child has fun and associates sport and physical activity as a positive thing – this way they are more likely to continue to be active and lead a healthy lifestyle as they get older.
---
Enjoy reading our work? ❤ Support us and donate ❤
📬 Subscribe to our newsletter to stay up-to-date! 👇
India2Germany Newsletter
Join the newsletter to receive the latest updates in your inbox.
---