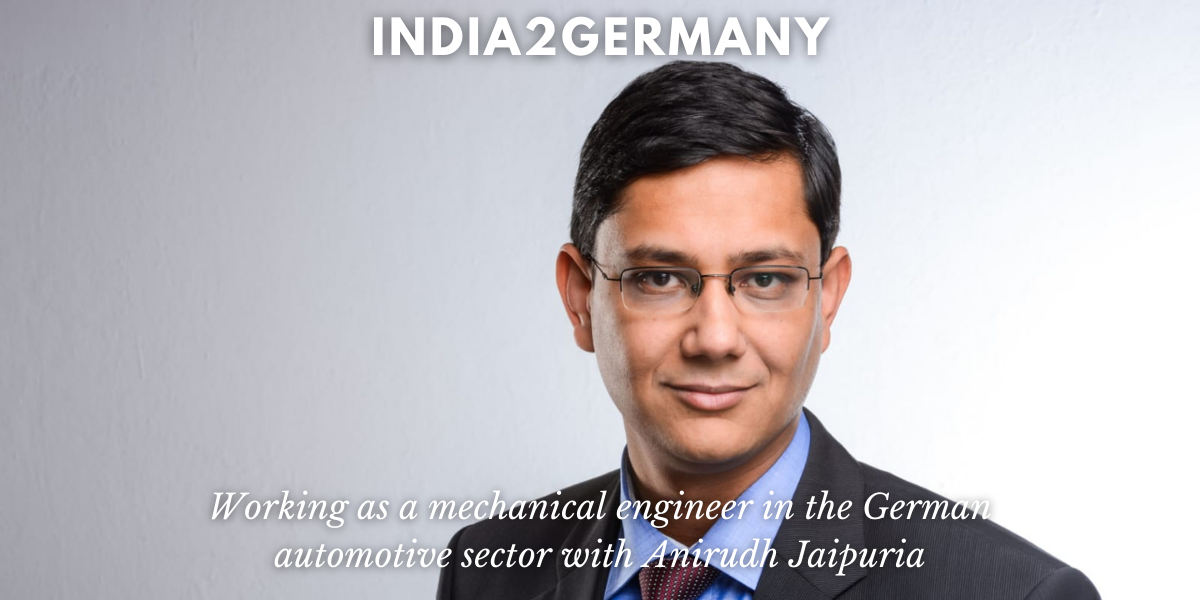 Working as a mechanical engineer in the German automotive sector with Anirudh Jaipuria
Anirudh Jaipuria, SE-Team Leader and Technical Specialist at BMW-M in Munich, Germany, shares his experience and suggestions on building a career in the automative sector in Germany, as well as his insights on some of the major trends in this field.
The automotive industry is a backbone industry of the German economy and also one of the largest employers in the world. Today on India2Germany, we speak with Anirudh Jaipuria about his experience as a mechanical engineer in the German automotive sector. Anirudh is a specialist in multibody simulation and currently leads projects in the area of drivetrain design and development for high-performance cars at BMW-M, the sports car subsidiary of BMW. He has several years of experience working in automotives in Germany as well as in India. Listen and read Anirudh's experience and suggestions about building a career in the automative sector in Germany, as well as his insights on some of the major trends in this field.
Hit Play to listen to this conversation and Follow to get notified about upcoming episodes.
📬 Get the latest India2Germany articles via email 📨
Wecome Anirudh 👋. Could you tell us what you are doing in your current role?
I studied mechanical engineering and have a master's in the field of engine technology, which also partially covers automotive engineering. And right now, I'm working as a Simulation Engineer at BMW-M. It is the sports car subsidiary of BMW. So, my work basically is to carry out certain simulations for different car parts. We are in powertrain development that includes everything that brings the car in motion - the engine, the driveshaft, the differential, we do the designing of such parts for the cars. Using certain software we try to build a simulation model that enables us to design these parts. My main focus is powertrain, which traditionally used to mean only engines. Nowadays with the arrival of electromobility, we start slowly getting into electric powertrains. There are different things we do like stress analysis, vibration analysis, acoustic analysis and so on.
Give your job search a boost! Get expert tips and suggestions from Anirudh to maximize your chances of finding your dream job: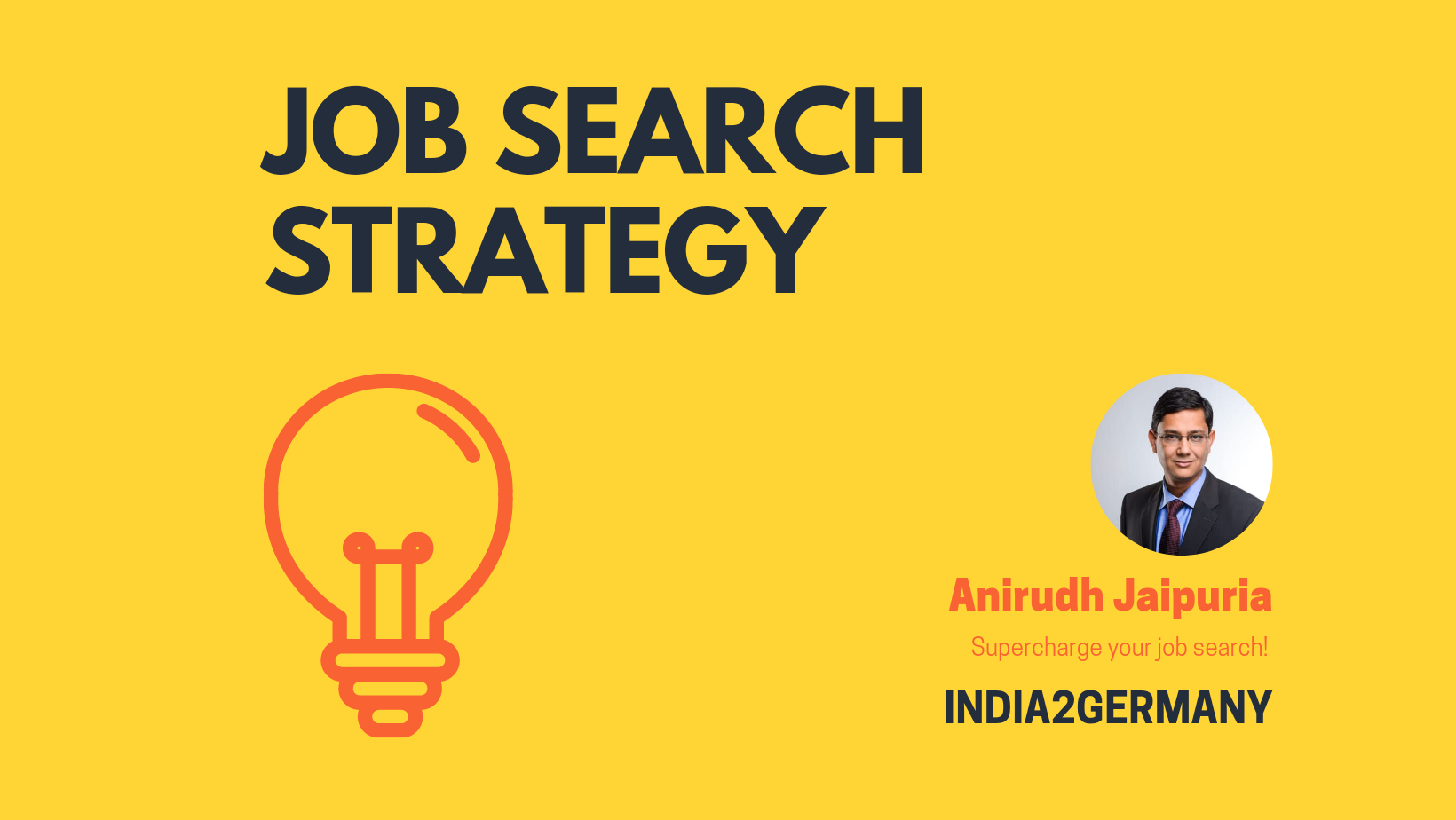 So could you give us perhaps some examples of the kind of projects that you  work on?
Usually in the automotive industry, every four to five years, there is a new generation of a car model. For example, the BMW lineup has different series like 1 Series, 2 Series, etc. So we develop on the powertrains of different vehicles. And every two to three years, we bring a small update and every four to five years we have a bigger update. For example, this year about one month back we showed the new M3 and M4 models to the world. I worked on the powertrain of these two cars. The engine and some of the components were designed by me. Of course I did not do it alone, it was our team's work. For certain components I had the responsibility. That is one of the products that people can buy today.
What kind of roles are involved in the teams for such projects?
I am in the research and development department. Classically, there are three departments: design, simulation and testing. It is the teamwork of all three departments. But ultimately to get the product delivered to the customer, there are of course other departments, e.g. the production department, i.e., the factory where the car or the engine is getting built with whom we are constantly in touch, the quality department which assists us for development with suppliers, the purchase department which negotiates the price with all our suppliers and in-house components. So, it is a huge team and each one has his own role. Within development, I have  my role. A part of my role is also coordination of certain activities with other departments, like with purchase or the factory colleagues or the quality people. We also work with a lot of suppliers. So I have to also coordinate with certain suppliers for some of the powertrain components. I would say about 90% of the car components are externally sourced. So BMW does not produce all the car components in house. We design a lot ourselves and get it  manufactured by others, but there are also certain components we directly buy from the supplier and integrate it within the car. It is a lot of interdisciplinary work with different people and different companies.
Certain components are under my responsibility currently. Each company has different structures based on how they work. In our organization, the structure within the development group is such that different engineers have responsibilities for different components of the engine. So, I have the responsibility for certain components and I do the project coordination work for these.
Also check out our interview on CV preparation for job applications in Germany: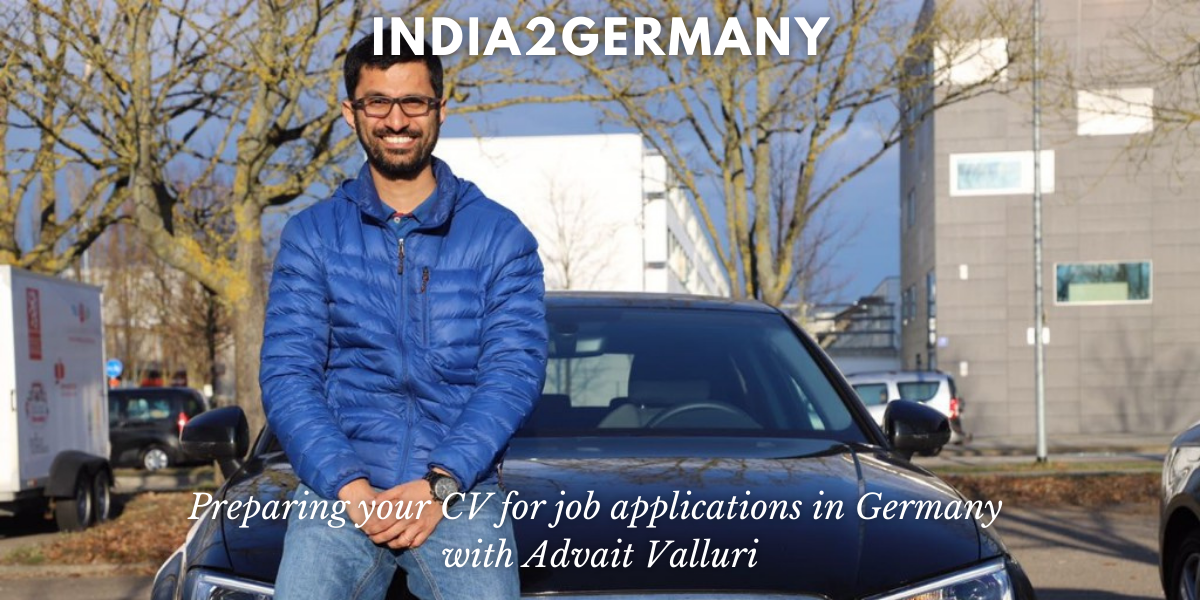 What kind of skills does one need in leading such projects?
Firstly, you need some technical background. General mechanical engineering background is required for the kind of work which we do and certain specific knowledge about engines, powertrains and also automobiles. Certain softwares come in handy, depending on the kind of work. You might be aware of CAD software which are used for the design. Depending  on the kind of simulation, there is different software for structural analysis or flow analysis or aerodynamics, and these are required on the technical part.
On the management side, you need some experience in project management. For example, planning the work, scheduling,  giving reports in project reviews, and milestone planning. Basically, if some problem arises then you are supposed to highlight it during the reviews.  Depending on the nature of problem, you get support from other people or more resources, or maybe you need some external help in case you don't have enough people internally and then some work is given externally. One needs to be able to judge all these. Therefore these are the skills  required on the management side.
You have worked for several years in the automotive industry in India and in Germany for big names like BMW and Volkswagen. How has your experience been so far?
In the automotive field, Germany is one of the best places to be. German cars are known for their quality and performance worldwide. Not only Volkswagen and BMW, but also other companies like Porsche, Audi, Mercedes, they are all really very good. For me it has been a really enriching experience in general. There are a lot of resources here and a lot of challenging  problems and you really get to work on very exciting products. I think if somebody is interested  in such a field then Germany is certainly a good place to be in.
📬 Get the latest India2Germany articles via email 📨
How does it differ from your experience in the automotive sector in India?
I was working in India with the research and development department at Ashok Leyland, a commercial vehicle manufacturer. I think one difference is that the amount of resources which we have in India compared to the companies here are really less. Just to give a feeling, our department budget there was probably 10 times smaller than the department budget here or maybe even smaller. In India to be in the research and development field, especially in mechanical engineering, there are resources, but not as much compared to Germany. If you work for a big OEM in German, they really have a lot of resources.
There is also a lot of experience here since they have been developing cars from ground up, like from the base. So there is also a lot of experience to gain. I don't know how the situation has been over the past 10 years, but at least 10 years back that experience was still getting built in India. That time we needed a lot of external support from other companies as well, which is a big difference. Besides that, there are some cultural differences, like how we approach a problem and how we plan a product, and these are different in India compared to Germany. I feel the teamwork in Germany is better. In India, we need to improve the teamwork. Besides from the product point of view, I think the Indian market is extremely price sensitive. Eventually every market is price sensitive, but the cost pressures which we have in India are much higher compared to Germany. In India we need to be very, very cost sensitive while designing the product. We also need to take misuse scenarios into account a lot. We do that in Germany as well, but not to that extent.
What brought you to Germany?
After my bachelor's in India, I started working with Ashok Leyland. I was interested in the development field. While at Ashok Leyland, I was in a project  with a supplier from Germany for about three years. So that was kind of the first contact with German colleagues. That was also one of the big reasons why I decided to move to Germany later.
I was also interested in the US, but the US visa was a big  issue.Compared to the US, German visa for students is much easier to get. University education is free in most cases. In most of the other cases, the tuition fees here is far lesser compared to the US. Because of these reasons, I ended up deciding for Germany ultimately.
Besides, I had some contacts in Germany due to my work in India. They helped me a lot initially. I think in India, German cars like BMW, Mercedes, Audi, etc. are quite popular. That was always a big motivation for me why I wanted to work in one of these companies, as I liked these companies' products. Because of the contacts, I had a good start here initially. It was a mix of all these factors.
The automotive industry is huge and a very important part of the German  economy. What do you think are some of the current trends in this area?
Right now e-mobility is probably going to be a huge thing in the coming five to six years. Most of the companies are investing heavily in this field. So people who are looking to get into development should think about getting some kind of skill in this field. For example, battery technology, electric motor technology, or cooling concepts for electric cars.  So this is one of the huge trends.
Besides that, autonomous driving could also be a huge trend;  it has slowed down a bit in the past six months. But it seems like it can also be a huge trend in the near future. A lot of companies are trying to develop autonomous cars. So that is an exciting field.
Then there is also a lot of software coming into cars now. People who are into software development and are interested in cars, for them, there is going to be huge scope in the coming  years. There is a lot of stuff going on in infotainment for cars. You must have heard of over the air updates, which  a lot of companies are making now. There are also things like augmented reality where certain  head up displays are being developed.
I think the automotive industry is moving slowly from being a traditional mechanical engineering industry to a mix of software, electronics and mechanical.
So there seems to be change happening at least in the coming three to four years or five years. Of course depending on the market, things can change again.
Artificial Intelligence is getting a lot of  steam now; within BMW too there is a lot of work going on in this field. In general, I think artificial intelligence and machine learning are some of the things which are going to be very important.  Just to give an example of what companies are doing now, they collect the driver data from the customers. If you buy a car today, then in principal, with over the air connections, they are able to get your driving profiles, etc.. Based on driver behavior and similar information they can develop a product depending on certain needs. So this is where data science comes into play. And in the future, things  like artificial intelligence and machine learning will help. So, these are very exciting fields to be in.
A lot is going to change with e-mobility. There is going to be a lot of work together with the, e.g., the energy grid suppliers because depending on how your car is charging, it will influence the energy grid.  So there is a lot of potential for teaming up car companies with grid suppliers. There are a  lot of things moving in this field and I consider it is really exciting to be in such a field right now.
What are some of the career options for people who are looking to work in this  field?
In automotive industry in general either you can be in the development side, where I am or can also be on the production side, like in the factory. I personally have less experience on the production side, but I know that a lot of things are happening with the so called Industry 4.0. There are a lot of new manufacturing concepts getting designed, how to monitor things and a lot of things are  happening on the production side. You can also get into supply chain management, purchase department, lean manufacturing, etc.. You can also get into strategy for companies like BMW, where depending on the market data, they decide the product strategy. So, I think there are a lot of options you can get in automotive field using different paths; depending on what is your interest.
I feel software is going to get a lot of attention in the coming future. In my opinion there is a  shortage of good software engineers in Germany in general. That is one potential field, which is good. Of course, the traditional mechanical engineering field is always going to be there.  Hence there will be jobs for Mechanical Engineers as well.
Also, a lot of jobs will probably get created for electrical engineers and electronics engineers, with e-mobility coming. If someone is interested in management, then management people are required in strategy and supply chain management.
📬 Get the latest India2Germany articles via email 📨
Where would you suggest people to look for jobs and internships in the automotive sector in Germany?
How it usually works here is that, there is the concept of internship and thesis; and most of the universities require both. Most of the companies, at least the bigger ones have a career page. For instance, BMW has a career page where one can make a profile with your email address. The companies publish all their openings on this career page, and one needs to upload their résumé, usually accompanied by a cover letter, information about your grades, etc.. You need to apply to the position in the Internet via the career page. That is one good way of applying.  
Many companies also offer something called an initiative application. In German it is called Initiativbewerbung. So if you don't find a particular position which is of your interest, then you  can just write a generic cover letter saying what you're looking for. If they find some suitable position for you, then they will get back to you.
For smaller companies, it is possible that they don't have an explicit career page. Then you have to look through other sources like Google or LinkedIn. In Germany, there is a similar product like LinkedIn called Xing. People can make accounts on these platforms and also look for positions there.
Also, three to four times a year, there are job fairs. Usually in university towns everybody gets to know about it. In my opinion, people should also visit these job fairs.
Many smaller companies often directly hire candidates for internships from job fairs. For smaller companies it is usually more difficult to get good talent. At job fairs you also get to talk with some of the engineers. They would explain their work and the kinds of opportunities available and so on.
One of the most important things is that a lot of people get demotivated quickly if they get one or two rejects by a particular company. But one needs to understand that there is a lot of competition out there. For example, for one  position at BMW, they might probably get 300-400 applications. Now if those you are one of those 300-400 people who get rejected once, then you should not stop applying. Rejection can happen.  It's not such a big deal. A lot of people, when they get three-four rejects from a company, then they stop looking at the compant altogether. I think that this should  also be avoided as one needs to have some patience.
If anybody is interested, I can help reviewing their CV and cover letter. This is one initiative and offer that I can extend from my side; they can contact me via LinkedIn and I will try to help. I would like people not to go through the struggles, which people like me had to undergo initially. If somebody can benefit from this, it is always good. I enjoy it also since it is interesting for me to see how different people present their résumés and I get to learn from it. Besides you get to know more people this way and I find it very interesting.
One more thing I would like to suggest to people is not to underestimate the importance of learning German language. I think for most Indian students one of the biggest challenges is to learn the language. Many of them think that if they get the best grades then the rest will work out. I think at least in the automotive sector, whether you like it or not, language is extremely  important. One of the reasons for this is especially if you are on the factory floor, the people working there are sometimes not necessarily highly qualified. Many colleagues are not fluent in English or not comfortable with English. It is one of the biggest reasons why it is important to learn German.  
Besides that, some amount of cultural integration is always good. Everyone has to decide this for themselves.  In Germany teamwork is extremely important and I find it very positive. For this some cultural integration is required. For example, you go to some team events together or some Christmas party together or to Munich for Oktoberfest. If your team is going there, maybe you should join them. Lots of people underestimate the importance of these things. But at the end of the day all these things play a role. The technical part of the job is one thing, but building relationships is equally important and I think it is important in every country. This is also true for Germany.
Any career opportunities that you would recommend for people looking to work at BMW?
Companies are constantly looking for talents. Usually there are a huge number of openings for internships and thesis positions. Whenever there is an opening available, it will be published  on the website. So people should regularly visit the careers page. You can also put reminder on the careers page, so that whenever a new position opens, you get emailed automatically. I can only suggest that and the same applies to other companies as well. Besides that, networking helps a lot, at least in internship positions and student job positions. Try to network with people, add them on LinkedIn, try conversing, visit job fairs, and meet people. For internships if you know people, things become easier. For jobs, it is more difficult; there you need a lot of other things. For internships, people are little more lenient. So if you know some people, then things can work out faster there.
---
📬 Subscribe to our newsletter to stay up-to-date! 👇
India2Germany Newsletter
Join the newsletter to receive the latest updates in your inbox.
---