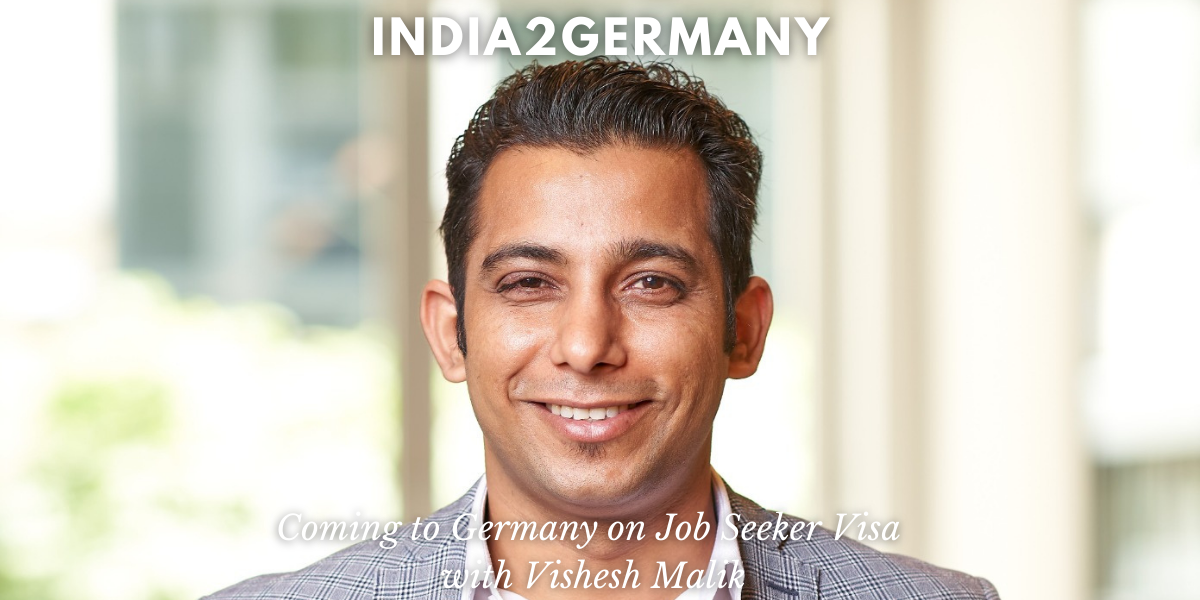 Coming to Germany on Job Seeker Visa with Vishesh Malik
Vishesh tell us about his experience of coming from India to Germany on a Job Seeker Visa and gives lots of useful information and advice for those who are thinking of doing the same.
Vishesh Malik is working as SAP Consultant in Berlin and came to Germany in 2018 on a Job Seeker Visa. Vishesh talks to us about his journey from India to Germany and recounts his own personal experiences and thoughts while leaving his well-established career in India, moving to Germany without a job and finding a job here. He gives lots of very useful advice about the preparation needed, the application procedure and things to keep in mind when applying for and coming to Germany on the Job Seeker Visa.
Hit Play to listen to this conversation and Follow to get notified about upcoming episodes.
If you are looking for an overview of Job Seeker Visa, you might find our article below interesting.
Welcome Vishesh👋 How is it that you decided to come to Germany?
For me it was kind of an obvious choice. Germany is the birthplace of SAP and SAP has always been in demand. Back in 2016, I was looking to move out of India on my own, since it's really difficult to get on-site opportunities plus the competition is quite high because everybody's looking for on-site.
So I thought, let me see if I can find some opportunities. Fortunately, I found this Job Seeker Visa for Germany where you can also go to Germany and look for a job, and if you find one, then you can start working over there. I came across it and thought to myself - Why not? SAP is in a lot of demand in Germany, so let's go there.
How did you hear about the Job Seeker Visa?
I was just looking online for visas and came across the Job Seeker Visa, so it wasn't through anybody known to me. And then while searching for it, I also came to know that the Job Seeker Visa was introduced back in 2012. So I was like, What was I doing for the last four years? I should have started earlier! 😀
Why did you decide to come on a Job Seeker Visa?
As I mentioned earlier, there's a lot of competition in companies when you are looking for the onsite opportunities outside the country. The interesting part about the Job Seeker Visa is that you do not have to come to Germany without a job even after getting the Job Seeker Visa. Once you've received the visa you can start looking for opportunities from India itself; if you get the job you can move here. You are not obligated to be present here. However, even during my discussions with the recruiting agencies, they used to ask me about my location. So location is pretty important for any company because if you apply for any job from India, then a recruiter may give preference to a candidate who is present in Germany at that point, sometimes even if skills are at not at par, to save the hassle of relocation. I feel, it's better to come to Germany, even though it's very risky to leave your job and come to Germany. But if you do not want to compete with others for no reason, then it's better to take some risk. If you think that you have enough talent to land a job, then why not.
So if somebody is preparing for the visa application, please do not miss any document. Because then if you look for the next appointment, probably for the next several months, you will not find any appointment.
Which documents does one need to apply for a Job Seeker Visa?
For the documentation, you require pretty generic documents on you, like your Aadhaar card, your voter ID card, address proof, and birth certificate. You also need to prepare a CV, along with a letter to explain why you want to go to Germany and why you think Germany is a good location for you. Apart from that, you need to create a blocked account where you need to show some amount of money to show that you can sustain yourself there without any government funds. I believe the most important document is the birth certificate, so it's better to have that ready. You can easily arrange the rest of the things within two days. I would suggest anybody who is looking for a Job Seeker Visa to first get their birth certificate and then book an appointment through VFS Global. Since I did not have the birth certificate with me, it took me quite some time to arrange it. Even if you have the rest of the documents readily available they won't give you the visa without a birth certificate.
One interesting fact I would like to share is that when I applied for the visa, I had my first appointment that time, I did not have an Aadhaar card with me. And because of that, I had to reschedule my appointment, although my application was submitted. I had to wait for 3 - 4 months for the appointment. If somebody is preparing for the visa application, please do not miss any document from the checklist. Because if you do and look for the next appointment, probably for the next several months you will not find any appointment, especially in the current times. It's really difficult to get an appointment because of limited slots and long waiting queue due to large number of application.
Does one need to get documents translated or verified for a Job Seeker Visa application?
No, translation is not needed. For verification they ask you for an
additional fee where their own agency will verify your documents. Be it
Delhi or Mumbai, it doesn't matter; they will do the verification
themselves if they want to. In Bangalore, there was no verification fee.
So, applying from Bangalore is way cheaper than in Delhi and Mumbai.
Back then the verification used to cost something around 40,000 rupees.
The embassy often verifies the documents through an agency. At times,
they can even come and personally validate everything, it happened in my
case. One person from the embassy visited my office and verified my
documents. He just asked me a few questions; it was kind of a
formality. But they wanted to validate that whatever you have mentioned
in your application is true and whether you actually work at that place.
What is a blocked account and how do I open a blocked account from India?
So I'll start with what a blocked account is. It's an account where you put some money, and then you are not supposed to take that money out without getting approval from the government. There is a basic minimum requirement in Germany for your monthly survival, the amount has now changed to I think something close to 800 euros per month. If you are applying for a visa, then you have to block around 5000 euros in the blocked account to show the German government that you can live without any government help in Germany. Regarding opening a blocked account, there are different ways to do it. You can do it through SBI, Kotak Mahindra which are a bit cheaper. The best way to do it would be through Deutsche Bank, where you can go and simply ask them to help, they would happily help you. But the charges of opening a blocked account in Deutsche Bank is 150 euros. Then only you can transfer the money to that account. It takes around four weeks to open the account and transfer money.
With Deutsche Bank, if you open your account your amount is transferred immediately. However, with Kotak Mahindra and SBI, your amount remains in India, and only after you move to Germany, it gets transferred to Germany. And if the currency rate fluctuates a lot, then you might end up paying more charges in the conversion with Kotak Mahindra and SBI.
Another thing is, with Kotak Mahindra and SBI, if you come to Germany, then you have to open another account here to which you can transfer that money. In the case of Deutsche Bank, that's not the case, they open your account directly in Germany and you can just come here and show them your passport and you are ready to use your account.
One more point I would like to add here after you arrive in Germany, you have to get registered at the local authorities, and only then you can start using the account. And the amount is around 5000 euros in total; it's around 800 euros per month for 6 months.
If you already know somebody in Germany, then you can ask them if they are ready to provide you a sponsorship for the visa.
What kind of proof of accommodation do you need for a Job Seeker Visa?
So that's a very important aspect before moving to Germany. If you already know somebody in Germany, then you can ask them if they are ready to provide you a sponsorship for the visa. In that case, you don't need to provide accommodation proof you can show that you are going to stay with your friend, family, or relative. And another benefit is you don't have to show money in the blocked account if they sponsor you.
In my case, I did not know where I was going to stay. So all I did was to specify Berlin as the place where I am going to stay and there was no issue with that. You don't need any accommodation. You don't have to book a hotel or do anything of that sort. It's just normal you just need not provide an address. It could be just the name of the city. And I accidentally got to know about it, because I had no address proof for Germany or no address in Germany to stay. So I just mentioned the city as Berlin, and they said, okay, we are fine with this.
Did you already search for jobs in Germany from India in advance?
So this is part of your preparation. Like I told you, I started looking for a Job Seeker Visa back in 2016 but I landed in Germany in 2018. So for those two years, all the time I was looking for the kind of opportunity that we have in Germany, and if my profile suited those opportunities or not. But I did not apply for any job before coming to Germany. And I had no interview scheduled when I landed in Germany. Even though I did not have anything planned, it worked out really well for me.
How much time did it take you to find a job?
It took me about 20 days to get a job. And I feel very fortunate about that, that within 20 days I was able to secure a job. But I would say that I was very lucky. I know many people who have spent months over here and couldn't even get a response from the recruiting agencies. So if you are coming here,I would suggest being mentally prepared for those six months. I applied for a lot of jobs; however other than the two places where I got the opportunity from, all I heard from every other employer was, we are sorry, cannot consider the application at the moment. And the main reason was the language.
In any scenario, if you're coming to Germany, you need to know basic German. Earlier, it used to be up to B1, now everybody's asking for a B2 level of German. So I would suggest if anybody's planning on coming or applying for a Job Seeker Visa, they can use that time to prepare themselves and learn German minimum up to B1 level, if you can. It would make it easier for you to find a job.
What was your experience like during the time you were on a Job Seeker Visa?
You need to be financially prepared and mentally prepared. And I was financially and mentally prepared.
But no matter how much you prepare, you are going to be stressed all the time. That's what happened to me - even those 20 days were a lot. I arrived in Germany and got my accommodation and started going to meetups to practice German because before coming here, I had already learned German up to B1 level. So I thought maybe it would be good to join some meet-ups and improve language skills. When I went there, and the people started talking, I was shocked, as I could barely understand a word.
I remember that moment when I was walking back from that first meetup and all I could think was, this is going to be the worst decision of my life. I don't know whether I would get a job here. But within the next two days, I got my first job offer.
How important is it to have German language skills?
It's not that important. Because my company is an MNC (multinational company), one can perform their activities in English and you are working in an international environment with people from different nationalities. So English is always the preferred business language.
One thing that anybody who would be working in Germany, especially in Berlin, would agree with is that though they ask you to have German skills, when you start working, then 99% of the work you get to perform is in English and it is the primary language. So it's just a basic hurdle which you need to overcome.
What happens when one doesn't manage to find a job within 6 months? Did you have a backup plan in mind?
Yes, so when I left my job, I thought if I don't get anything in Germany then I can go back to India anytime, and at least my previous organization would be happy to offer me the same job. But before that, another plan was to prepare myself financially so that even if I do not find a job I could survive for a year over here, or even if I went back to India then I can spend another six months to find a job.
I was prepared for the next one year and that's what I would suggest to anyone.
If you are coming to Germany, at least keep some buffer for two to three months, in case you are unfortunate and you don't get a job. But if you prepare yourself well before coming to Germany, then I don't see any reason why you will not get a job.
In hindsight, was it a good decision to come on a Job Seeker Visa?
Certainly, it was. It was one of the best decisions I made and though I was scared before coming here thinking what if I don't get a job and thinking how it would be a very depressing moment for me to go back to India. Before moving here everyone said leaving a stable job and risking everything is not a good idea.
So it's about proving yourself. And since then I have never looked back, I have a far better life here. I'm here and every year there is a good thing that is happening to me.
Even this year, though everybody's affected, it worked out well for me.
Are there any things that you have learned during this time?
Apart from that, I don't have anything specific that I would say that I have learned but yes, whenever there are any tough times you have to be mentally prepared. Like some people, they think okay let's apply for the Job Seeker Visa, get it and keep working in India while looking for the job and once we will get the job then we will switch.
But then in India, the notice period is usually three months.
. Although companies here in Germany often don't mind waiting for three months, it is always better to be available immediately.
When you are immediately available or you can join within a month that is the best scenario since you will get preference over other candidates who might even be more talented than you. Time is critical.
Do you see other advantages in coming to Germany on a Job Seeker Visa, for example, in comparison to finding a job from India and applying for a Blue Card?
The advantage is being able to come here and then start looking for a job here. It depends on your salary whether you are going to get a Blue Card or not. Blue Card has certain advantages; if you have completed your German language up to B1 level, then within 21 months, you can get permanent residency in Germany. And after that, you don't need any visa to continue working in Germany. You will be independent. You can decide how you want to work or if you want to switch jobs or even if you want to move to any of the Schengen countries on a business visa or for maybe short-term employment. After the Blue Card, you can go over there for up to three months and can work without a visa. But if you are going to work there for a longer duration, then you have to apply for the local work permit. It takes up to 21 months if you have completed up to B1 level, but it is 33 months, if you have not learnt German at all or if it's just very basic i.e. upto A1 level.
Currently, I'm on a Blue Card. And I already am about to complete my 33 months needed for permanent residency application. Since I did not get a chance to work on the B1 German language certification I now have to wait for 33 months, but I would really suggest people complete the B1 level and get their permanent residency done within the first 21 months of the employment.
📬 Subscribe to our newsletter to stay up-to-date! 👇
India2Germany Newsletter
Join the newsletter to receive the latest updates in your inbox.
---