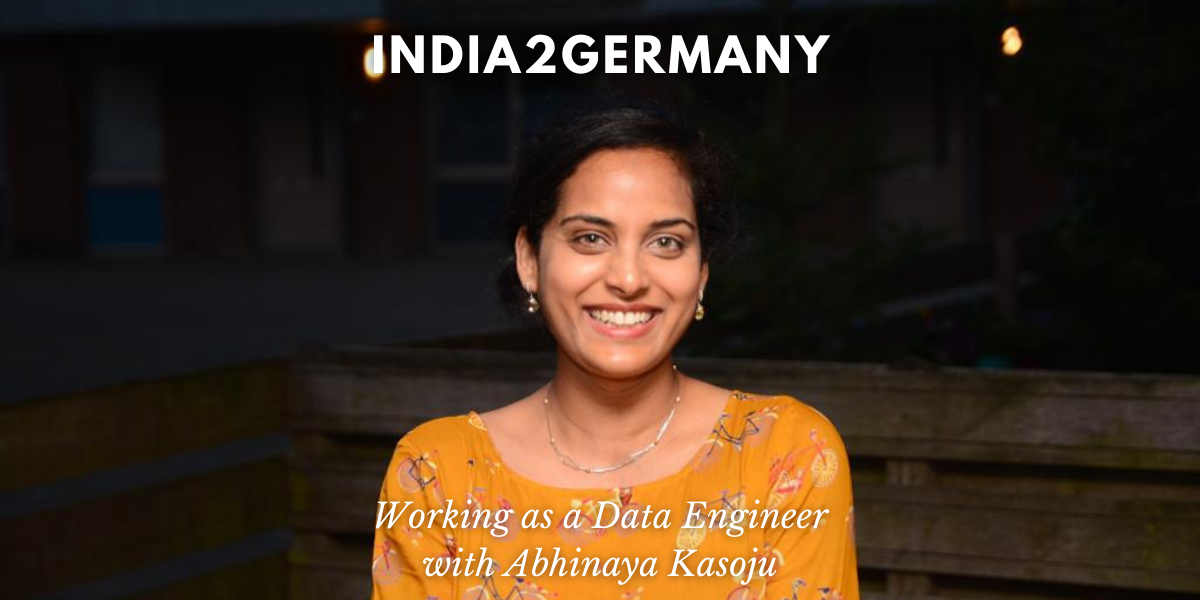 Working as a Data Engineer with Abhinaya Kasoju, Data Engineer at MSX Digital Innovation Hub
This week we speak with Abhinaya Kasoju who moved from India to Sweden and then to Germany. She shares her experiences and advise on working as a Data Engineer in Germany and how life in Sweden compares with that in Germany.
Hit Play to listen to this conversation and Follow to get notified about upcoming episodes.
📬 Get the latest India2Germany articles via email 📨
Welcome Abhinaya 👋, thanks for speaking with us. Could you tell us a bit about yourself?
I come from a small town which lies between Hyderabad and Bangalore in India. I did my Bachelors in Computer Science and Engineering from the Jawaharlal Nehru Technological University (JNTU) in Hyderabad. After that, I did a dual degree Masters programme in Software Engineering which was a collaboration between JNTU in India and the Blenkige Institute of Technology in Sweden. Thus, I spent six months of the Masters in India and the remainder 18 months in Sweden and wrote my thesis at Volvo which helped me kickstart my career in Europe. Subsequently, I continued working at Volvo for the around three years, where I got a chance to work in different sectors of the company, including Volvo IT and Volvo Trucks. Currently I am working as Data Engineer at MSX Digital Innovation Hub, an innovation hub owned by Bain Capital. We work primarily with the automotive sector focusing on warranty management.
What brought you to Germany?
I didn't know much about Germany until my partner moved here for his first job. We met in Sweden and when he started working in Germany, I travelled often to see him. However, at that time, he was working in Hannover, which I didn't find that appealing. But later, he took a job at a startup in Berlin and during that time I happened to visit him a few times. I found Berlin very exciting because one could do many different activities here which I felt was not possible in Sweden mainly due to the cold weather. Berlin also had much better flight connections to other parts of Europe which meant that we could travel often.
I started planning my move to Germany in 2013 and it took me 3-4 months to find the right opportunity to move. Since I already had previous experience working in Europe, I found a job easily in Germany. I got job offers from two startups and a PhD position at Hasso Plattner Institute close to Berlin on the topic of Design Thinking. I decided to take up the PhD position and relocate to Berlin. Getting a visa for the PhD was suprisingly straightforward and took only a week to arrive.
How did you become a Data Engineer?
My PhD programme was a collaboration between Hasso Plattner Institute and Stanford University and thus, I was expected to do research both in the US and in Germany. However, unfortunately my visa application for the US was rejected. So, I decided not to continue further with the PhD and took up a job at Konica Minolta, a Japanese company located in Hannover where I ended up spending two and a half years in Software Development and Product Management. I didn't enjoy my life in Hannover a lot though and so, along with my family, I decided to move to Berlin, which was the city that I had liked in the first place in Germany. I took up a job at a company manufacturing automotive parts as a Database Engineer. Since I already had experience working with databases through my previous jobs, I thought it might be a good idea to move into a more Data Analytics-related profile. I started interviewing for Data Engineering roles and got an offer from Motionlogic (a subsidiary of Deutsche Telekom) in Berlin. The opportunity to work with big data and technologies like Apache Spark was very interesting for me. After Motionlogic, I took up my current role at MSX Digital Innovation Hub, where I get to work with different clients and handle different types of data.
What does a typical day working as a Data Engineer look like?
This differs from company to company. In some companies, data engineering is a lot about Software Development, whereas in others it is more about understanding customer requirements, understanding their data and integrating this into your product. The latter is a major responsibility in my current role, whereas the former is what I primarily did in my former job at Motionlogic.
Which technologies do you work with as a Data Engineer?
At the moment, I work with Scala and our inhouse microservices-based product for which we use Kubernetes. Our product is similar to Apache Airflow and is used for orchestrating ETL (Extract Transform Load) pipelines. In the past, I used to work with Python on top of Apache Spark.
I also found it hard to adjust to the direct way in which Germans usually communicate, which can sometimes come across as impolite.
What is your impression about work life in Germany?
Having relocated from Sweden, initially I didn't like it so much in Germany. I felt that the work-life balance was better and the focus in Software Development lies more on the process than on the code itself in Sweden. Coding usually came at the end of the process, but in Germany people tend to jump into coding first and take care of the process later.
I also found it hard to adjust to the direct way in which Germans usually communicate, which can sometimes come across as impolite. Over time, I learnt to deal with it though. I did not face this issue when I started working for Konica Minolta since the work environment was very diverse and multicultural. From that point on, I started enjoying working in Germany. I also love working in Berlin because it is so diverse here, which in my opinion fosters innovation and a healthier working environment.
Most of the times people have been very forthcoming and willing to offer help in Germany.
Furthermore, it took me some time to get used to the bureaucracy and paperwork in Germany because in Sweden things are much more streamlined. However, now I do understand that one needs these processes in order to make sure that everything functions as expected.
The interview process here is usually more rigorous than in other countries, say the US. Even in startups, one can expect to go through several rounds of interviews, similar to big American tech concerns like Amazon and Facebook.
Are there any advantages or difficulties that you have faced as an Indian in Germany?
Most of the times people have been very forthcoming and willing to offer help in Germany. I found finding accommodation and applying for visas relatively easy here, when compared to Sweden.
Many people have this idea that you need to know German to be able to survive in Germany. This is a myth, particularly in Berlin.
What would be your advise to fellow Indians looking to build a career in Germany?
It can be hard to navigate the bureaucracy at first without any knowledge of German language, so if someone offers you help, accept it. Also, if you are in a difficult situation, don't hesitate to ask for help from locals. People are usually ready to help wherever possible.
Many people back home have this idea that you need to know German to be able to survive in Germany. This is a myth, particularly in Berlin. I am a living proof of this 😄. Nevertheless, it is a good idea to spend some time learning the language so as to be more independent and to integrate more into the society.
The job market is very good here in comparison with other European countries. So, I would advise you to look for jobs, e.g., on LinkedIn, and if you find something interesting, just apply. The visa situation is pretty favourable at the moment and companies are ready to sponsor talent from abroad.
Go through job listings and check which technical and non-technical skills companies are looking for. Try to take some time and prepare in advance before you start applying. Interviewing, particularly in startups, tends to often go faster than one expects and doesn't leave one with much time to prepare.
How can one get a job as Data Engineer?
If you have a background in Databases, Business Intelligence or as a Business Analyst, then you are very well placed to move into Data Engineering, particularly if you brush up on Software Engineering fundamentals. Otherwise, if you don't have a background in these areas, I would suggest acquiring some skills in Databases and Software Development. In Berlin, for example, there are several open positions for Junior Data Engineers which might be a good entry point for some. Once you are a Data Engineer for some years, you can grow into a Solution Architect or an Engineering Manager or another more senior role.
India2Germany Newsletter
Join the newsletter to receive the latest updates in your inbox.
---