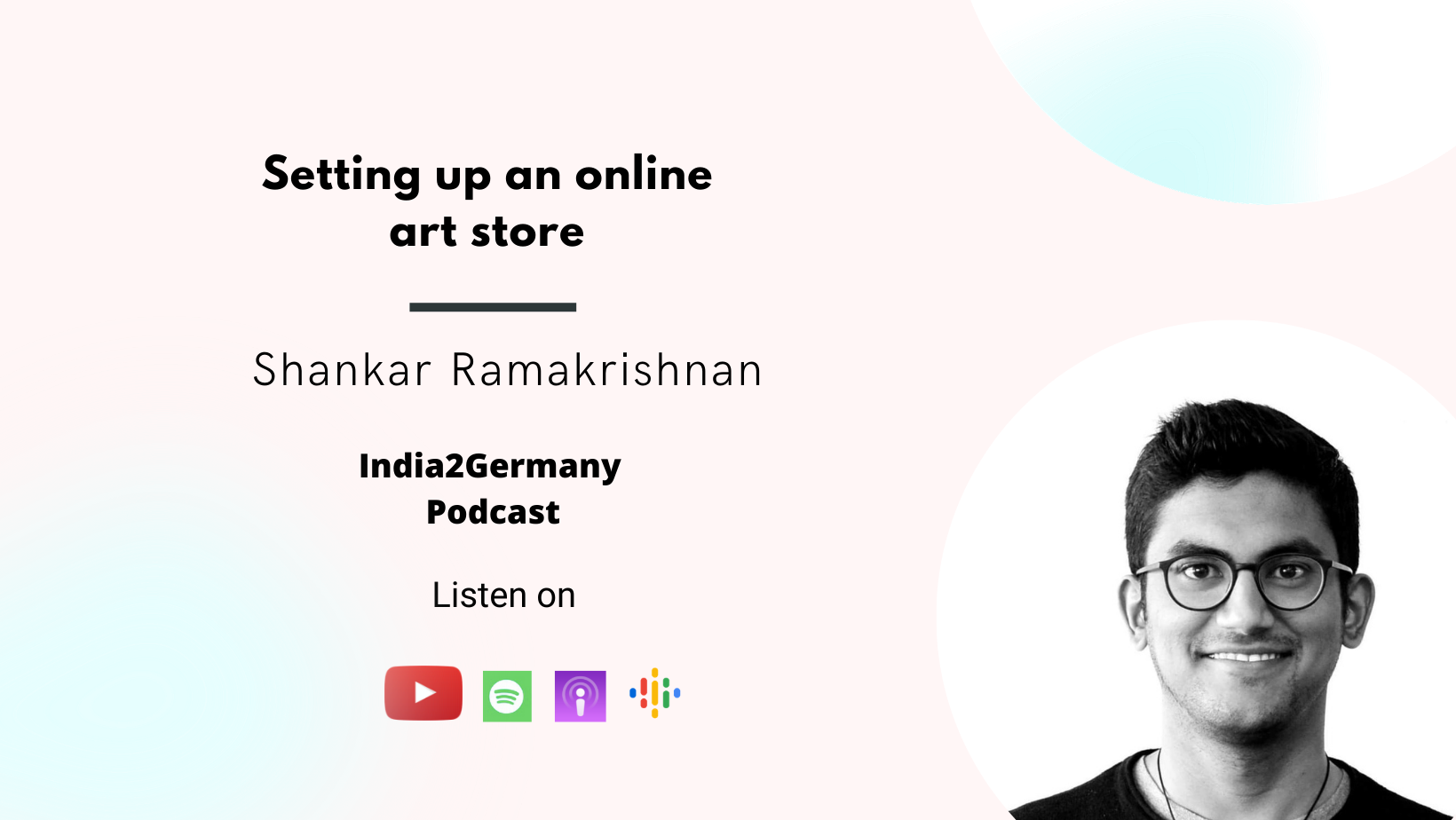 Setting up an online art store with Shankar Ramakrishnan
Listen to Shankar's exciting journey about how he built his online brand of art about Yoga and his key learnings and advice for those looking to start an online business.
Yoga is one of India's most well-known exports to the West. In Germany alone, nearly one in every 6 persons has practised Yoga at least once. So, our guest today on the India2Germany podcast is Shankar Ramakrishnan, creator of the brand Yoga in Art. Yoga in Art sells art pieces about Yoga on its web shop. In his day job, Shankar is an architect in Munich with a passion for art and architecture. He is a graduate of the renowned Städelschule Architecture Class in Frankfurt.
🎙Subscribe to our podcast on Spotify, Apple Podcasts, Google Podcasts,  
YouTube or any other major platform. Just search for 'India2Germany' and you'll find it 🙂
📬 Get the latest India2Germany articles via email 📨
---
Show notes
Hi Shankar 👋. Could you tell us what Yoga in Art is about?

Yoga in art - Yoga depicted in its art form. The idea was to capture yoga in its essence, In its true form. It's basically a digital mixed art series on yoga and yoga related topics. The idea was to create art for yoga and art lovers. Art which they could use to decorate their home and studio spaces. So that's the idea basically.
Yoga and art sound like a very harmonious combination. How did you come up with the idea?
As an artist and architect I really love human anatomy. The physical geometry one attains while doing yoga really impresses me . The geometry, the stability and the grace one attains while doing yoga is simply remarkable. So I thought it would be fun to abstract and capture yoga in an art style, that is how yoga in art started.
Once you had decided on this idea, what were your next steps?
First was the creative part- I spent nearly 6 months perfecting my style and created roughly 140 art pieces. Then I catalogued it and created an art series . The creative part was fun.
The next step was to stage my art. Figure out a million small things on how to create an online E-shop. Setting up taxes, accounts , legal form and so on.
Did you do all these steps alone or did you use some services or help from people?
Yeah I did all of it myself. I had to research a lot to get a good road map.But it all worked out.
There are a lot of interesting blog posts in firma.de
Your website and online store looks very elegant and well-designed. How did you build the online store and how do you manage the whole e-commerce process?
Yeah i had no experience in coding or building a website. It was a bit overwhelming to start with but it was easy once I started doing it. shopify as a platform is highly efficient for an - E-commerce website. There are plenty of tutorials and documentation.
How do you actually create the art?
Its a digital art series. I used various digital tools to create my art work. At times i also use traditional analog tools too. But predominantly digital.
How much was your start-up capital?
Around 400 € i should say.
Spent around 150€ - 200€ for a tax consultant for an hour of consultancy to set up my taxes.
Then around 200€ for setting up my shopify website and related apps.
When did you launch the brand and how has the response been so far?
Launched the website in early April. The response has been great. Of Course your friends and family always wish good and in terms of sales i have sold around 10 art pieces. I have still not actively got into marketing. will start.
What are your plans for the future?
I am not planning to create any new art. My only focus now is to promote my work and reach as many people as possible. Fail fast and learn,
Coming from an IT background myself, I haven't met many people from India who are artists. How did you get into this field in the first place?
I come from a traditional south indian family and all my family members are from an engineering background. I was interested in art right from my young age and wanted to do something creative. This desire led me to pursue architecture, I worked for a year in bangalore after my graduation then i moved to europe to do my masters in arts in architecture at Stäedelschule.
So, you have a day job as an architect and Yoga in Art is your side project. How do you juggle these responsibilities?
I really follow a strict routine, i wake up early around 4,30 am and work till 8 and then leave for work. Then later in the evening after work I work from 8,00 - 10,00. This has been my time to work on my art project.

So roughly around 5-6 hours daily.
What would be your advice for people looking to start out in creating and selling art?
It is important to have a good idea. That is just 10 %.
But it is more important to develop skills in marketing, sales and good understanding of finance , taxes. This would constitute the rest 90%
To find out more about how to start an e-commerce venture in Germany, check out our previous podcast episode: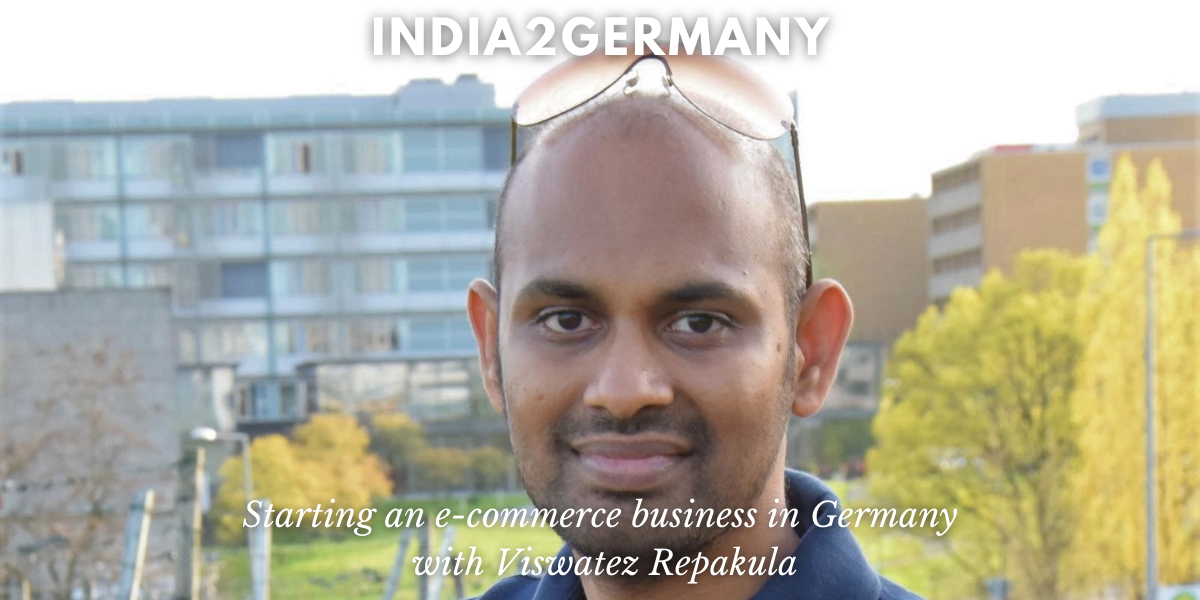 ---
📬 Subscribe to our newsletter to stay up-to-date! 👇
India2Germany Newsletter
Join the newsletter to receive the latest updates in your inbox.
---