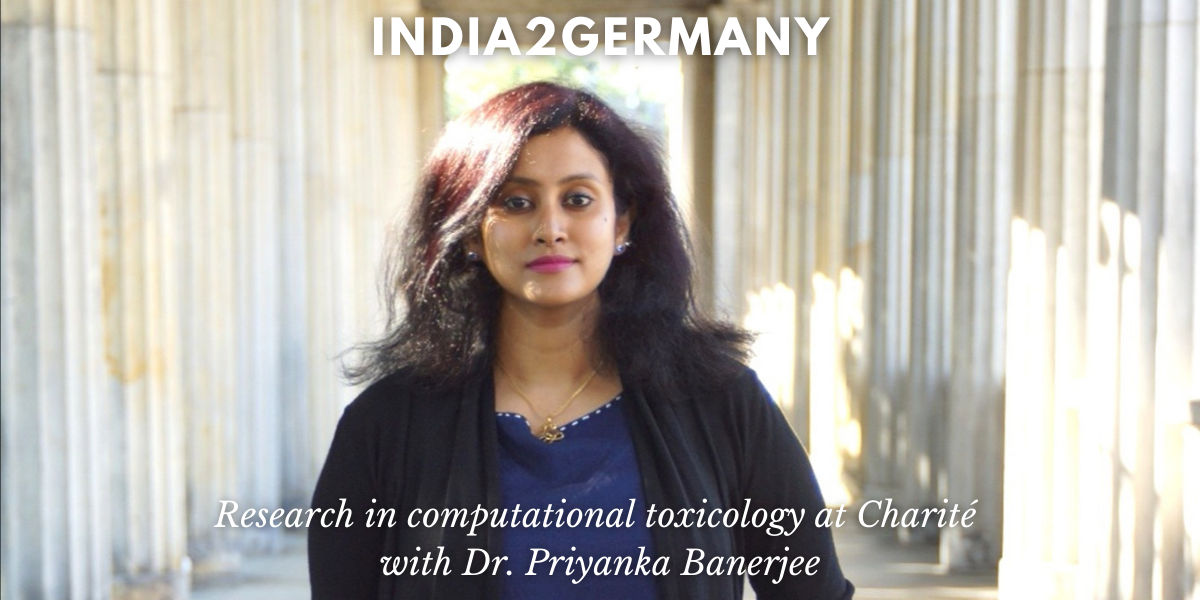 Research in computational toxicology at Charité with Dr. Priyanka Banerjee
Priyanka talks to us about computational toxicology, what her research focuses on, and shares her learnings for those interested in research at Charité.
Adverse drug reactions or drug side effects are a significant challenge in modern healthcare. In fact, according to estimates, adverse drug reactions are the sixth leading cause of death worldwide. So today on India2Germany, we speak with Dr. Priyanka Banerjee about research in computational toxicology at Charité. Priyanka is a Principal Research Investigator at Charité, one of Europe's leading university hospitals, and Lecturer at Freie Universitaet Berlin.
🎙 You can also listen to this conversation on  Spotify, Apple Podcasts, Google Podcasts,  YouTube or your favorite podcast platform 🙂
Hi Priyanka 👋 Could you tell us what the field of toxicology deals with?
Toxicology is the study of the adverse effects of chemical, physical, or biological agents on living organisms and the ecosystem, including the prevention, understanding, and reduction of such adverse effects.
Chemical impact on health is usually investigated via the concept of ADME. Chemical is Absorbed, Distributed, Metabolized, or Eliminated in living systems. Not all chemicals are impactful in the same ways, sometimes metabolism, for example, may be an issue because of the way our liver metabolises the compound and converts it into an inert substance. Some chemicals have means to be excreted, while others may not. Considering all aspects of how chemicals get into the body, how they move within the body, and how they get out of the body can help us assess the toxicity of a chemical.
Almost 500 years ago, Paracelsus (Father of Toxicology) acknowledged that the subtle distinction between whether a given chemical compound acts as a medicine or poison is often determined by the dose as well as the amount of time at which it is given. However, it is only by the twentieth century that Paracelsus' understanding of dose-dependent toxicity profiles of chemical compounds manifested a new definition in terms of system-level understanding of toxicity in modern science. From the science of poisons and intoxication, toxicology and its scope has broadened and developed with time and currently has been regarded as the 'science of safety' and 'personalised therapeutic administration.
Where does the computational aspect enter into toxicology?
Exposure to various chemicals agents through cosmetics, medications, preserved food, environments and many other sources have resulted in severe health issues in humans. Ad- ditionally, regulatory authorities from Europe and the United States of America have recognised the risk associated with combined exposure to multiple chemicals. Testing all possible combinations of these thousands of compounds is impractical and time-consuming. That's where computational toxicology comes into the picture.  Computational toxicology concerned with the development and use of computer-based models to understand, and predict the interactions of biological systems with chemicals and their adverse health effects. These interactions are studied at population, individual, cellular, and molecular levels. In fact, over the past 20 years, computational alias in silico toxicology has majorly contributed to the reduction and also a replacement to animal testing for cosmetic-related substances.  In many regions across the world, particularly in Europe there has been a long-standing objection to the use of animals for regulatory testing of chemicals and is currently banned for cosmetics. So, computational toxicology can support as an alternative method to animal testing. So in predictive chemical toxicology, there are several domains of research and can be roughly divided into four categories  -data mining, Biological profiling, QSAR (Quantitative Structure-Activity Relationship) modelling, and Toxico-chemoinformatics
What exactly is the focus of your research in this field?
There are different ways a toxic response is associated with chemical compounds (e.g. drugs, environmental chemicals). Toxic effects are sometimes direct and predictable following an overdose of the chemical compounds. This effect can be due to direct association between the presence of specific toxic patterns (fragments) in the chemical compounds and toxicity; on the other hand; it may sometimes be due to changes in the metabolism of the compound resulting in toxic metabolites. Additionally, this direct and predictable toxic response may be mediated by metabolites and may be pharmacologic or immunologic in nature. It is also observed that sometimes toxic response can be immediate and yet unpredictable either following one dose or just a few doses. These effects are often termed as 'the idiosyncratic response'. They may appear only in a specific group of people, and often there is no good prediction for their occurrence.

What kind of skills does one need to work in this field?
Rapidly evolving data resources from various levels of information or research areas- such as chemistry, structural bioinformatics, cheminformatics, metabolomics, proteomics, genomics and their interconnections have been the foundation of predictive science.
In short, toxicology is a translational science, transferring knowledge from basic science into practical applications to safeguard public health and the environment. From knowledge in mathematics, statistics, computer science to chemistry, biology, even physics can contribute to the field of computational toxicity prediction.
Computational toxicology is a subdiscipline of toxicology that aims to use the mathematical, statistical, modeling, and computer science tools to better understand the mechanisms through which a given chemical induces harm into living systems or environment. Importantly, the science of computational toxicology is reaching beyond basic research into the field of regulatory decision making and environmental health protection.
Are there any major trends/topics of research that people considering to work in this field should focus on?
Computational toxicology is a broad area of research, and it includes many exciting topics. There is an excellent focus on safer chemicals/ Green chemistry.  Risk assessment methods for regulatory testing of chemicals.  Drug-Drug interactions, Drug-Food interactions. Food allergy prediction. Currently, many researchers are using artificial intelligence to developed predictive models for toxicity. At Charité, we have developed a computational platform called ProTox- which contains around 50 toxicity prediction models based on the machine-learning algorithms.  Models such as  prediction of carcinogen, mutagen, cytotoxic compounds, immunotoxic compounds, to name a few.
This is a very important area of research which can have an impact on the lives of many people worldwide. How did you get into research in this field at Charité?
After completing my bachelor studies in India, I moved to Germany in the year 2010 for my master studies, at the University of Bonn. I moved to Heidelberg for a short stay of one year for my master thesis. And eventually, I joined Humboldt University Computational Systems Biology Graduate School for my PhD and joined Charité. My supervisor, Dr. Robert Preissner, was then one of the PIs of the graduate school. So, when I was planning my PhD topic, he always supported me to come up with independent research ideas and work on issues that I am passionate about. At a very early stage of my research career, he allowed me to lead projects and explore research ideas -which I might have doubted initially, but he always supported. Computationally toxicology wasn't the main focus of our group initially. But during my PhD research, it gained more interest and focus, sooner we realised that if we want to discover good/safe drugs/chemicals, we cannot ignore the risk associated with it. They are two sides of the same coin, ideally inversely proportional to each other.

📬 Get the latest India2Germany articles via email 📨
Charité is one of the most famous institutions for research in medicine and biology in Germany. How has your experience of working there been?
Many of these projects involved a substantial amount of collaboration, both with other researchers within the Institute and at International level, along with students and the clinicians. All of these experiences placed me in a position to successfully pursue research and contribute further into this area of research. I think the best advantage of working in a clinical setting is that you are in close contact with the clinical experts and you are aware of the reality of the situation when it comes to patient-centric drug discovery. You connect your research and motivate yourself about how you can make a difference in everyday people's lives. It's not always about the big discovery and loud successful moments but also small significant confirmation and confidence that your work matters, there can be a visible direct connection to patients' clinical needs (depending on projects, of course not all projects allows that)
Choosing a supervisor is essential: A good supervisor during your PhD is crucial—lookup a prospective supervisor's academic profile, publications and past supervising experiences. If possible, get in touch with their old students and talk to them about your decision to work with the supervisor.
You don't necessarily need a famed scholar– who may not give you enough time and attention if you are the one who needs close supervision– so choose wisely.  Additionally, working in an interdisciplinary area of research also increases your employability factor outside academia (post PhD).
You need passion and commitment! It is important to be passionate about your subject. It does not mean that you need to enjoy the pain, but you should be able to see the silver lining that lies ahead.
Working at Charité also allows you to experience teaching at the university level. Additionally, helps you communicate your science to diverse audienc (students from medical, informatics, data science, bioinformatics).  In my case, I was appointed as a teaching assistant from my first year of PhD- for the master course in FU. (Bad news if you don't like teaching ;),  but you can also say NO!).  But as they said 'By learning, you will teach, and by teaching, you will learn'.
What would be your advice for people looking to work in this field at Charité?
It is more of my personal experience (rather than advice), and that's what I am sharing, and should work reasonably well for other research institutions too, including Charité. Computational toxicology is an evolving research area. There is also a lot of uncertainty, and every moment the learning curve is growing strong. This is how it works – by reshaping hypotheses as knowledge accumulates. It is also cumulative: the more we know, the more certain we can be.
---
📬 Subscribe to our newsletter to stay up-to-date! 👇
India2Germany Newsletter
Join the newsletter to receive the latest updates in your inbox.
---