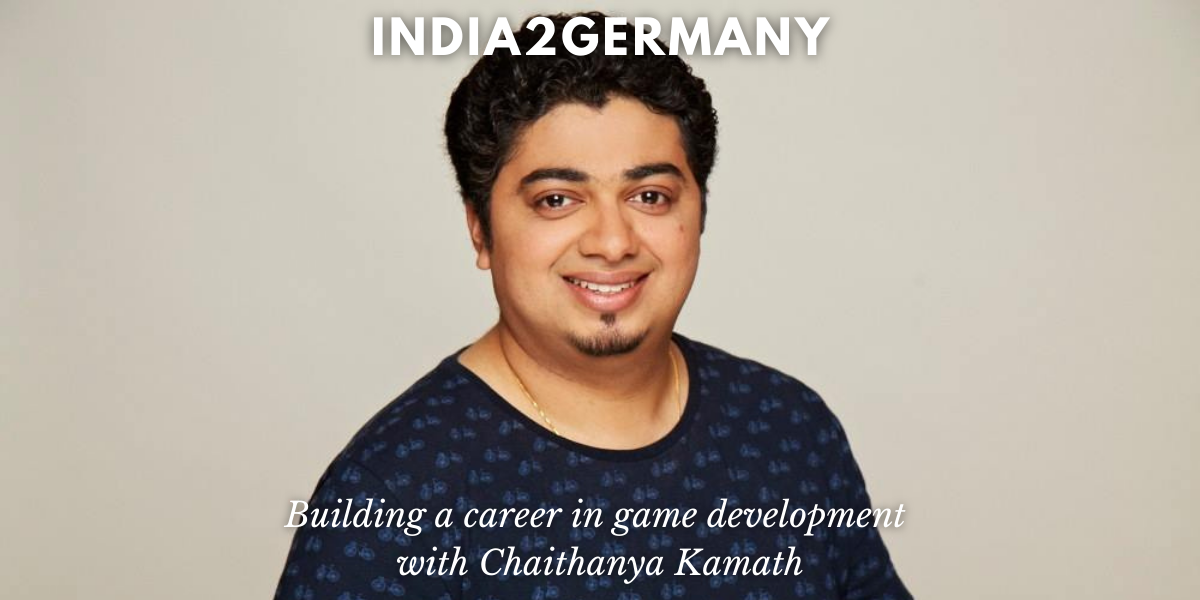 Building a career in game development with Chaithanya Kamath
Chaithanya turned his passion for gaming into a career in game development. Listen to his story and his suggestions on how to build a career in the gaming industry.
Who doesn't like playing mobile games! If you're like me, and wonder what goes into creating an entertaining game and if one can build a career in the gaming industry, then listen on. Today we speak with Chaitanya Kamath, Product Director at Huuuge Games in Berlin, about career in gaming. Chaithanya found his true passion in games from an early age and went on to do a masters in Entertainment Technology at Carnegie Mellon University in the US. He has followed his passion ever since and has more than 10 years of experience in the field of game development.
🎙 You can also listen to this conversation on  Spotify, Apple Podcasts, Google Podcasts,  YouTube or your favorite podcast platform 🙂
📬 Get the latest India2Germany articles via email 📨
---
Show notes
Hi Chaithanya 👋 Could you tell us how you got into game development?
Grew up playing games in the early 90's like the brick game (or Tetris), Media Video Games Console 8-Bit, Friend' PCs in the 90's and then my own PC in the early 2000's (which parents were opposed to as they knew it wasn't meant for studies) playing & getting influenced by iconic games like NFS / Max Payne / Half-Life/ Warcraft etc. It was customary to complete one game during my semester exams!
Got busy with getting a "stable" job so started at Wipro Tech. Was caught off guard that i would do some Level 2 support (fancy name for call-center), hated it. Got to know that they made serious games so tried hard getting into that division but no one wanted a guy with a call center background! Oh well, their loss and my gain. I was highly motivated to pursue what I really love & care for which resulted in 2 amazing outcomes
"I am gonna pursue my love for games"
"I am gonna pursue my love towards this girl i met"
Decided to do my masters in game development in the US and was able to do that at Carnegie Mellon University in Pittsburgh, PA. Which was conveniently located 2 hrs from where my wife did her M.B.A at Case Western Reserve in Cleveland, OH. Today there are a lot more universities in the US and the rest of the world (which i would recommend as well) if you are keen on exploring game dev studies.
Since then I have been lucky enough to work in the gaming industry and do what I love, everyday. I don't complain about Monday's unless it is after a vacation.
What is the gaming industry in Germany like? And what are some of the major trends in this area?
The gaming industry in Germany is thriving, but mostly in Berlin where there is a high concentration of game studios and some who have been lucky enough to have exits.
The balance is more tilted towards Free2Play games meaning the games that are free to download on mobile or web browsers. There are companies developing for consoles & PCs but not as many and probably even less with AR/VR.
Trends across gaming industry is pretty strong across mobile, console, & PC but not necessarily as strong with AR/VR. VR is on the rise but not much with AR.
For pursuing a career in games, its a matter of choice. Mobile f2p gaming is growing exponentially in general & have shorter development cycles in comparison to console. Hence the concentration of more companies in this space and one I can recommend.

I can imagine that creating a game is a very multidisciplinary task. What is the game creation process typically like and what kind of roles or career paths are involved in this?
It is a team effort generally speaking, as there are individual game developers who can sometimes do everything.
I can speak mostly for free2play gaming on mobile. The usual positions are:
Game Designers - mechanics, systems, balancing
Generalist Artists - define the game's art (2D/3D)
Technical Artists - less drawing more technical integrations
UI/UX Artists - define the interaction art
Sound Designers - compose game music
Producers - kinda like a project manager
Developers - backend & frontend
QA - break the game
=============
Marketing & CRM - acquire players, engage them externally
Business Intelligence / Data Analyst - make sense of data gathered
Product Managers - feature roadmaps, a/b tests, LiveOps

What is your role at Huuuge Games in this game creation process?
Games in free2play are essentially living products, meaning, they are Games As A Service akin to Software As A Service. So there are two phases, Pre-launch & Post-launch which requires servicing the game with content as part of the LiveOps.
With my career built in product management, I have specialized in Pre-launch phase meaning:
What game are we building & why?
What are Revenue estimates & KPIs?
Is it innovative or iterative?
Can we market it with ease (costs)?
How quickly can we prototype? How quickly can we get to MVP?
How big of a team do we need at different stages?
The game is now in Soft-Launch, are we hitting the metrics we need? If not how will we get there? Or, can we get there?
Am I willing to kill this game and move on?

In your opinion, what kind of skills or roles are in demand in the gaming industry?
That depends on their area of interest. Games are a product of passion, so you ought to love what you do to produce something amazing. One must be prepared for killing the games they work on, so build them with love but don't fall in love. It is more dynamic than any other industry, meaning, one must keep honing their skills as the industry evolves. Best way to learn what you might enjoy in game development is by building a game yourself or maybe even doing an unpaid internship somewhere.

You did your masters at Carnegie Mellon in Entertainment Technology. How was your experience in your masters?
Self-study, outcome driven education ("figure it out, and ask for help when u can't find any"
Project Driven vs. Classroom Education
You have worked in different countries, including India, the US and now Germany. Why is it that you decided to move to Germany?
A company i wanted to work for, Wooga, was based out of here
Work-Life balance, More efficient use of time
Better social system with unemployment for example
Do you have any advice for those who are looking to build a career in games in Germany?
Play a lot of games and ask questions why & how
Make your own games. Theres plenty of free resources out there like Unity engine / Unity Tutorials / Unity Asset Store etc.
Participate in Game Jams
Maybe do internships
And when you know what aspect of game development you really enjoy, then just continue down that road on your own or through some bachelors/masters program
---
📬 Subscribe to our newsletter to stay up-to-date! 👇
India2Germany Newsletter
Join the newsletter to receive the latest updates in your inbox.
---