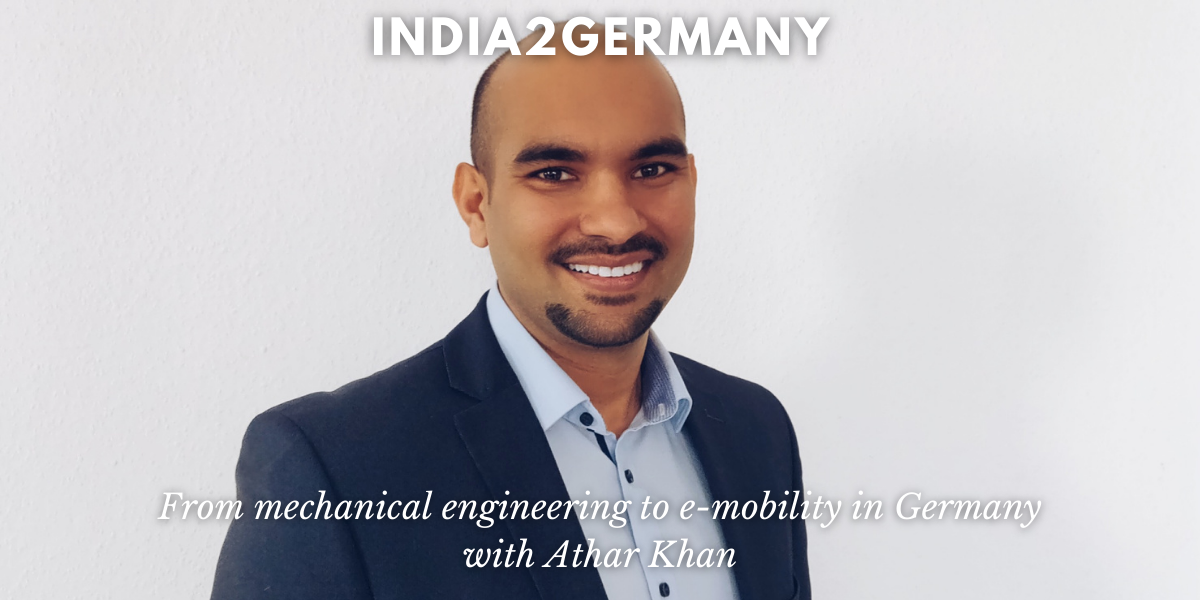 From mechanical engineering to e-mobility in Germany with Athar Khan
Athar tells us about his experience of moving from the traditional automotive industry to electrical vehicles and gives an excellent overview of the current trends in e-mobility. He talks about what makes e-vehicle sector so exciting and challenging and shares his advice for aspirants.
Electric vehicles and e-mobility are very important trends worldwide. In Germany, not only is electric mobility a central part of the government's climate policy, but the German automotive industry is also the biggest investor in electric vehicles globally. Today we speak with Athar Khan about his experience as a mechanical engineer working in e-mobility in Germany. Athar is a specialist in vehicle component testing and currently leads projects in the area of electric vehicle powertrain at Valeo Siemens in Bavaria, Germany. He has 15 years of experience working for the automotive sector in Germany as well as in India. Athar tells us about his experience of moving from the traditional automotive industry to electrical vehicles and gives an excellent overview of the current trends in e-mobility. He talks about what makes e-vehicle sector so exciting and challenging and shares his advice for aspirants.
🎙 You can also listen to this conversation on  Spotify, Apple Podcasts, Google Podcasts,  YouTube or your favorite podcast platform 🙂
Hi Athar 👋 Could you tell us what Valeo Siemens does and what your work at Valeo Siemens is about?
Electric mobility is a big thing these days and that certainly is what made me come into this field.  Valeo Siemens is relatively a new player but is a very important player in the field of electric mobility; it's a tier-one supplier. We basically make customer-specific high voltage components and so we are not doing any low voltage electric mobility, but only focusing on the high voltage; something like 400 volts or more.  We make systems or we make components. When you talk about systems, it's more like a combination of an e-motor with inverter and reduction gear, it also sold as an e-axle. And we supply this to the customers and apply them or integrate them into their vehicles and make it according to their requirements. And this is what we do at Valeo Siemens.
Talking about my work at Valeo Siemens, I'm working as a Technical Project Manager for an e-axle development project. As a technical project manager, I have a team of around 50 engineers who are working in different areas of research and development which includes design, simulation and testing. So design includes both electrical as well as mechanical design, simulation as well. And for testing, we have a variety of tests from functional to environmental, and then finally the homologation test.  Our team is spread all over the continent since this topic is relevant, not only for Europe, or limited to Germany but is relevant all over the world. This is why we are also spread all over the world and working together. One of my major role as a technical project manager also includes coordinating the communication between the different set of teams working across the world. So yeah, this is what I do as a technical project manager.
Could you give us some examples of the kind of projects that you lead?
My project is currently for a European OEM and it's for a luxury and a sports car version vehicle and it can have torque up to 1100 Newton meters so you can imagine it's quite a powerful vehicle that we are working on. My work basically starts from the phase where we are going through the acquisition of the project and then moving onto developing a concept and then trying to bring that concept into designing and simulation phase and then going through the whole development at the supplier or maybe at internal manufacturing if you have to set up some lines, and then finally, testing. This is what most of my work revolves around. And most of the projects that we work on, as I told you it's about either as an e-axle or components. In e-motor if you get into the designing part of it, it is partly mechanical, because of all the laminations and the rotor that you have in there. But then it also has a very big portion, which is electrical, that is the design, for example, the way the windings are to be done. So it's a complex system in there. The projects are generally done as per the requirements that the customer gives us. And from our side, we try to come forward in the technology as possible, because there is a lot of development going on in this field. And right now the trends are not so sure in which directions each will go. So we always try to bring new ideas and then try to develop them together with the customer according to his requirement.
German carmakers are investing heavily in e-mobility. I can imagine that there are loads of new developments in this area. What do you think are some of the current trends in this area?
Yes, so these trends that we see are being pushed by I think three important factors:
One of them is the legislation itself. So you probably would have heard about the Paris Agreement and how the CO2 targets have to be met by the countries, companies, and everyone across the world maybe not us right now. But yeah, across the world, they are in this Paris Agreement, and they need to meet certain targets. So with that many governments across the world are pushing for reducing their dependence on combustion vehicles which is why they are planning to ban a lot of them. India is also trying for it but has not given a date Germany is on the same boat. The UK has given a date of 2040 which they are trying to bring to 2030 now, and there are many other countries across the world, which are trying to do the same.So, that is one part that is pushing the trends that we are seeing right now that a lot of investment is happening from the OEMs and tier one and tier twos in this electric mobility field.
Then I would like to talk about the part that technology is pushing forward. So, we see that cars have been around for more than 100 years, but the development that we have seen for example, in the mobile market has been very different and the growth has been exponential; the first iPhone and the current design of phones are different from what we had at that time. But this kind of explosion or kind of explosive growth has not been witnessed in the automotive industry. So now there's kind of a roadmap which is prepared with a lot of minds coming together of the automobile industry and they are working on this. Something that a lot of people must have heard of is CASE which is an acronym for connected autonomous shared electric mobility, which is kind of all the current trends that we are seeing in the automobile industry are in those fields. So these four fields are the current fields that are on-going.
So when I look at electric vehicles there has been a push especially after 2015, after the Volkswagen diesel gate episode and at that time, if you go back to 2015, in the automotive world there was a lot of talk about hybrids. But that has been kind of pushed back on the side-lines. There is a very strong push towards electric vehicles. And that's why you see a lot of companies coming with fully electric vehicles, rather than hybrids because they will only be partly there due to the legislation banning combustion vehicles.
Another important trend that is going on is voltage. So the normal vehicles that we have on the road are generally working on a 12 volt or 24-volt architecture. And now the hybrid architecture is moving towards 48 volts. And when you talk about electric vehicles or a fully electric vehicle, there's nothing under 200- 250 or generally 400 volts. And that's where the high voltage starts. Now, this trend is also going towards 800 volts, which is probably coming from our need for fast charging or the possibility of having more power with a smaller battery.
When you look at the trend from the industry point of view, one thing that is also not very clear is where the OEMs and the tier one's going, because right now, each OEM has their strategy even if it means to go alone. Like for example, Audi has done that and shown it with an E-Tron. But when you look at some other OEMs like Volkswagen, they have very strong partnerships with the tier ones, the same thing with other big OEMs in the German market. Talking about outside Germany, like China or India, most of the OEMs are trying to go with different strategies. So what is not clear right now is whether the strategy would hold on because a lot of people are working in those OEMs as well. If they start relying only on tier one for their supplies, what will happen to those people, so, there is kind of a change in strategy, which might be seen such as OEMs trying to buy those parts individually and then put them together themselves or assemble them themselves.
So this isn't clear. And, of course, what we are also seeing is about the infrastructure that has to be built up, because the trends that we are seeing right now, in electric mobility will completely fail if there is not enough robust infrastructure available for the high voltage charging, and also the density of the charging stations so that people don't have the stress of charging their car while driving when they have to think okay, their charge is gonna run out because normally when you are driving with a petrol car/diesel car, you don't have to think about looking at your range all the time. So it's all these points that I mentioned, that are kind of defining the trends in the industry. So it's going to be an interesting time in the automobile industry, especially for electric mobility. And for other parts such as connected cars, autonomous cars and shared mobility, this is also kind of combined because electric cars are much simpler than the cars we have currently, they are easier to connect, and easier to control. So all in all, it justifies the case of bringing connected cars and autonomous cars. So this I think, is going to be the trend that we're gonna see in the next few years in the industry.
What do you think are some of the important skills needed to work in this area?
I think there's not going to be one core sector. If you go back 10-15 years, in the automobile industry, it was all about mechanical or maybe an automotive engineer, but now, it is more kind of a combination of all the engineering backgrounds that we have. Even my team when I think about it has people having a background in mechanical engineering, industrial engineering, electrical engineering, computer engineering, so it's a combination of all those engineers who are together in the team and this is going to be the case and I always think what a person can do well becomes a skill. So whether they are a good designer in a mechanical industry or a coal or combustion engine industry right now, they can always move into those kinds of areas and look into designing field or designing jobs that they have. So these are the skills I would say from an engineering point of view. But when I talk about my job as a technical project manager, it is kind of a combination of Engineering and Management. And when you look at the management point of view, one has to have good project management skills, understand how quality management works. And it should also include a very strong aptitude for problem-solving, maybe include the use of design tools. Since you have a very big team, you need to have good communication skills and very good people management. Depending upon where you work, I think language plays a very important role especially with the kind of people you're working in the team, and also with the kind of customers that you're working with. In my case it was German. So German knowledge was a very important skill that I needed to have, to least grow higher in the industry. As an expert, you probably might not need that much German provided you go into core engineering fields, But when you look into the management field, or you're looking at a leadership position, then German probably would become an important factor when you talk about jobs in Germany.
Before starting at Valeo Siemens, you were working on combustion engines. Could you tell us about your background?
I was born and did my schooling in Bhopal, which is in Madhya Pradesh. And from there onwards, I always tried to look into developing my skills.  Bhopal being a smaller town had limited opportunities and I wanted to broaden my horizons. So I decided to do my engineering somewhere at least in a bigger city. And, in fact, for that, I even did not take up an IIT or some private Institute, but one of the best colleges in Bangalore, and did my mechanical engineering there. And during that time I got bit by this automotive bug. I was in mechanical but automotive was something that was always there in the back of my mind. But once I started getting involved with some projects, like Mini Baja, which I think kind of rage right now. But way back in 2004 when I started doing this, it was one of the only colleges which were doing it. So we started building a car from scratch. We were a group of 11 engineers in our undergrad, and we tried to work on different parts of the automotive business; some people working on the marketing, some people working on the manufacturing and R&D. I was a part of this R&D manufacturing team trying to build a car from scratch. And we were able to build a car in around one year and the project lasted around one and a half years. We represented India, along with IITs and DCE in 2006, which was like one of the few first colleges to go and compete in an international competition and that year was a changer when the Baha kind of exploded.
I think this exposure that I had, helped me go towards an old core automotive company, which was Ashok Leyland. And I started there as a GET, which was kind of a training period where the training that I got was one of the best that I have gotten it was core automotive training because as you know, there is a huge gap currently in our education system and the industry with the needs. And that's where a good company like Ashok Leyland tries to fill that gap and tries to make these mechanical engineers more suitable for the automotive field. That's where I was working on real-time projects and that's where I was able to learn the whole product development process starting from the concept of the homologation phase. I started as a designer there, then started doing some CAE work with Ansys and Solidworks. That's where I started building and picking up skills and designed one of my first components. It was a gear train, and then I developed that gear train with the suppliers. Once this was developed and the prototype was ready, I also took care of an application for one of the vehicles and also did the testing. So it was broad-based. But what I learned during this time was tech expertise that either was very limited or novice. And that's where I decided okay, I need to pursue masters in a field where I would like to see myself working later. It was then that I decided that it has to be automotive because I have already had three years of experience and there was a question which normally as an Indian you have; which country are you going to go to? Is it going to be UK, USA or Australia? The fact that the automotive sector of Germany is one of the most advanced sectors along with the cost factor played an important role that pushed me towards here.
I was fascinated by the interface between humans and cars, not the one that we just see but something more technical - the calibration. So mainly I was working on developing these complex models of engines, which can be used for calibration of cars so that they are running as smoothly as they are running in the field at the end.  All those complex modellings will be put in my engine model prepared on MATLAB, and those would be kind of used for preparing the first calibrations. This gave me an additional skill: designing, CAE and calibration skills. Once I passed out from RWTH Aachen, I started at Delphi, I think it's it's also quite a well known supplier from the US. And it's working on right now in the power train field working for fuel injection equipment. And we were a supplier for a German OEM for fuel equipment, along with the ECU and the software required for it. And that's where I had to decide whether I'm going to take up the skills that I have learned, or am I going to develop a new skill. I wanted to have more handson experience. That's where I decided to start with testing. I think that was the first time I got into testing in a big way and started developing testing as my core competence. I slowly moved on from being a test engineer to a lead test engineer and then combine my skills in testing and calibration as an application engineer. So before I went to Valeo Siemens, I worked for almost 10 years, and in a variety of fields, in variety of jobs from designer to CAE engineer to a testing engineer.
After having worked for so many years with combustion engines, why did you decide to start working with electric vehicles?
It's a very good question. So I made this switch at the end of 2016 and I think the biggest factor would be what happened in 2015, the diesel gate incident that changed the whole outlook of the automobile industry. The European OEMs since 2006 had kind of planned that they were going to meet all the targets for the emissions with diesel engines because of the improvement they were showing with the SCR especially the OBD. So all these put together, they were already kind of fixed on this, but then in 2015 with the diesel gate happening, they realized that even though the targets were met, they were not met because of the cheating going on there.
So that's where a lot of OEMs took notice of another forgotten field that was electrical vehicles. And that's where they started spending quite huge amounts of money. So 2016-17, the first project started picking up, of course, there was Tesla, which was already trying to make a name for itself, there were also companies like Nissan, which were doing Leaf all the time, but nobody was taking notice of them. But this 2015 diesel gate kind of changed everything. The spending that was going into the project for electrical vehicles was huge. And when you have huge spending, then you have a lot of innovation and a lot of new stuff, which are available and I was always open to learning something new. And that's where I said, okay, I think for me, it's clear now that I have to move and make the switch to towards electrical vehicles, and I didn't want to wait that long.
How would you describe your experience so far?
Electrical vehicles aren't a field for the faint-hearted. Because the problem is that normally an automotive project is generally based on some kind of platforms that have already been developed and improved over a long period. And this generally makes the project for three or four years, it's kind of a time you have for a general automotive project. And this project time is generally okay for developing something which is already has a platform. But when you come to electrical engineering, as I talked about, like there were there was not so much development going on in most of the OEMs and then they suddenly started spending over there. That's where the higher management expected the projects to be done in the same way that we have been doing in three or four years. But you have to develop something from scratch because there was no platform to work upon. And I think that's where this whole experience made it very exciting. But it's stressful at the same time because you are always fighting with the problems that you never expected. After all, nobody has done them before. Nobody has seen them before. And you need to do a lot in that short period.
Secondly, there is very strong pressure from the government, from the OEMs and the tier-one; everyone is kind of working on this which is why the stakes are high. I think the German automotive industry's survival hangs on this right now. Because if they do not pick up, then the kind of ease that we are waiting for with an autonomous vehicle would be reduced. But at the same time, the expectations from the industry and every employee is also huge. Further, the number of people that are working in the industry is still limited. Mainly because people have started making a switch recently or they have an electrical engineering background and those kinds of people, do not have the agility which the automotive field require. So it's a roller coaster but I think I'm enjoying it all this way.
What do you think were some of the major differences between your previous work in combustion engines and your current role in electric vehicles?
Talking about the agility of the people and the mindset of the people it's different because people coming from different fields is a conflict because in automotive you have very strong norms, which are coming from all the OEMs coming together and setting some requirements.  In other industries the norms are broad, and you have a much bigger playground to play with, but in this one, you have a very limited field and you still have to deliver those results which the customer wants you to fulfil. So, it kind of makes it you try to always bring the other side coming closer to the automotive and you from automotive try to understand the electrical point of view or electrical engineers point of view. So, that is one area where I see a difference, of course, the duration if I look into an automotive project, where I was working on innovation, where was the kind of robustness or maturity of the product we have in the electrical vehicle industry, I would say that it would last much longer. And here the durations are shortened, and everyone is trying to aim for this. 2020 is a big change for our industry, or even Germany that you will have a separate tax for everyone on co2. So, everyone is trying to go into that year 2021 with some kind of protection against this tax and that basically, the electrical vehicles will provide, which is why the duration has been reduced. We have to shorten our timelines. After Corona, the current market has also given an additional constraint. Talking about the novelty factor we do not have any major electric vehicle OEMs before Tesla showed up, and I know that companies were doing their part but it was always kind of a small corner in the innovation section that was developing but now it has become mainstream. And so this has brought in a lot of new things plus the trends that I talked about since it's not yet very clear in which direction the OEMs are going to go which direction the industry is gonna go. So every time a new project comes up there is a new development happening, and also during the project itself, there are a lot of changes happening, because if there is one company or one supplier have started developing a new kind of technology and that is kind of picking up and promising then others try to find a way to implement that too.
Has the transition been smooth/easy and were there challenges that you had to overcome?
It's a mix because one important decision I took when I tried to make the switch was trying to rely on my skills that I learned especially the core skill that I developed which was testing. So when I moved into the electrical vehicle industry, I relied on that as a ladder to come inside. Then I used the skills that I've learned over 10 years and then started applying those to go up in the industry. But the switch, which was the first phase, I started as a test manager or a validation manager. And this kind of helped me in the electrical vehicle industry; there were not many people who were expert on automotive testing. So I brought this expertise inside. And that kind of made it easy. I was like an expert who was bringing knowledge. And that was what that time what an automotive industry looking for. It made it easier to at least switch. But of course, when I came to the industry, I realized I had the torque and power, but the torque and power have nothing to do with the consumption that you were talking about, you're talking about here consumption in total different units. So I had to of course brush up on my electrical vehicle knowledge. And what I did personally was to not try new but to stick to my skills to see where I could find a fix for those fields.
In hindsight, would you consider it a good decision and recommend it to others?
For me, I would say that this has worked out as a good decision. I don't know if it was because of the skill set that I developed during the time as a conventional automotive engineer, but definitely, this testing was played to my advantage and I was able to use this advantage later to become a technical project manager. Since 2007, I used all those skills I could use so for me, this was a good decision. And for the recommendation, I think it's never too late to make the switch and try to come into the industry because this industry requires a lot of people especially if they have worked in the automotive field and bring the skills that they have learned because at the end of the day your motor is partly mechanical, you have mechanical components which need to be developed, which needs to be designed, and you have the same GD and T is the same kind of tolerances that come into play. So all these things are relevant, and they're gonna stay relevant. To people who are going to stay and not make the switch, I would say that they should not just think about upskilling themselves or trying a complete learning a new field but should try to hone their skills and try to find a fit because that is also a target which most of the OEMs right now are looking at since they have human resources that have been engaged here long or for a very long time in the conventional automotive industry producing combustion engines.  Now suddenly they need to make the switch so they cannot find all those 600,000 or half a million people, but will try to find a match for those people in the industry. And I think this is where people who already have those skills can also try and join and this would give them a good opportunity to find jobs in the companies of their choices. This is not something I would say that you should wait for the right time. Make the switch, you will have to adapt naturally, but you will learn in a long way. One recommendation is definitely to have good programming skills; I did learn those and I think they are useful whether you are working as a core mechanical engineer or anything, you need some kind of programming or coding skills, they are always useful even in your daily life, they make your work easier. And when you come into the automotive field, in case you aren't finding a fit there are three other fields; connected mobility, shared mobility, and autonomous vehicles that need people especially those coming from the automotive background. And if you have the skills, whether it is software skills with some automotive skills, you can come into the industry.
What are some of the career options for people with a mechanical engineering background in the electric vehicle industry in Germany?
So mechanical engineering itself is a very wide field, you have engineers who are working on heat and mass transfer, you have engineers working on pure kind of tolerances and checking those tolerances, and those kinds of areas. So you have a very wide field and you have robotics you have industrial engineering. So, with this wide field, I'm sure there are so many different kinds of mechanical engineers who are available and these engineers, they would find a fit, for example, a normal designer who has done mechanical designing can become a hardware designer for the non-active parts like the laminations, the housings that are there the different cooling parts and all those kind of parts that require a hardware designer. So, they can join those fields, then there is also a supplier development, no OEM or a tier-one supplier or tier two supplier can survive without any further suppliers so, you always need suppliers who can work or some supplier development engineers who can work on the development activities in the supplier. So, even the simulation engineers or the German engineers, can always come into the simulation engineering field and they can work on a variety of like structural, fluid, thermal, these areas of the simulation are non-electrical so you don't need much of an electrical engineering background there. And one very interesting area is also material science, I know this is a little bit of an expertise area but this is also where a lot of work has been done in the automotive field in terms of material sciences, I mean when you think about components inside a combustion engine where you have temperatures up to 700 or 2000 degrees, you will not think about some plastic going in there, but there are components a lot of components in the engine, which are made of plastic and that kind of changes have not been done in the industry right now because nobody had the time to do that. But material science engineers who have already worked might be able to help this industry grow in that direction. Of course then, in the field of testing, you have a variety of tests, whether it is functional or environmental, maybe a functional, you might have to brush up your electrical engineering knowledge a little bit, but a mechanical test, for example, torsion tests, which have to be which every yaks alaura, and engineering, electrical vehicle has to go through you as a mechanical engineer have a good background in that, you can definitely understand those tests and try to do those testing or develop the concept of those testing.
You also have application engineering, which is a combination of calibration, designing coming together of all the fields. Coming to non-engineering areas, where also a lot of mechanical engineers can work is project management, quality management and planned development. Tesla is looking for people in plant development in Berlin. So people should look, if they thinking of making the switch, I think this is the right time to do that. And in the next few years, there's going to be huge developments coming in the battery area where it's gonna be a lot of new factories, Giga factories, as they call will be coming off around Germany and in Europe, I think that's where the industrial engineers, plant development engineers or process engineers will be required.
Are there any career opportunities that you would recommend for people looking to work at Valeo Siemens (or in e-mobility in general)?
Yeah, I think in Valeo Siemens they're always they're looking for new people. They are looking for project management, mechanical lead engineers, system integrators and this is not only Valeo Siemens, but I'm also talking about the whole electric vehicle industry be it OEM (now maybe a bit tough because of the switch that they have to do for the existing employees from the conventional automotive industry to the electrical industry). Those people I think would be given a preference but yes, there is a chance for a lot of new suppliers, they are developing new products in this area, and they're coming up whether it's ZF, Conti, Schäffler, etc. There are new players too. If you look right now on a job site, you will find so many tier-one suppliers who are working for the automotive industry or electrical industry they're coming in and trying their luck in the electrical vehicle industry.
What would be your advice for people looking to follow your footsteps and build a career in e-mobility?
I think my advice would be, do not waste time and do not wait for companies to force you to make the switch, I would say that make the switch, it's never late. Try to find your core skill and develop that and don't always look for upskilling yourself by going in different areas. I know that there are a lot of people who are trying for various online courses and of course it helps sometimes. But it's always important that you try to stick to your core competency and develop that skill. If you want to make a complete switch, then you need a much longer course than just an online course. I hire a lot of people and I know that when I look at something like that I'm not the impressed one. Generally what is impressive is that yes, you have tried to work on building your expertise. So try to build up your expertise, try to keep yourself informed about the non-technical changes that are coming in the industry.  There are so many changes like you know, if Mr Diess from Volkswagen is going to drive an ID-3 in Italy, then you have to take notice and see how it is going to make a difference. And then just definitely be ready for the chaos that's going to be there. There's going to be stress but somewhere 5 years down the line, I think you're not going to regret it. You are going to look back at this time and see how you did something. It's not just good for me but also for the people, the environment and the industry in general.
These were all very interesting insights. I have to thank you Athar for sharing your experience and all relevant information with our listeners.
---
📬 Subscribe to our newsletter to stay up-to-date! 👇
India2Germany Newsletter
Join the newsletter to receive the latest updates in your inbox.
---